Video: Ink Organization + Storage + DISCOUNT CODES + GIVEAWAY
Hi there. Today's video is an update on my ink organization and storage.
[All supplies are linked to multiple sources in the thumbnails at the end of this post. Affiliate links used. To watch the video in HD on YouTube, click HERE.]

I've shared many ink videos in the past, but I've added a few things to my system and wanted to share.
COLOR CODING
First, let's talk about color identification. There are a few things I found helpful:
Ink Swatch Book – I find this essential when creating. It saves me so much time in matching inks and creating color combos. I have a free download of the swatches HERE, along with a video on how to create your own.
Brother Label Maker – I print out a label for each side of my ink pads. I like that the labels are durable and hold up nicely over time. (Many of the ones you print on your computer get messy quickly and fall off.)
Ink Dots – This is something I've recently started doing and I really find it helpful to see the true color of the ink pad at first glance. I stamp the color on top of two dots sandwiched together and adhere it next to the label. I encourage you to get your kids involved in helping. (A big shout out to Colin and my friend/right-hand-stamper Heather for helping me create all these dots!)
Note: I don't think it is necessary to do all three of the systems above. It just depends on how many inks you have, how you work, etc. Maybe one would do the trick for you. I find all three helpful since I have a lot of inks for my job. (By the way, it is completely unnecessary to own as many inks as I do. This is my job and that is the only reason I have so many. Inks are like shoes – we all need and want something different, so you just need to pick what suites you. I show lots of inks in my videos to help you pick.)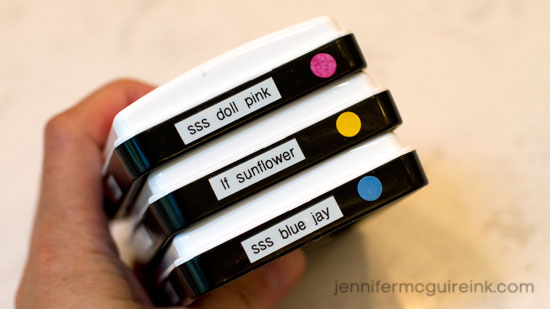 INK STORAGE
I have a few ways I store my inks:
Organize More – I am a huge fan of Organize More… both the people and the products. I have several of their ink units in my craft room and cannot recommend them enough. They are amazing. You can get a closer look at these storage units in THIS video.
The kind people at Organize More are offering a 10% off code for my readers. Just use the code "MCGUIRE715" now thru 7/25/15. (And see below for a big giveaway!)
Stampin' Up Ink Caddy – This option is great if you have a small desktop space for ink storage. I've placed a couple of these in a deep cabinet and have been happy with them. I like that each unit holds 48 ink pads and swivels for easy access. There is also a storage area on top to hold re-inkers.
If you'd like to get one of these caddies, just click HERE to shop with my friend Lydia Fiedler. If you use hostess code FEBAUNEW (enter this after clicking to view your shopping bag) you will go into a drawing for a $50 gift certificate to her store. Lydia is awesome. If there was a unicorn made out of glitter it couldn't be more awesome than she is. 😉
Here is one of my Organize More units. It is just a thing of beauty…
And here is a look at how the inks fit into the Stampin' Up Caddy. I do like how this baby spins around easily…
OTHER ORGANIZATION VIDEOS

If you are interested in my other organization videos, you can find them all HERE.
DISCOUNT CODE
Just a reminder – the kind people at Organize More are offering a 10% off code for my readers. Just use the code "MCGUIRE715" now thru 7/25/15.
GIVEAWAY
How would you like to win a $100 gift certificate to Organized More? (I told you these were super nice!) For your chance, leave a comment below by 11:59pmEST on 7/31/15 telling me how you store your inks. (The winner's name will be randomly selected and posted on my "Winners page" after the giveaway closes. International folks are eligible, too!)
SUPPLIES
Interested in the products I used? To make them easy for you to find, I have listed them below. (Affiliate and product disclosure can be found here. All products featured were personally purchased.) Click on the letters below each picture to go to a favorite store: