VIDEO: Planner Organization + Stay Focused Blog Hop + Giveaways
Hi! Today's post is a little different than most. Lately I have been getting a lot of questions about the planner I use. (I have shown it a few times on Instagram.) So I decided to share a video on it, along with some products I use with it. Also, this post is part of the Stay Focused Blog Hop… with lots of people sharing tips on planner organization.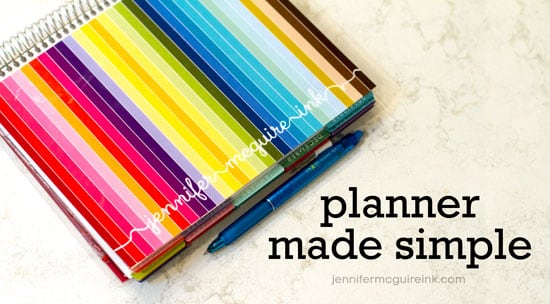 [All supplies are linked to multiple sources in the thumbnails at the end of this post. To watch the video in HD on YouTube, click HERE.]
Almost a year ago, my good friend Kristina Werner starting encouraging me to try the Erin Condren Life Planner. I was very resistant and skeptical… thinking it wouldn't work for me. (I really wanted to be fully digital!) But in January I finally decided to give it a try. And I am so thankful I did. This planner has been life changer for me. I keep everything here – my work, my family appointments and my to-do list. And it has worked. Big time.
There are a few products that I use with my planner. Please keep in mind that I keep my planner simple, practical, clean, and not-needing-of-a-lot-of-time. There are some adorable planner nerds out there! Me? I just go with what is practical:
There are a few other products I mention in the video. All are linked in the thumbnails below.
By the way, if you use THIS link to purchase an Erin Condren Life Planner, Kristina will get a $10 credit. She has been saving up these credits and giving away big gift certificates on her blog. Fun, huh? I decided to use her link since she is the one who introduced me to the system. Also, I apologize that the video isn't the best. I had one of those days…
BLOG HOP
This post is part of the Waffle Flower Stay Focused Blog Hop. The main purpose of the hop is to share tips on using a planner to help us get things done so we can spend more time with our loved ones or just playing. Waffle Flower has just released stamp sets that are great for planners! (You can see them all HERE.)
The next stop on the hop is the awesome blog of Joni Andaya – click HERE. To start at the beginning of the hop, visit the Waffle Flower blog.
GIVEAWAY
Lots of prizes today! I will be giving the Waffle Flower Stay Focused stamp set to one lucky winner who leaves a comment here. Also, there will be one grand prize winner who will receive all 5 of the new Waffle Flower planner sets… with the winner picked from comments left on all the blogs on the hop. For your chance(s), leave a comment here by 11:59pmET on 10/10/14.
I also wanted to announce some giveaway winners. ALL winners have been emailed:
SUPPLIES
Below are the products featured above. Click on the letters below each picture to go to a favorite store: Simon Says Stamp (SSS), Waffle Flower (WF), and Amazon (AZ).