Video: Small & Large Clear Stamp Storage
Hello! Several months ago I shared how I store my clear and cling stamps. (And I still *LOVE* this system!) Since then, the question I get asked the most is about how I store small and large stamp sets. Today's video answers this question…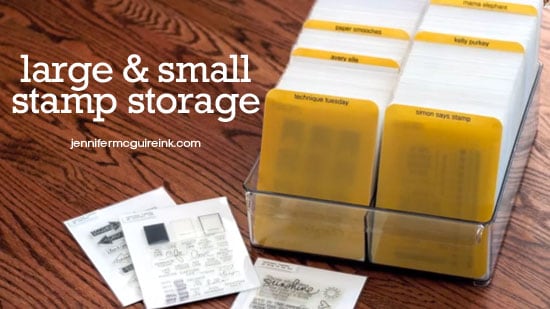 [All supplies are linked in the thumbnails at the end of this post. Click HERE to watch the video in HD on YouTube.]
Click HERE to see my original stamp storage video. It has some helpful info, too.
Several companies are coming out with stamp sets that are bigger or smaller than the average size stamp set. In this video I address these sizes. For me, my organization is best when all the stamp sets are stored the same. This means putting all the stamps in Avery Elle Stamp Pockets. For large stamp sets, I have to "convert" them a bit. Yes, this takes time, but not much. For small sets, I put two in one pocket. This works best for me since I like a uniform look. And I still store all my stamps in a Fridge Binz. Man I love those things! (Click HERE for more information on this storage system.)
If you really want stamp pockets that are bigger or smaller, here are some options:
So in the end, I recommend going with whatever works best for you. For me? It is all about the uniform look. But I hope you can find something that works well for you from the options I shared.
Good luck and happy organizing!
SUPPLIES
Below are the products featured above. Click on the letters below the picture to go to a favorite store: Simon Says Stamp (SSS), Ellen Hutson (EH), Amazon (AZ), The Container Store (CS), and Bed Bath and Beyond (BB).