Video: Liquid Adhesive Solutions Update + GIVEAWAY
Hello. Today's video is an update for fine-tip, no-clog, adhesive solutions.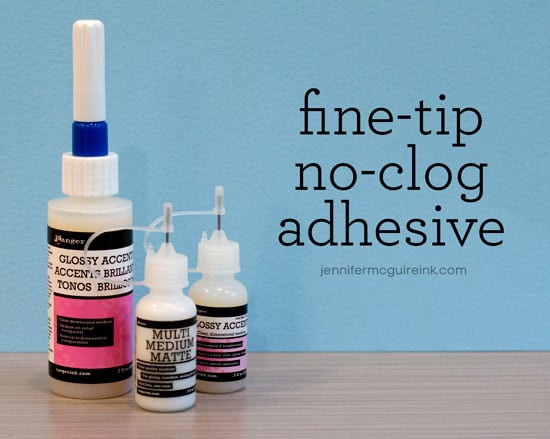 [All supplies are linked to multiple sources in the thumbnails at the end of this post. Affiliate links used. To watch the video in HD on YouTube, click HERE.]

My two favorite adhesives are Ranger's Glossy Accents and Multi Medium Matte. Glossy Accents is a clear, strong adhesive that I like to put on top of embellishments for some shine. Multi Medium Matte is a very strong adhesive that dries matte. However, I find that changing out the tips of these bottles gives a better application and prevents them from clogging. I had done a video on this awhile back but wanted to update it as I get a lot of emails asking if these solutions still work.

For small bottles (such as the Mini Glossy Accents and Multi Medium Matte), I like to take the nozzle off with pliers and replace it with the Quilled Creations fine-tip nozzle. When placing the cap back on, press lightly. Pushing too hard may result in getting it stuck or damaging the needle. Also, I've found that the connector piece can come off, which I don't mind at all, but it's a personal preference.

For large bottles (such as the large Glossy Accents), I remove the nozzle with pliers and replace it with the Scraperfect No-Clog Writing Cap. I suggest wiping the tip off of glossy accents before placing the cap back on. I really like that the needle in the cap prevents clogging.

Another solution that is cost effective is placing a plastic hang tie (off of clothing) inside the applicator. No need for the cap and it prevents clogging as well.

There are many options out there (trust me – I think I tried them all!), but these have worked the best for me. Hopefully, one of these will work for you too!
GIVEAWAY
How would you like to win TWO Quilled Creations bottles, a Glossy Accents and a Multi Medium Matte? For your chance, leave a comment below by 11:59pmEST on 7/31/15 telling me your favorite liquid adhesive. (The winner's name will be randomly selected and posted on my "Winners page" after the giveaway closes. International folks are eligible, too!)
SUPPLIES
Interested in the products I used? To make them easy for you to find, I have listed them below. (Affiliate and product disclosure can be found here. All featured products were personally purchased.) Click on the letters below each picture to go to a favorite store: Simon Says Stamp (SSS), Ellen Hutson (EH), Amazon (AZ), etc.