Happy Monday & a Giveaway
Hi!  Hope you had a good weekend.  Mine was heavenly.  I love stamping retreats… especially with the best of friends and most incredible women I know.  I feel so happy – and therefore have a fun giveaway today. 🙂
First, I gotta start by linking you to the Hero Arts Blog.  Leslie Lightfoot is gonna rock it with color combos this week.  She has a giveaway… go check it out HERE.
And another link for ya: Nichol is doing an AMAZING Christmas journal.  Incredible. You can see it HERE.
So, you know how I always share cards inspired by my dear friend, Shari Carroll?  Here is another.  Totally inspired by her owl cards found HERE and HERE.  I just love this little guy.  (And thank you, Shari, for inspiring me.  I love you so very much!)

Supplies:
Hero Arts stamps (owl, cupcake, birthday greeting)
Hand-drawn hat
Other: colored pencils, gamsol and pom-pom
Now it is time for that giveaway.  I personally have been so addicted to small paper pads, like the 6×6 Basic Grey ones and the 8×8 Cosmo Cricket ones.  So, I thought I would giveaway one of these goodies.  Just leave a comment here by Wednesday at 11:59pmEDT telling me your current favorite paper line/company and I will pick a random winner of this great and happy paper pad…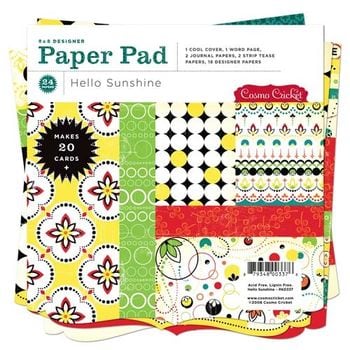 Hope you have a great week.