You Must Check Out… + GIVEAWAY
Hi! Today I wanted to give a shout out to some of my friends in the industry. There are lots of folks doing lots of awesome, inspiring things… and I wanted to make sure you don't miss them. I am so proud of these great people.
30 DAY COLORING CHALLENGE
My talented and fabulous friend, Kathy Racoosin, is in the middle of hosting a 30 Day Coloring Challenge.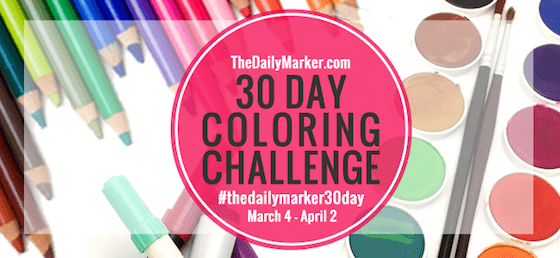 The idea? Do a bit of coloring every day for 30 days. It can be a big project… a happy card… or a doodle on a napkin. Anything. It is amazing to see on Instagram (#thedailymarker30day) the number of people playing along! There are prizes and videos and lots of eye candy. For more info, head HERE.
SCRAPBOOK & CARDS TODAY
Scrapbook & Cards Today is a seasonally inspired print magazine dedicated to scrapbooking, card making and papercrafting. Showcasing the latest techniques and products with interesting and easy-to-follow ideas and instructions you can subscribe to the beautiful print version HERE (click the "subscribe" tab – a very low price) or you can download it for free! Scrapbook & Cards Today can also be found on Facebook, YouTube, Pinterest and Instagram.
I am so very proud to be a Contributing Designer… but even more proud of the amazing work done by two of my friends on this issue. Megan Hoeppner is the Editor and Cathy Zielske is the Art Director. Both are wonderful people and put together a fabulous issue. And a big thanks to the publisher, Catherine Tachdjian. Proud of you all!
Isn't the issue gorgeous? I have three cards in the and a link to a how-to video…
Head over HERE to see the newest issue and learn more.
KERRI BRADFORD STAMPS
My dear friend Kerri Bradford has been keeping me inspired for years… offering great downloads. So I was really excited when she announced she is now creating stamps! Kerri will be releasing new stamps each month. You can find more info HERE. I can't wait to use them!
GIVEAWAY
So Kerri Bradford said I could give away one of her stamp sets away to a lucky winner! For your chance, leave a comment here by 11:59pmEST on 3/25/17 telling me someone who has made YOU proud lately. (After all, couldn't his world use a little more kindness?) Good luck! (The winner's name will be randomly selected and posted on my "Winners page" after the giveaway closes. International folks are eligible, too!)
See you soon with a video!