My Favorite Non-Crafty Things + GIVEAWAY
During My Favorite Crafty Things series, several people asked if I would be doing a list of favorite non-crafty things. I have wanted to do this for awhile (I have an on-going list of what I wanted to share) and thought it was time. Most of my things are pretty practical and all about making life easier… so maybe you will find something helpful here, too! (Affiliate links used in some cases.)
COOKING & EATING
I will be honest – I am not a fan of having a billion gadgets in my kitchen. (Who has the room or money anyway?) But there a few key things that help me a lot.
Set & Forget Programmable Slow Cooker (Crockpot) – This guy has changed our lives. In fact, we even have two of them. A couple times a week, we create TWO batches of healthy crockpot meals at once. One crockpot holds our dinner for that evening and the other holds a meal we will put in the freezer for another time. The price is great and I love that you can program it so you don't have to worry about a thing. I can't recommend enough.
Aroma Digital Rice Cooker – This is another "program and forget" kitchen device we couldn't live without. It is great to have along with the crockpots. (We normally use basmati rice.)
Skinnytaste – Most of the healthy crockpot meals we make are from the Skinnytaste recipe site. Our favorites? Santa Fe Chicken and Sesame Honey Chicken (with added broccoli). Both are tasty and reheat well.
Egg Cooker – This seems so very silly but is so very awesome. In minutes you have perfectly cooked, easy-to-peel eggs. We use this a lot.
Fruit Infusion Pitcher – I know many people struggle to drink a lot of water. When I find myself getting tired of plain water, I break out this guy. Add any fruit or cucumbers and you will be amazed how good it is. I drink at least two pitchers a day.
Shakeology – Almost every day I have a Shakeology shake. These are tasty (and I am picky when it comes to shakes) and nutritious and help keep my tummy settled and happy. I know a lot of people who have lost a lot of weight with these. (I instead use it as a healthy snack. It has completely eliminated my sweet tooth.) My favorite is the Chocolate Shakeology with a couple tablespoons of PB2 Powder (healthy peanut butter) and water or almond milk. (It tastes like a Reese Cup shake. For real.) I also love the Vanilla Shakeology with a handful of frozen fruit, half a banana and water. These shakes have been awesome for me. If you are interested in finding out more, you can contact my non-pushy and encouraging friend, Amy HERE.
Soft Cookies – So we are pretty strict about cooking and eating healthy meals at home. However, I also like to treat my family to homemade treats now and then. My kiddos love soft cookies. Wanna know an easy trick I learned from my Grandma? Put a few pieces of bread in the cookie jar. The cookies will stay amazingly soft. You're welcome. 🙂
PackIt Freezable Lunch Bag – Our family takes packed lunches to school. This lunch bag is great as you freeze the whole thing and it keeps the food cold for a long time. So very cool.
Nalgene Water Bottles – Finally! I finally found a water bottle that doesn't leak. Perfect for the kid's lunches.
Sistema Containers – You may have seen that I use these in my craft room for many things, but I also have more-than-I-care-to-count for kid's lunches. They are the perfect size and easy to open.
ORGANIZING
Not every part of my home is organized, but I do have some parts figured out. 🙂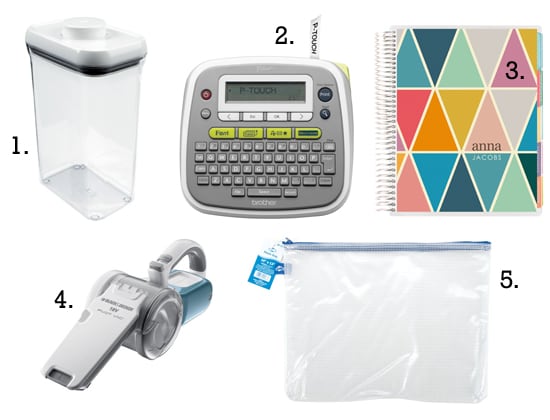 OXO Containers – I adore the OXO Containers for our dry goods in our cabinet. It is nice to get away from lots of half-empty boxes and be able to load several boxes into one container. (Note: I only use plastic containers for dry foods and never put them in the microwave.)
Brother Label Maker – Ah… my partner in organizing. I can't recommend this guy enough. Be sure to check out THIS video where I show how to conserve the amount of tape you use. Also, be sure to get THIS adapter to save on battery use.
Erin Condren Planner – I have shared my love for this planner many times, including in THIS post and video. I keep it practical and useful and it has completely improved my productivity, happiness and stress-level. It simply makes me happier. I like many things about this particular planner, but I know there are many great ones out there.
Cordless Pivot Vac – I am very impressed by this little cordless vacuum. I use it in my craft room and kitchen and car and more. It holds power well, empties easily, and doesn't break the bank. I am impressed.
Zipper Pouches – So I will admit – I have more of these in my house than I care to tell you. 🙂 I use them for craft kits, kid's toys, errand-running-stuff, my planner, school paperwork, kid's art stuff – – everything. They are handy and durable. (The price on Amazon varies a lot. Sometimes they are only $2.00 and sometimes they are higher. May want to keep an eye on them and buy a bunch when the price is low.)
OTHER
Just have a few other random things you may like…
So there are a few products I love outside of the crafty world. I would love to hear what you are finding helpful in your life these days.
GIVEAWAY
One lucky winner will get a $50 gift certificate to Amazon! For your chance, just leave a comment here by 11:59pmEST on 12/21/14 telling me about something you have found that is non-crafty that you love. Good luck! (Winners will be posted on my "Winners page" after the giveaway closes.)
Note: I have many winners to pick from the giveaways in My Favorite Crafty Things series. This takes me a lot of time to do this, so I will be slowly picking and contacting winners over the next several days. I will be posting all winner info on the Winners page. Thanks for your patience.
Affiliate and product disclosure can be found HERE.