Hello!
So – yes – I know this is last minute. But I shared this on Instagram and got hit with a lot of emails. So I thought I would take some quick pictures and share here the Halloween Treat Bags I am making for Colin's class.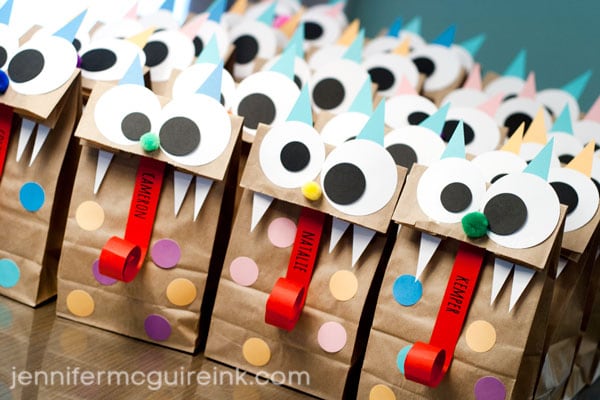 These bags are so very easy to make and you really don't need many supplies. For the eyes and dots on the bags, I used various sizes of circle punches or circle dies (from 1″ to 2.5″). I bought some inexpensive pom poms for each nose and cut quick and sloppy triangles for the ears and teeth. After printing the child's name on red cardstock, I trimmed and rolled the end around a pencil to make a silly twisted tongue.
Good old fashion brown paper bags work perfect for this. I folded the top over and adhered all the pieces with strong Glossy Accents. (The teeth and tongue are adhered to the back of the folded flap. I didn't tape the bags closed – just left them folded over.)
You could fill this bag with candy, cookies or any other typical treat. But me – being the mean mom I am, lol – decided to skip the sugar and plastic toys for something more artsy and fun…
We had a budget for these treat bags, so I decided to give each kid 3 small stamps and 2 tiny ink pads from Hero Arts. Their Ink N Stamp sets are perfect for breaking up for kid's party favors. (They have Christmas/Holiday ones, too! Keeping that in mind…) They also sell ink sets that are perfect – I used the Halloween colors. (And yes, they have Christmas colors!)
I also included the most inexpensive mechanical pencil I could find. 🙂
Each bag also gets a little personalized monster notebook. This was actually Colin's idea! I found on Pintrest an adorable and free monster coloring page and he LOVED it. The download is from Dabbles and Babbles and it is the cutest thing in the world! I highly recommend checking it out HERE. All you have to do is print and you are ready to go. (And thanks to Jamey over at Dabbles and Babbles for saying it was ok to share this here with you. Please also check out her coloring faces download, too. Her blog is great.)
We decided to print several and cut them into 2.5×3.5″ pieces for the notebook. I also made a personalized cover page in Photoshop, too. ("Journal" is a big word in their class, so Colin wanted to include it.) After we were done, we used our Cropodile to punch a hole in the top and used a ring to keep them together. (You can get these at office supply stores.) Oh – and google eyes are best added with Studio Matte Medium.
Aren't those monsters the cutest!? Again, you can find the FREE download HERE at Dabbles and Babbles. There are 12 cute little monsters on the page… which I cut up to make these notebooks.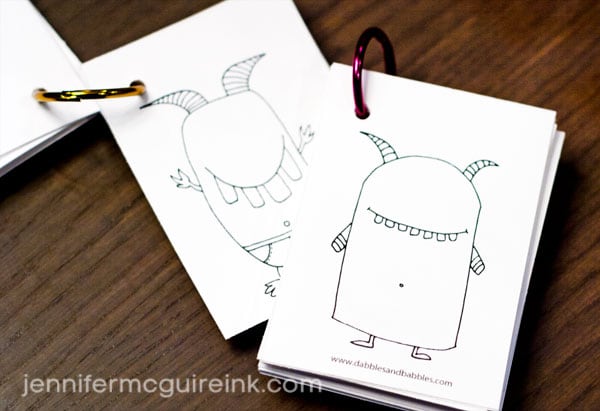 Now this all may seem very over-the-top. But honestly? I held myself back. I tend to go overboard on this stuff. But once I see the smiles on the kid's faces? It will be worth the work. (And thanks to my dear friend and fellow homeroom mom Kami who helped to put these together! The bags only took about 1.5 hours in total.)
Enjoy!
SUPPLIES