Hi, everyone.
Thank you for all the ideas you have been posting on teacher gifts.  There are some GREAT ONES!  I am working on it and will be sure to share next week.
In the meantime, I wanted to let you know that Hero Arts now has a SCRAPBOOK category to their contest with a big prize.  For more info, go HERE.  I would love to see you all enter.
And here is a project I stumbled upon today.  Did it over a year ago, but wanted to share anyway.  I made this for my mom and put a picture of her holding Colin as a baby in it.  Not a great photo of the project, but it was a fun gift to make.  It is a big photo mat on a stand… and I added words to it that were cut with my Cricut.  I love how her devotion to him is "constant" – so I used other words with the same meaning to cover the mat.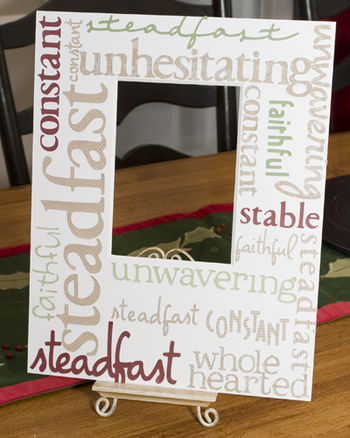 OK… gotta go finish my Christmas card design so I can order them.  EEKS!  OH… and the winner of the paperpad is -amy-!  I will email you!