Frequently Asked Questions, Updates and Sales
Hi! I have been getting a lot of questions lately so I thought I would pop in and share some answers… along with a few updates and sales!
QUESTIONS & ANSWERS
Q: You mentioned Altenew Obsidian Black Ink in your recent video as a great black ink. How does it compare to Gina K Amalgam Ink?
A: Good question! I use BOTH. I use Altenew Obsidian Black Ink for sentiments, solid images, and when I want to heat emboss. (It is a pigment ink.) I use Gina K Amalgam Ink when I want to stamp an image to color (it works with Copic Markers, watercolor, colored pencils, etc.). With the two together, I have everything I need. Both are incredible!
By the way, the Altenew Obsidian Black Ink is out of stock in most places. More had to be manufactured! It will be back in several weeks.
Q: I thought blending brushes would have made your list of new must-have products video. Do you still like them? Do you still use Ink Blending Tools?
A: I do still use both! I didn't put blending brushes in that recent video since I had them on my My Favorite Crafty Things Tool Video in 2018. I use both blending brushes and ink blending tools still. I have a video coming up soon comparing them all!
Q: Do you like the new Taylored Expressions Blending Brushes?
A: I do! I like both of the blending brushes I have tried – Life Changing Brushes and Taylored Expressions Blending Brushes. Both are great and I will use both. The Stamp Market just came out with brushes, too! (More on that below.) I ordered some and can't wait to try them.
By the way, Taylored Expression brushes are out of stock and more are being made. If you are interested, get on the waiting list HERE.
Q: Do you sell your cards?
A: I am sorry, I don't sell my cards. I do send cards randomly to blog readers, friends I have made on social media, and to those who have sent me cards. I wish I could send one to everyone! But I do send a lot!
Q: How do you keep track of what stamps and dies you have?
A: I don't do anything. 🙂 I am weird and remember what I have. Sorry!
Q: Do you sell your supplies? What do you do with extras?
A: I don't directly sell my old supplies. I donate many of them, give others to friends, etc. However, I do sometimes put together boxes stuffed with supplies and "sell" them to blog readers… and 100% of the money goes to charity. If you want to be considered for one of these boxes leave a comment on THIS post. Whenever I get boxes together I refer to the folks who left comments there.
I will answer more questions in a future post! Hope this helps.
UPDATES
A few updates for you:
As I mentioned above, the Altenew Obsidian Black Ink is out of stock in most places. More had to be manufactured! It will be back in several weeks. Stay tuned!
Also, the Couture Creations Creative Detailer Tool is out stock. However, more are on their way! You can get it on reserve HERE.
I am still working on updating my Ink Swatches. Sorry for the wait. Stayed tuned!
SALES
There are some great sales going on right now!
Be sure to visit the websites for any fine print, restrictions, etc! Please let me know if you see any errors in the sale info! I will update this post as I learn of more deals. Affiliate links may be used – not in all cases – at no cost to you. Thank you for your support! Please know I only support legitimate companies and small businesses with original designs and good people. xo. I will be constantly be donating a portion of my affiliate sales from this page to a good cause. For all of July I will be supporting The Ovarian Cancer Research Alliance! My mother-in-law is currently battling this. We must help these women fight this horrible disease.
---
SIMON SAYS STAMP — There are HUGE savings at Simon Says Stamp right now!

---
THE STAMP MARKET – The Stamp Market has come out with Ink Blending Brushes! I have ordered a bunch. Love the white design! And they are on SALE right now big time! Not sure how long the deal will last. Find them HERE.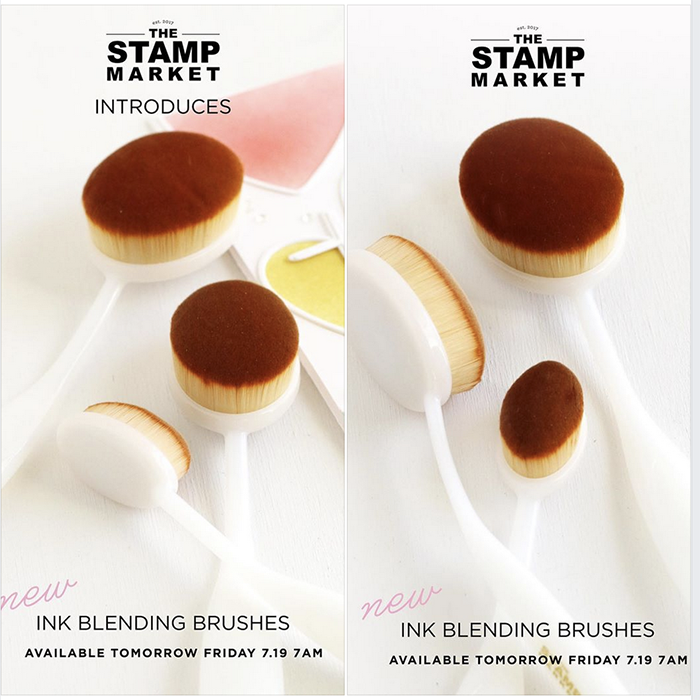 ---
HONEY BEE — Get 20% off all the Honey Bee fall, Christmas, holiday items… plus anything red or green! (And a few added surprises, too!) Over 200 items in the shop qualify, INCLUDING their ENTIRE Clearance section! (With savings up to 70% off of clearance, you won't want to miss it!) Use code "SANTA20" through 7/22/19. Shop HERE.

---
ALTENEW –

---
MY FAVORITE THINGS — Get FREE shipping at My Favorite Things on orders over $25 in the US. Through 7/31/19. Shop HERE.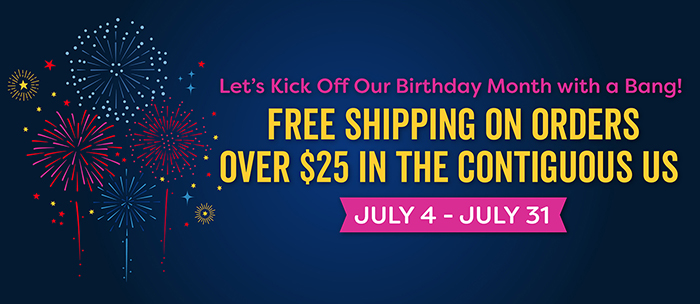 And… there are 3 ways to save with every purchase at My Favorite Things:
Get the "Free with $60 Die-namics" die with qualifying orders over $60. Details HERE.
All qualifying US orders of $50 or more (after discounts) will receive a $6.50 shipping credit, which is automatically applied to your shopping cart. Contiguous US customers receive FREE shipping on each order $50 or more (after discounts) when selecting "MFT's Choice" as your shipping method. Details HERE.
All international customers may select "MFT's Choice", our flat rate shipping method. You'll never pay more than $19.50 in shipping. Details HERE.
Also, remember the more you spend, the more you save! One discount code per order:

Orders over $100 save 10%. Use code STS10 in the Shopping Cart area at checkout.
Orders over $250 save 15%. Use code STS15 in the Shopping Cart area at checkout.
Orders over $500 save 20%. Use code STS20 in the Shopping Cart area at checkout.
Orders over $750 save 25%. Use code STS25 in the Shopping Cart area at checkout.

---
KAT SCRAPPINESS — Receive 20% off all Christmas/Hanukkah products with the code "JULYXMAS" through 7/31/19. Shop HERE.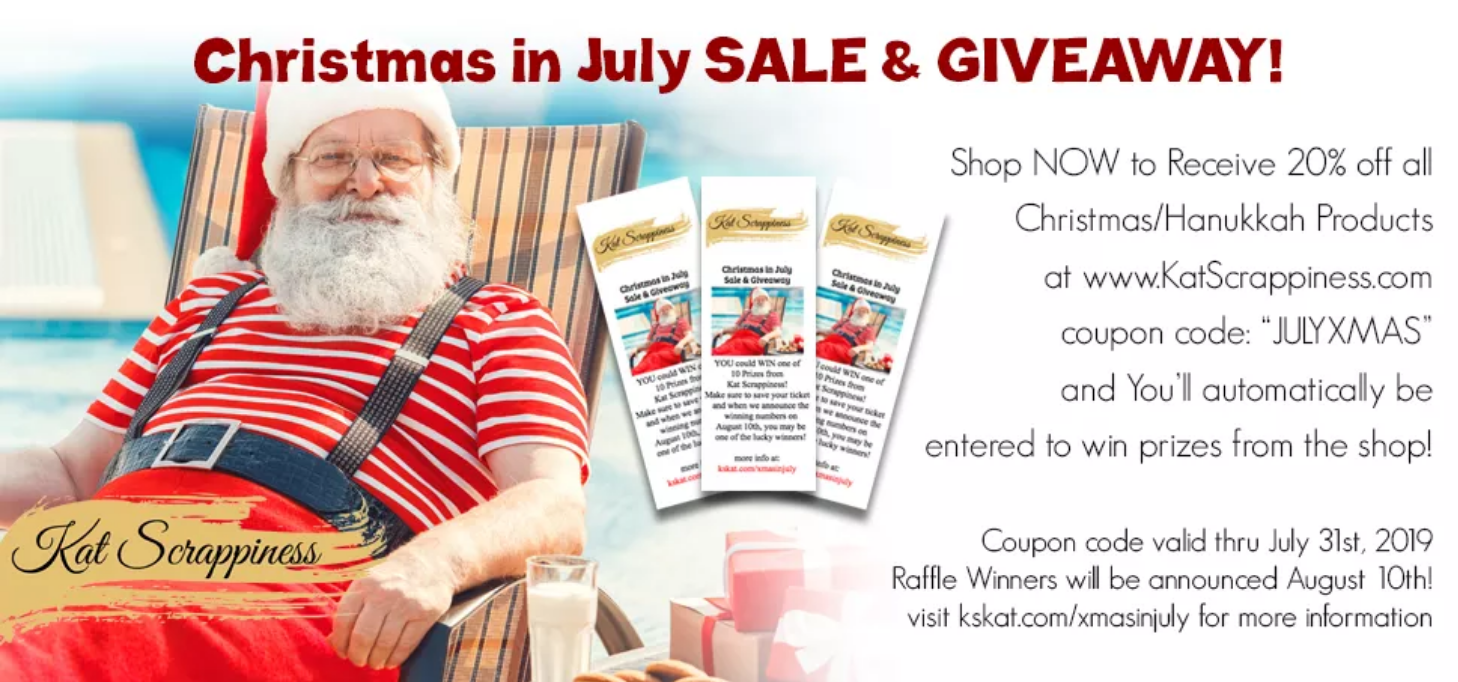 ---
SPELLBINDERS – Spellbinders has Surprise Bundles for sale! These include an assortment of Six Die Sets, Two Embossing Folders and Three Stamp & Die Sets. This bundle is valued over $150! Hurry and grab yours while they last. Shop HERE.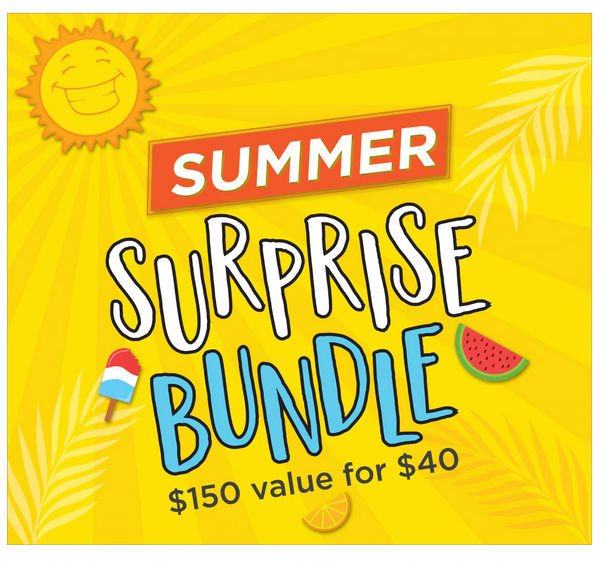 ---
THERMOWEB – Be sure to check out the Thermoweb summer sale! Lots of huge deals. Find it HERE.
---
CONCORD & 9TH — GREAT new products, free gifts, and savings over at Concord & 9th…
---
HALLMARK SCRAPBOOK & CRAFTS – Huge steals over at Hallmark! Find them HERE.
---
NEAT AND TANGLED — Save 40% off retiring items at Neat and Tangled! No code needed. While supplies last. Hurry! Shop HERE.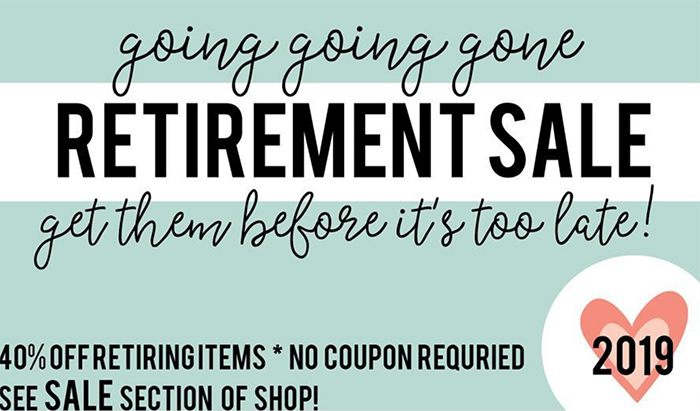 ---
IMPRESS — Save 25% off everything at Impress on 7/20/19. Shop HERE.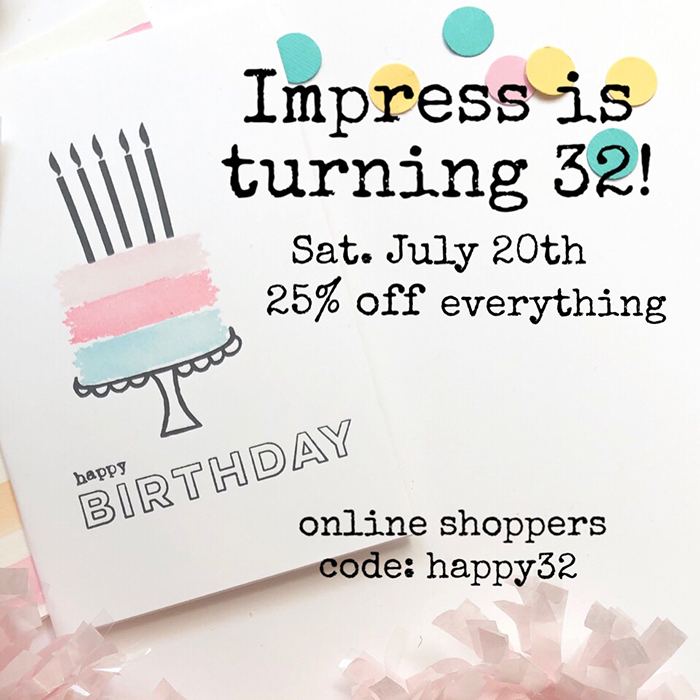 ---
GINA K DESIGNS — Get this stamp set FREE with a purchase of $75 or more! Limited time only. Shop HERE.
---
PURPLE ONION DESIGNS — Save 25% off at Purple Onion Designs through 7/29/19! Shop HERE.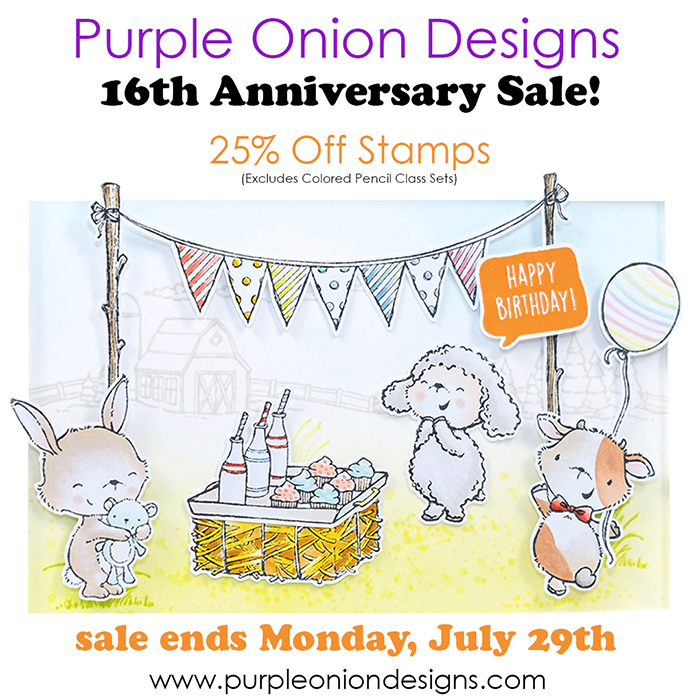 Happy weekend!