Background Die Cut Techniques + FUNDRAISER
Hello! I am back to share several tips and tricks for creating dimensional backgrounds with background dies. I also have information on a wonderful craft fundraiser.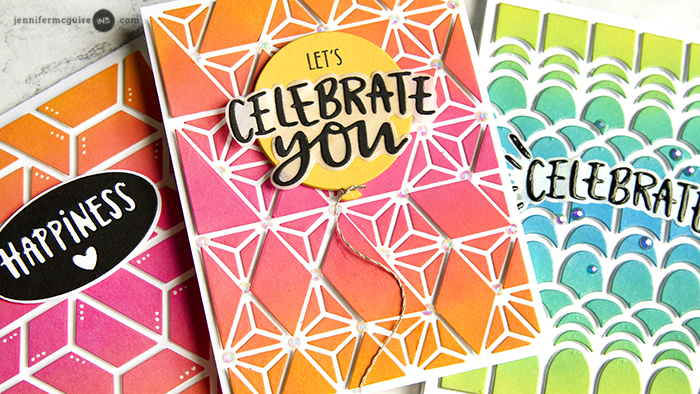 [All supplies are linked to multiple sources in the thumbnails at the end of this post. Multiple stores are also linked in the parentheses following the product name. Compensated affiliate links may be used at no cost to you.]
I often use background die cuts on my cards. And my favorite look is when they are colorful with lots of dimension. However, this can take a lot of time and be tricky. Today I share several different techniques. I encourage you to watch the video to see each one in action.
One of the easiest ways to add dimensionanal die cuts and die cut pieces to a card is by using craft foam. For my card, I inked up 80lb white cardstock with Twisted Citron, Peacock Feathers, and Salty Ocean Distress Oxide Inks with an Ink Blending Tool. I then added Stick It Adhesive to the back… and a piece of white card foam. I die cut the piece with the Neat and Tangled Scalloped Cover Die (SSS | NT). Next, I flipped the die cut piece over and added Gina K Connect Glue to each of the little pieces – not the outline – and pressed it all on a white notecard. Once I lifted the outline piece, I am left with all the little pieces with great dimension!
The sentiment is from the Neat and Tangled Celebrate You Dies (SSS | NT). (Please read more about this product below!) I used Grafix Platinum Vellum, black cardstock, and Tonic Crystal Glaze.
This card was quick – I just adhered the outline piece (which has the craft foam on the back) on to another notecard and added a layered Neat and Tangled Hooray (SSS | NT) die cut.
For my next example, I started with cardstock inked with Picked Raspberry, Abandoned Coral, and Spiced Marmalade Distress Oxide Ink. I then cut the piece with the Neat and Tangled Polygon Cover Die (SSS | NT) and kept the little pieces in the outline die cut. I carefully added a piece of Avery Removable Adhesive Sheet to hold the shapes together (on the inked side). After flipping it over, I put tiny foam tape pieces on the backs of the little die cuts. I placed a white notecard into the adhesive and then carefully removed the outline piece.
I added a Neat and Tangled Happiness Die Cut (SSS | NT) and little white dots for fun.
You can use the same technique to add lots of little die cut pieces directly to a card it no dimension. Here, I inked up cardstock and cut it with the Neat and Tangled Hexastar Die (SSS | NT). I kept all of the die cut together again with a piece of Avery Removable Adhesive Sheet. After I applied liquid glue to the back of each of the tiny pieces, I flipped it over and added it a white notecard. Once dry, I removed the outline.
I used the leftover outline piece on a second card… adding a Neat and Tangled Hooray (SSS | NT) sentiment.
This next technique is my favorite – where some of the die cut pieces are added with dimensional adhesive, and some are added with regular adhesive. This looks so cool in real life!
I created the center piece using the Lawn Fawn Party Balloons Dies, Neat and Tangled Celebrate You Dies (SSS | NT), and Neat and Tangled Better Together Stamp Set (SSS | NT).
I created a second card with the leftover outline piece…
My last card also has some die cut pieces with dimension and some without. This creates the coolest dimension! I used the Neat and Tangled Inlaid Squares Die (SSS | NT) and Neat and Tangled Celebrate You Stamp Set (SSS | NT).
DIE CUTTING TIPS
Here are a few tips if you find your background die is not cutting well:
FUNDRAISER
All proceeds (retail and wholesale) from the Celebrate You Stamp Set and Die Set are being donated to the Burning Limb Foundation to help patients at the Neurologic Relief Center receive care for Complex Regional Pain Syndrome (CRPS). The father of Neat and Tangled owner (and dear friend of mine) Danielle was diagnosed with CRPS in 2017 and received the best care at the Center. Because of their groundbreaking, non-invasive techniques he is now in remission and living his best life! More of his story can be found HERE, be sure to read the updates.
Please consider purchasing these sets, or making direct donation HERE. Also…
Here is a bit of info from Danielle. What a story!
As many of you know, my dad become very ill unexpectedly last year. You can read much more about his story HERE. The gist is that after a routine knee replacement he developed and was diagnosed with a condition called Complex Regional Pain Syndrome (CRPS), which is an unimaginable disease. Sadly, it has earned the nickname "The Suicide Disease", as the physical, mental, and emotional pain that it brings often becomes too much to bear. Here is a video sharing the story of 2 CRPS sufferers that paints a clear picture of life with this disease: 
My dad's journey is almost identical, it took him through many misdiagnoses, countless failed, and in some cases harmful, treatment attempts ranging from physical therapy to pharmaceuticals to spinal nerve blocks. Sadly we were very misguided by traditional medicine, as there is just so little known about this condition. One very late night after a google search of "holistic approaches to CRPS", I stumbled across an article written by a chiropractor, Dr. Katinka van der Merwe. As soon as I read what she had written I KNEW without a shadow of doubt that she was the answer. I called her and spoke with her for over an hour, in which she answered every question I could have thought of, and for the first time in our journey to getting my dad back, expressed true understanding and compassion for our situation. THIS is a more recent article she has written that really does a great job of explaining how she came to treat these patients, and her protocol for getting them into remission.
Dr. K's treatment center, The Neurologic Relief Center, is in Fayetteville, Arkansas, and it is a 10-12 week non-invasive program (customized to each patient). The cost of the treatment itself is approximately $1500/week (sadly, insurance does not cover their treatment protocols). The $1500/week DOES NOT including getting yourself to Arkansas, housing, meals, transportation to and from the center, etc.  For my dad, when it was all said and done from start to finish this trip cost over $35,000.This $35,000 was after we had already spent thousands and thousands on hospital visits, medications, procedures, etc. This is the story for almost everyone diagnosed with CRPS, it can be an insurmountable cost to try to heal.
We set up a GoFundMe with the hopes of being able to at least get him a month of treatment, and then just max out our credit cards. But what happened was truly extraordinary.  First, the donations (and moral support) from our friends and family alone was more than we could have ever hoped for. Second, Kathy Racoosin and The Queen's Ink donated all of the money from her Coloring Challenge Road Trip to the fund. Third, Simon Says Stamp donated all of the sales from our STAMPtember stamp set to his GoFundMe. Because of this generosity we were able to get him the full treatment protocol, and bring him home without the burden of more debt.
It has been on my heart to pay this forward. After spending almost 2 weeks myself in Arkansas at the center, watching what they do, meeting other patients and hearing their stories, my life will be forever changed. The experience for my dad in Arkansas was transformative – both physically and mentally. I love sharing this video from his bell ringing ceremony as much as I can to show people that it is possible to step out of even the darkest of the dark moments of your life. I have to mention before you watch, that he was essentially bed ridden when he arrived in Arkansas: https://www.facebook.com/TheNeurologicReliefCenter/videos/1735291439836367/  I am always so proud to tell people how awesome he doing! He was able to return to work full time in December, and is living his life so fully. Little things like having him over for dinner, or having him come to the kids baseball games move me so greatly. It is no secret, and he will tell you very openly himself, that he was fully prepared to end his life if this treatment did not work. To look at how far he has come since a year ago gives me great pause.
I have designed a stamp and die set, Celebrate You, that we will use the proceeds (both wholesale and retail) to help families of CRPS in financial need. Customers will also have the option to just make a straight donation without purchase on our website. Donations we collect will be made to the Burning Limb Foundation, a non-profit created by a former patient of Dr. Katinka's. Dr. Katinka and the Burning Limb Foundation will work together to distribute the funds to families at the Neurologic Relief Center that are most in need, some will be patients already at her center, others will be those that have not had the funds to begin treatment. I am calling this campaign "Crafting with Compassion", as the definition of compassion is the humane quality of understanding the suffering of others and wanting to do something about it, which sums up my mission with this.  
My hope is that with sharing my dad's story, and this fundraising campaign we can  1. Raise funds to help those in need 2. Spread awareness of CRPS and alternative non-invasive treatment options 3. Give others hope.  
Also, I will donating my affiliate income from this post to Burning Limb Foundation. Thank you for your support!
SUPPLIES
Want to find the products I used? I have listed them below. (Compensated affiliate links used at no cost to you. Thank you! Affiliate and product disclosure can be found here. All products were personally purchased except those with an asterisk. As always, this post was NOT paid for or sponsored.) Click on the icons below each product picture to go to a favorite store.
| | | |
| --- | --- | --- |
| *Neat and Tangled Celebrate You Stamp… | *Neat and Tangled Celebrate You Dies | Crafting with Compassion Donations |
| Neat and Tangled Scalloped Cover Die | Neat and Tangled Modern Triangle Die | Neat and Tangled Inlaid Squares Die |
| Neat and Tangled Polygon Cover Die | Neat and Tangled Hexastar Die | *Neat and Tangled Hooray Dies |
| Neat and Tangled Happiness Dies | Neat and Tangled Happiness Stamp Set | *Lawn Fawn Party Balloons Dies |
| Neat and Tangled Better Together… | MISTI Stamping Tool | MISTI Creative Corners |
| MISTI Mouse Pad Insert | MISTI Bar Magnet | * Tim Holtz Tonic Glass Media Mat |
| * Tim Holtz Tonic Glass Media Mat | Distress Oxide Inks | Mini Ink Blending Tool |
| Gina K Connect Glue | Stick It Adhesive Sheets | White Craft Foam |
| White Craft Foam | Grafix Platinum Vellum | Tonic Golden Years Confetti |
| Tonic Crystal Glaze | Gemini Junior Die Cut Machine | Tim Holtz Craft Pick |
| 3M Foam Tape | Avery Removable Adhesive Sheets | White Sharpie Pen |