Video: Tattered Floral Challenge – Cutesy Floral Hair Clips + Giveaway!
Hello!
I was excited when Tim Holtz told me about his awesome Tattered Floral Challenge. (Check it out – there are lots of prizes!) I have loved this die since the moment it came out and have used it in many of my classes. It will cut through anything.
I instantly decided to do something different and unexpected. Instead of a vintage look, I decided to go the opposite – cutesy, bright, simple and "skittles-like." (This is a term Tim gave my work years ago. It works for me! 🙂 I LOVE the vintage look, but I thought it would be fun to show the die used for something completely different.
So, I present to you my "Cutesy Floral Hair Clips," made with the Tim Holtz Tattered Floral Die…
I also present to you my sweet little model, Lila. (She is 9 months and walking like crazy, so it was hard to get a good picture of her!)
These clips are SO easy and VERY fast to make. The possibilities are endless! And if you don't have a cutie girl to wear them, these would make excellent brooches or card accents. (OOOoooo… idea! I am going to make a pillow for my older daughter covered in a heart made of these. Yay!)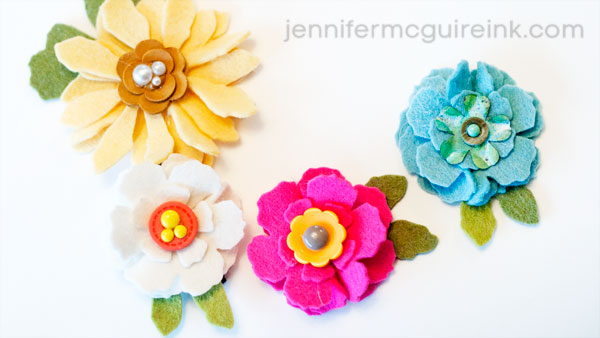 Fun, huh? I love showing the versatility of a product. And this product is a good one.


Giveaway! Tim has sent me an extra Tattered Floral Die to give to a lucky winner. Just leave a comment here by 3/23/13 at 11:59pmEST for your chance to win.
Also be sure to stop by Tim's Tattered Floral Challenge for info on how you can play along and possibly win some big prizes. Enjoy!