Lawn Fawn Inspiration Week and Serious Enabling
Hello!
Lawn Fawn is having a fun Inspiration Week starting today. Their Inspiration Weeks are fun – they focus on a few of their great products and show a TON of creative ways to use them along with videos and giveaways. (Go HERE to find their blog.) Today they are focusing on their adorable Winter Owl Set, and I decided to play along…
Isn't that owl the cutest? Especially with oversized google eyes. I also used my favorite Lawn Fawn set on the background – the Interlocking Backdrops. Isn't that herringbone fabulous? The branch is actually the Simon Says Stamp Tall Tree die cut placed sideways. Love the unexpected uses of die cuts.
I used a new coloring tool to color the owl and moon. More on that in a few days…
Be sure to head to Lawn Fawn for more inspiration! (Supplies are at the end of this post.)

Warning: If you are trying to save money, do not continue reading. Ha. I have a bit of (really good) enabling. Or at least some shares of things I am really enjoying lately…
You know I love Distress Inks. Big time. And some of my favorite colors are ones from the Seasonal sets. Well… Ranger finally has released them as individual inks and reinkers. Woot woot! You can find them all HERE. In general, these colors tend to be brighter than the standard ones. (Which makes me happy. Don't tell Tim.) My favorites? Peacock Feathers (the best pool color), Gathered Twigs (the perfect brown), Mowed Lawn (grass green – yay!) and Salty Ocean (true blue)…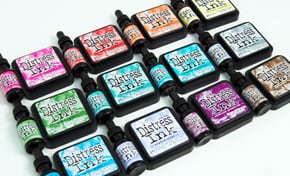 There are a few new stamp sets available at Simon Says Stamp – fabulous ones. Without a doubt, these are all must-haves. (Again!) Click on them to see more…
THIS. This is something that is on my wish list. Big time. But I just haven't been able to cough up the bucks on it. But it is incredible – a limited addition set of Copics in the best colors. And get this – they have both the brush tip and the standard fine nib. (This is unique – usually these two tips aren't on the same marker.) I LOVE these two tips. I think I may have to cave…
A new Simon Says Stamp card kit is out – November's. Lovely and classy. Here is the kit…
You can also now get this rocking holiday card kit. It is big and wonderful. I plan to use mine to decorate all the presents under the tree. (Can you just imagine how cute that would look with plain silver and red wrapping paper? Delightful.)
I mentioned this one the other day. I got some and love it. It is a must have. If you have taken any of my classes, you know I loved the Eclipse Tape big roll, but it is no longer available. Guess what? Now you can get it in sheets! (Can you say perfect for die cutting?!) You can find it HERE. (This product is amazing for masking and more.)
And then some other fun products I am happy to soon play with: Studio Calico Wood Veneer Trees, Studio Calico 6×6 Wonderland Paper Pad, and Metallic Distress Stains.
I warned ya. Some good products out there! See you soon.