Sizzix Triple Play Blog Hop Week 1: Holiday Home
(First – this is my second post for today. If you are looking for Day 3 of my Challenge with Julie, just scroll down to the next post. Thanks!)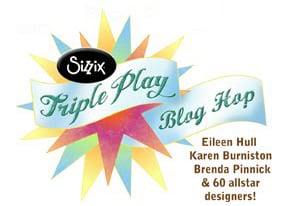 Today I am part of the Sizzix Triple Play Blog Hop. This is the first week and there are 60 designers playing along! Each week will focus on a different fun die. To get all the destails on the hop and such, just click HERE.
I am loving the die for this week – the Sizzix Scoreboards Pro Die 3D House by Eileen Hull. There are so many fabulus things you can do with this little guy. I decided to make mine for my bedside table for the holiday season and I wanted it to be super simple.
I was thrilled with how quickly this house went together. I used Sizzix White Mat Board (which was the perfect surface for inking and stamping) and my Big Shot – so easy. Did some Distress Inking, Hero Arts stamping and a bit of embellishing..
Fun, Huh? By the way, if you want to see how easily this assembles, check out THIS pdf.
To head to the next person on the blog, please click over on the blog icon over on the right sidebar of my blog. ———–>
See you tomorrow with another challenge day with Julie. Bye!