Hello, there!  Happy Friday…
We are getting ready to head to a lake for a week.  Will be meeting my in-laws there, along with my sister-in-law and her family.  They live in Africa, so we don't get to see them often.  Can't wait to see them in person instead of just in my prayers! We are all going, but Roxie has to stay here.  She will love life, as Grandpa will be staying at the house here with her.  Happy pup.
I will post from there, but I wanted to get a giveaway up before leaving. 🙂
So… a few weeks ago, I was shopping at iheartpapers and noticed a new line of stamps that I liked called Mint Motif.  I bought a set and loved them, especially since they are made in the US and therefore stamp great.
I then found out that they were designed by one of my favorite card artists,  Kimberly Crawford. And, being the kind person she is, she offered to send me sets to giveaway here.  What a doll.
First, I thought I would share a few cards I made with these stamps.  For the background on this one, I mounted all the square stamps on a big block and stamped them together.  Then stamped on red and punched out some hearts…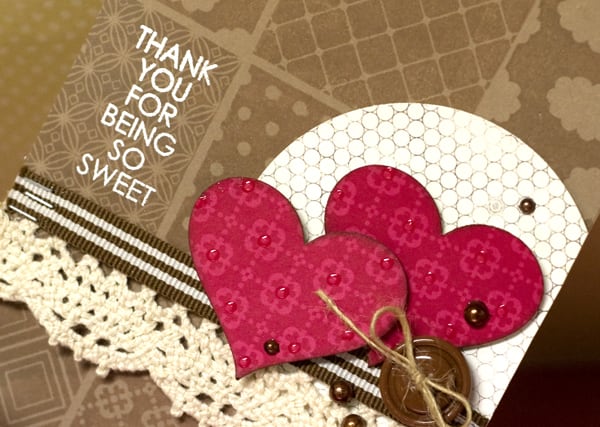 Supplies: Mint Motif patterns and greeting; Ellen Hutson trim; Handmade Button; Hero Arts notecard, chalk inks, pearls, embossing powder; Glossy Accents; Basic Grey paper; May Arts ribbon; Tim Holtz Tiny Attacher
The orientation of these greetings is fabulous.
This one has a bit of Hero Arts love in the background.  The stars are stamped with the dotted square and then finished with Glossy Accent dots.
Supplies: Mint Motif patterns and greeting; Ellen Hutson trim; Hero Arts notecard, chalk inks, gems; Glossy Accents; May Arts ribbon; Fiskars punch; 7Gypsies paper; Tim Holtz Tiny Attacher
So… I have two sets to giveaway – one each to two lucky winners.  Just leave a comment here by Monday night at 11:59pmEST telling me your current favorite stamp line and I will pick winners.  Look at these lovely sets…
Have a great weekend and good luck!