New Challenge! Day 1 of HA/PTI Stamp Challenge with Maile Belles
Hello!
Welcome to yet another same stamp challenge. This time I asked Maile Belles. I don't know Maile well, but have admired her work for some time now. She has a simple and classy look that is so stunning – simple and classy is hard to achieve! But she does it every time. So, I asked her if she wanted to do a fun challenge with me. And, to top it off, she is as sweet as can be.
Since Maile is on the Papertrey Ink design team, we are going to do a double-same-stamp-challenge – one being Hero Arts and one being Papertrey Ink. I love combining my favorite stamp companies like this.
So, Day 1 of our HA/PTI Stamp Challenge combines the Hero Arts Village background with the Papertrey Ink Boards and Beams set…

And here is my take on these two stamps. I think I was nervous coming up with something that will even come close to comparing to Maile's! But I tried. I used white ink on the craft background for a subtle look. The house is colored with Copics and I used Glossy Accents to make the windows shine. The little dots on the tree were made with White Enamel and then colored with pink Copics once they dried. Oh, and I created the little shrub by cutting some from the tree. Did the greeting on the computer – wanted it to be perfect for a friend who just visited…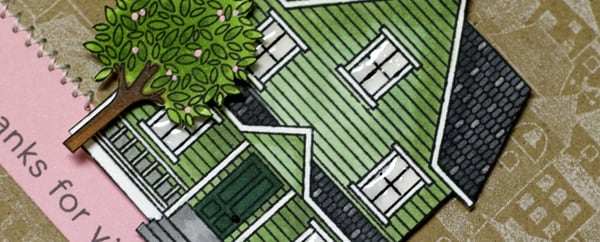 See below for the supplies.

Oh, and for the record – I LOVE the name Maile. If I ever have a girl, that is at the top of the list. 🙂
Now go and visit Maile HERE. I am sure your socks will be knocked off.
Bye!
House Card Supplies: