Operation Write Home Red Friday Blog Hop + Giveaways
Hello! I am spending a few days focused on my family. However, I wanted to pop in to take part in the Operation Write Home Red Friday Blog Hop. We're turning "Black Friday" into "Red Friday" by supporting our nation's heroes!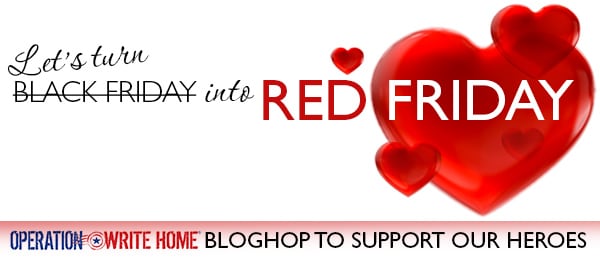 If you didn't know, Operation Write Home is a charity that sends blank handmade cards to service members deployed overseas. The service members then can fill them out and send back to their families. Sweet, huh? OWH has sent nearly 3 million cards! However, November through February are the slowest months for OWH. But we can change that! We all have a handful of cards in our stash — why not send a few in? That'll keep our heroes busy writing home during a long winter away from home.
If you are interested in sending in cards, be sure to read the information on the Stars and Stamps post HERE so you send in what's needed (no Christmas cards, no glitter, A2, etc).
It is always great to send in "I love you" cards for OWH. Need some ideas? Check out these videos – all would work for OWH!
In this video, the "Kiss Kiss" card would be fun for a parent to send home to a child…
You can't go wrong with "Sending Hedgehugs" (but be sure to skip the Wink of Stella to be safe)…
Want to mass-produce some cards to send in to OWH? You could change up this design and use messages of "love you"…
This card design would be a great choice. However, it is best to change out the glitter paper. (No glitter for OWH!)
Maybe you could have some fun using die cutting and scraps…
I hope you will consider sending some cards in. It is a great cause!
GIVEAWAYS
What's a hop without prizes? See the Stars and Stamps post for the full list of prizes from some awesome sponsors… and go link up YOUR love card there, too! There are prizes for both those who comment on the blog hop blogs (including here) as well as folks who share their own creation.
HOP ON TO…
The next stop on the hop is Paula Spagnuolo… or you can start at the beginning of the hop HERE.
Have a great weekend!