Video: No-Mess Glitter Die Cuts
Hello! Today's video shows how to create glitter die cuts… without the mess during and after.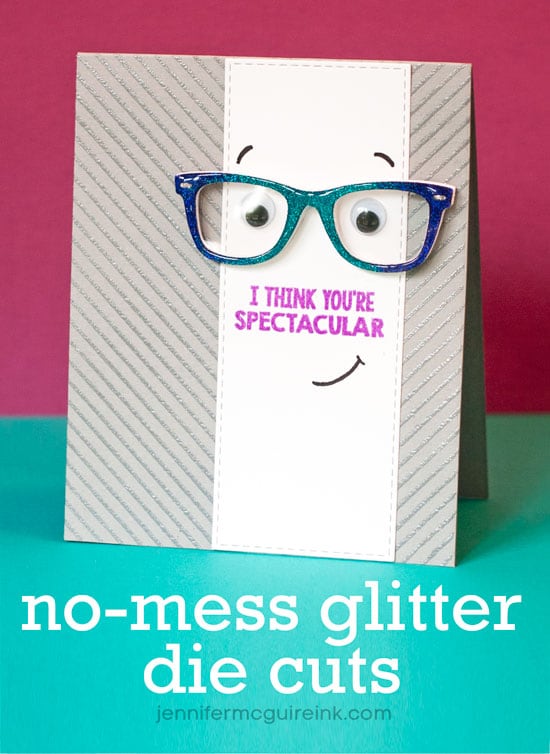 [All supplies are linked to multiple sources in the thumbnails at the end of this post. To watch the video in HD on YouTube, click HERE.]
I know many of you avoid glitter because it is a mess to work with… or it rubs off easily from the final card. Well today's video shows many ways to tackle the mess. I really think it is worth it to take these extra steps when using glitter… the final results are so fun.
One important tip is to use high quality, super fine glitter. I used Elizabeth Craft Designs Silk Superfine Glitter in this video. This stuff is amazing! Once you press it on to double-sided tape, it becomes velvety smooth and stays put. (I also like Glitter Ritz and Ranger fine glitters. However, I really like that Elizabeth Craft Designs has developed a TON of incredible products and techniques using their glitters. I highly recommend checking them out HERE… including their videos. And, no, they didn't ask me to post this. I was just impressed.)
To create these adorable glasses, I use the new My Favorite Things glasses dies to cut cardstock covered with double-sided tape. I then removed the release paper and added the Elizabeth Crafts teal and blue glitter… rubbing it with a bone folder to press the glitter in place. This results in a die cut covered in glitter that doesn't rub off. But to REALLY be sure it stayed, I covered it with a thick layer of Glossy Accents. The results? SO COOL…
For this next card, I covered the glitter glasses with a layer of clear embossing powder instead of the Glossy Accents. This creates less dimension, but still holds the glitter in place 100%. There is no way it will come off! Woot.
For both cards, I heat embossed the My Favorite Things Diagonal background stamp with another new favorite embossing powder – the WOW Silver Pearl. I really like how this powder pretty much takes the color of paper behind it and adds a pearl-y/metallic-y shine. Good stuff. The sentiment? That is from the My Favorite Things Geek Is Chic stamp set. Perfect for those glasses! I did my stamping on pieces cut with the versatile My Favorite Things Vertical Strip die set. (In the video I show this vertical set together with the horizontal set.)
Here are a few more glitter tips and links for you:
I find three things very help when working with glitter: Coffee filters, mini spoons (you can also get from a local ice cream shop), and Swiffer cloths.
Still not convinced that glitter can be not-so-messy? Try glitter paper.
Check out THIS video for another example I did of glitter die cuts… but before I realized the tips I shared here. 🙂
I will be back soon with another video showing how to get similiar results without needing several colors of glitter. Stay tuned.
SUPPLIES
Below are the products featured above. Click on the letters below the picture to go to a favorite store: Simon Says Stamp (SSS), Ellen Hutson (EH), My Favorite Things (MFT), and Amazon (AZ).