Hey, there.
So, the other day when one of the moms at Colin's school saw the Valentines we made, she complimented them and then said in the sweetest voice, "You must save SO much money by making your own cards!"
Yes, I am laughing with you.
If she only knew, right?
Anyway…
I thought I would share the invites for Colin's upcoming 5th birthday party.

Yep, he wanted a bowling party. With a Super Mario theme. And momma liked the challenge.
Found a Mario clipart online – one where he was throwing a fireball. But, of course, I replaced it with a bowling ball. The clipart was all the wrong colors so I removed the color in PS from everything but his face and re-colored with Copics. Audrey helped and Colin colored the bowling balls.


And since I am incapable of keeping anything I create simple, I did a fun fold. Which Colin loves.
And the funky fold opens up to reveal the party info.
Isn't that new Hero Arts + Basic Grey star background perfect for birthday invites?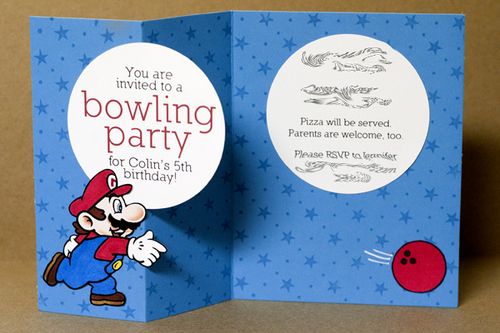 We had to make 30 invites…

And Colin addressed them all.

Colin LOVED the cards and many of his friends have told him the same. That makes it SO worth it.
Now THAT is priceless.
🙂
Night!
(Oh, the winner of the configurations was Barb E.)
Invitation Supplies: