I am so excited. I finally went through all the prizes for the Card Drive! And there are 10 good ones. And, I am guessing, I will probably add more. 🙂
Remember: For each card you send in for the Card Drive, you get an entry into winning one of these prizes. The deadline is August 1. (For details, click HERE.)
Here are the prizes!

Prize 1: Goodies from the Scrapbook Bakery! (Please visit Heather's site HERE. Her support in this ROCKS and she made LOTS of incredible cards for the kids. She put so much thought and time into them. If you want to see all the awesome cards she made, look HERE. Wow.)
Prize 2: A TON of Autumn Leaves Buttons
Prize 3: Stampin' Up Set and Ribbon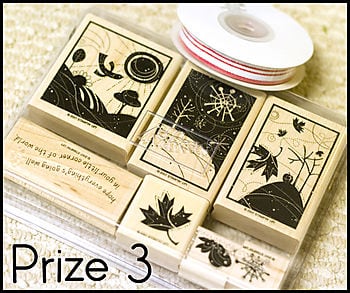 Prize 4: Lots of Chipboard Goodness (Bo Bunny, American Crafts, Scrapworks, Anna Griffin, Elsie)

Prize 5: A Mix of Goodies (Close To My Heart papers and inks, American Crafts album and shapes, MAMBI chipboard stickers)

Prize 6: A Bunch of Rub-Ons (Heidi Grace, American Crafts, Doodlebug, Autumn Leaves and Foofala)

Prize 7: Basic Grey Clear Stamps

Prize 8: Complete Alphabet Chipboard Letters (3 per pack, all A-Z, Hero Arts)

Prize 9: Autumn Leaves Clear Stamps

Prize 10: Autumn Leaves Clear Stamps
Prize 11: A Fabulous Bag from the Yellowfence.com! (Please visit their site HERE. Oh, my. I can't wait to order the "Got Stamps?" shirt! SO much good stuff. And she sells things to support charities… how cool! This bag is super high-quality and adorable. Sharon from Yellow Fence just sent this along with some other goodies and cards for the kids… I didn't know it was coming. Imagine how fun it was to open!)
Prize 12: Designing With Stamping Book (a fave of mine)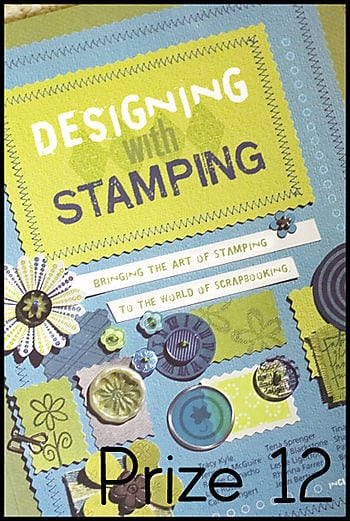 Prize 13: Random Goodies (American Crafts Rub-Ons – which are the best! – Autumn Leaves and KI ribbons and Chatterbox goodies)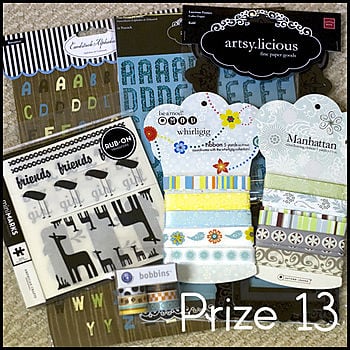 Prize 14: Handmade Bag made by Nichol Magouirk. She made me one of these for me for my birthday and it is the BEST. I used it everyday when we went to the beach in St. John. Lots of pockets and oh-so cute. 🙂
Prize 15: May Kit of the Month from lisabearnson.com donated by Nichol Magouirk. There is a lot of good stuff in there! See it HERE.
Prize 16: Love, Elsie Clear Stamps donated by Tami Hartley.
Prize 17: $25 Gift Certificate for stampintreasures.com donated by Diane. This online store is one of the few that carries ALL Hero Arts. Thank you, Diane!
Prize 18: Holiday Kit from scrapbookbakery.com donated by Heather Ruwe. This was a kit that I got to work with when I was a guest designer for her last year. You can see my projects HERE.
Prize 19: Hero Arts stamp from Carol at Stamper's Corner! This is a huge set – 4″x12″! (If you are interested in the newest Hero Arts stamps, she has them all and is happy to send them. Fabulous customer service. Just ask for Carol at 916.686.0651. She also has Cuttlebug goodies. Oh, and she sells Gamsol, too!)
Prize 20: DMD's Funky Flowers Clear Stamps from an anonymous donor. Thank you!
Prize 21: April Kit of the Month from lisabearnson.com donated by Kelly Purkey! This one is sold out. Thanks, Kelly!

Prize 22: American Craft Glitter Thickers donated by Kelly Purkey! Includes 6 sets.