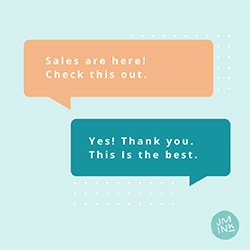 Texting Help
What Does This Do?
As you know, I already have the Crafty News Page and e-mail list that I use to let you know of all the best sales and new releases related to crafting and card making. But I wanted another way to let you know about the BEST sales as they become available. So I set up a new "Sales" texting service that will allow you to receive sales notifications on your phone as soon as they become known to me. This is completely optional and will not replace the Crafty News Page.
How to Join
Joining is easy!  Just click the button below and enter your smartphone number, and some info about you, and you'll be signed up!
IMPORTANT: You'll get a text, and all you need to do is reply "YES"!  Even if you also get a confirmation e-mail, be sure to text "YES" to confirm your signup!
Right now, only select countries are supported due to the service we use. But we hope they expand this in the future!
Why Do We Need Info?
When you signup, I do ask for your name and birthday. This part is completely optional – you can leave it blank and still get texts! Your name and birthday just allows me to personalize our messages to you.  I NEVER share information with other companies, etc.
How Often Will We Send?
Maybe 3 or 4 times a month. During big sales time (like Black Friday), texts may be more frequent.
How Do I Cancel?
If you ever want to cancel, just reply "STOP" to any of the previous messages. But I'll be sad to see you go. 🙁
How Can I Re-Subscribe?
If you've unsubscribed in the past, you'll need to reply "UNSTOP" to be added back on the list!
Can I Use It To Contact You?
Because I'll be texting everyone at the same time, with the same message, I'm not sending them from my phone. So while you can reply with a text, it's not easily available. The best, and fastest, way to get ahold of me is still with my contact form.
Virtual Contact Form
When you signed up, you probably received an attachment called jennifer_mcguire_ink.vcf or just 'Jennifer McGuire Ink'.  This is a "Virtual Contact Form". Clicking it will add the "Jennifer McGuire Ink" name to the texting phone number in your contacts list on your computer or phone!
or…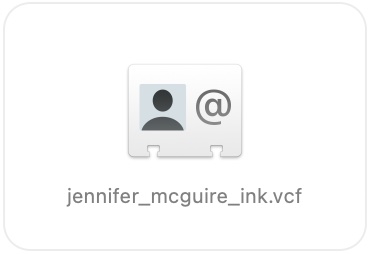 Need Help?
If you have any questions, feel free to send a message under the "SMS/Texting Issue" subject on my contact page. PLEASE let me know if you have ANY issues signing up.  This is a brand new service, and we are all learning!
Terms of Service and Privacy
I will NEVER give, sell or trade ANY of your information. And it will never be used for any kind of tracking or advertising. See more info in my Privacy Policy and Mobile Terms of Service.