Here are links to products I have mentioned on @myworkinghome on Instagram. Hope it helps! Newest posts are listed first. (Some other helpful links: my crafting blog, disclosure, and video tutorials. Affiliate links may be used at no additional cost to you.)
CRAFTROOM
Heart Shaped Knobs – Find them HERE.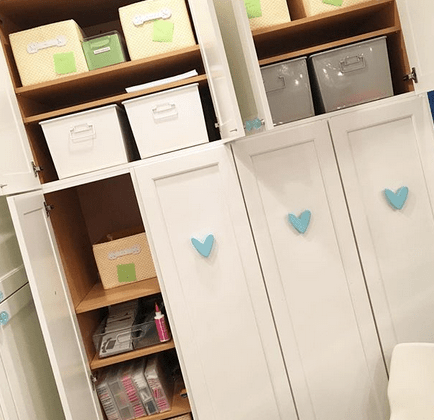 Colorful Clock – Find it HERE.
Pencil/Marker Caddy – Lila and I both really like this caddy for pencils and markers. So much fun! Find it HERE.
Big Shot Express – After testing it out for months, I have officially switched to the Big Shot Express. This die cut machine is electric and I love it! You can find it HERE. (I have mine in a pull out cabinet drawer. Cabinets are custom. I use my old, short multi-purpose platform with it, but you can buy one HERE. And for plates, head HERE.)
Stamp & Die Storage Dividers – I used to cut up plastic folders for dividers but wanted to share another way to create them since the folders confused many readers. 🙂 And I happen to like this method better! I now cut labeled cardstock and laminate it. Works great. Here are the supplies I use to make them:
For my dies, I use a coral cardstock – found HERE.
For my stamps, I use a pool cardstock – found HERE.
I cut the cardstock to the desired size and round the corners with THIS.
I laminate the cardstock with heavyweight laminate – THESE pouches work incredibly well. (There are 100 in there!)
I trim the laminate back to close to the cardstock edge with a trimmer and use my scissors to round the corners of the laminate.
Dog Figurines – You can get them HERE and HERE.
Craft Room and Lower Level Flooring – Grey laminate… Mannington (Sausalito) in Bay Breeze
Craft Room Lights – 10″ Pendants – I have 5.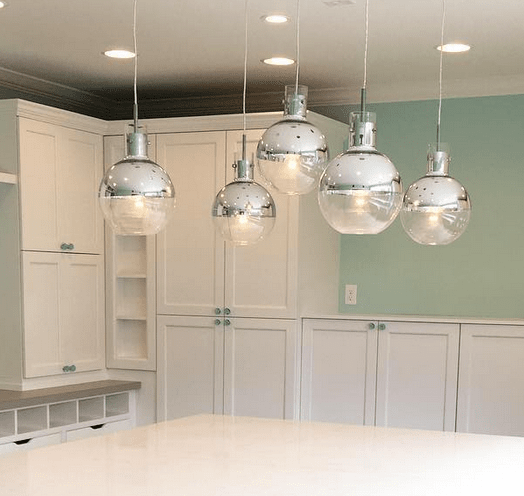 Suitcases – Sometimes found HERE.
PAINT COLORS
These are the paint colors I have used in my house:
Family Room – a soft pool/sky: SW6477 Tidewater cashmere matte
Entry – a soft pool: BM HC144 Palladian Blue matched to SW cashmere matte
Dining Room – a blue: SW 6479 Drizzle cashmere low lustre
Lower Level Walls – a soft grey: SW7649 silverplate cashmere flat
Craft Room Walls – a pool: Benjamin Moore 2040-60 Antiguan sky eggshell finish
OTHER
Nail Polish Shelves – Find it HERE.
Floral Rug – You can find it HERE.
OXO Containers – By far my favorite containers for dry goods. Worth the investment. Find them HERE in many sizes. (You can get these sometimes at Home Goods, etc but the price is about the same on Amazon. I don't really like the mix set at Costco. Too many random sizes – many are too small. I mostly use these sizes: for coffee, for cereal, narrow for pasta/crackers/etc, bigger for pasta/crackers/etc, short for small stuff, for dog treats)
Plastic Containers – We use these in our pantry and study. At the store, they came with a easy-to-deal-with lid and are just the right size for just about anything. There are other colors, but we use white (and some grey). They come in small and large and stack nicely.