STAMPtember® Product Release Close-Up + Cards + Giveaways!
Guess what?! It is STAMPtember® over at Simon Says Stamp – a whole month dedicated to stamping. There are lots of new products, fun surprises, and more! Today I have a video showing all their new exclusive products… along with lots of cards and a giveaway!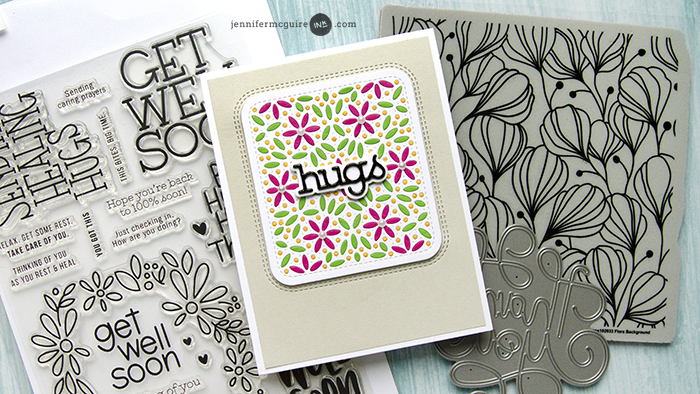 [All products featured are linked in the text below and in the thumbnails at the end of this post. Compensated affiliate links may be used at no cost to you.]
STAMPtember® has been going on for TEN years now! My favorite part of STAMPtember® is the collaborations between Simon Says Stamp and various stamp companies… teaming together to design fun, exclusive products. I personally find it very important for companies to work together in this industry – not compete. Well, during STAMPtember® we get to see lots of company collaboration! These exclusive products will be released throughout the month and I hope to use as many as I can. Stay tuned!
Today is Day 1 of STAMPtember®. And that means the release of new Simon Says Stamp products! I will be back *very* soon with a video using many of these products. I am guessing many of the products will sell out quickly, so be sure to check them out soon – they are all linked below or you can find them HERE.

Along with showing a close look at these new products and ideas for using them, I also have several simple cards featured…
---
HUGS – Featuring die cut inlay.
Featuring:
• Simon Says Stamp Shimmer Rounded Rectangle Dies
• Simon Says Stamp Healing Hugs Dies
• Simon Says Stamp Handcrafted With Love Stamp Set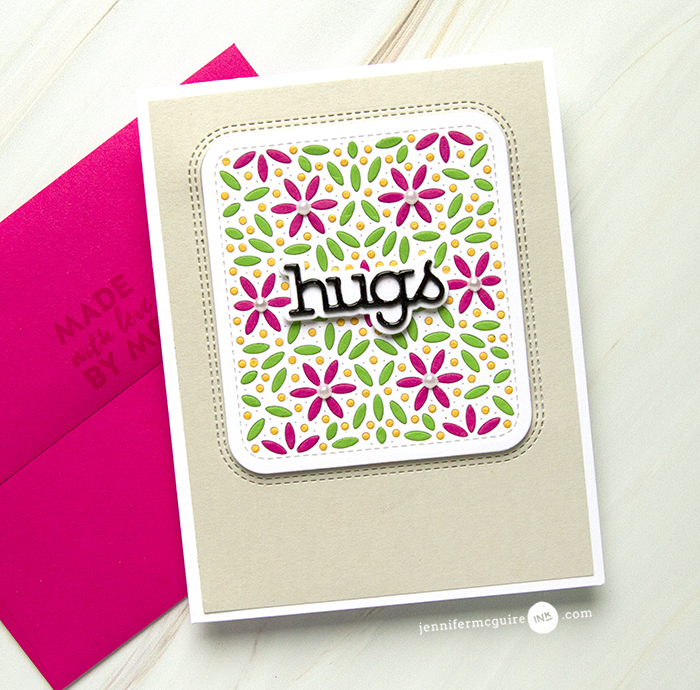 ---
HAPPY BIRTHDAY – One-layer card.
Featuring:
• Simon Says Stamp Critter Crowd Stamp Set
---
HELPING ME
Featuring:
• Simon Says Stamp School Days Grow Stamp Set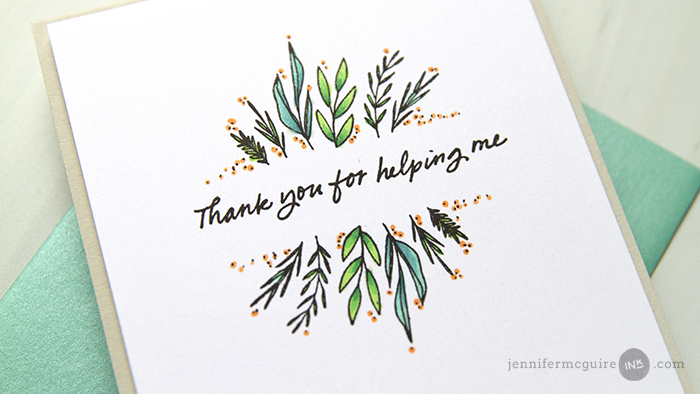 ---
SENDING GOOD CHEER – Featuring white pigment ink stenciling.
Featuring:
• Simon Says Stamp Ho Ho Postage Stamp Set
• Simon Says Stamp Holiday Foliage Stencil
---
NO. 1
Featuring:
• Simon Says Stamp School Days Stamp Set
• Simon Says Stamp Handwriting Paper Stamp
---
GIVEAWAY
To celebrate STAMPtember®, I am personally giving away a $100 gift card to Simon Says Stamp! For your chance, leave a comment below by 11:59pmEST on 9/15/19 telling me your favorite product form this release. (To leave a comment, head to my blog, scroll down to the bottom of this post and click the green "leave a comment" button. The winner's name will be randomly selected, emailed and posted on my "Winners page" after the giveaway closes. International folks are eligible, too!)
---
PRODUCTS & VIDEOS FEATURED
Want to find the products featured? And the videos I think would work with each of the products? I have listed them below. (Compensated affiliate links used at no cost to you. Thank you for your support! Affiliate and product disclosure can be found here. I received these products from Simon Says Stamp with no expectation. I do not work for them. As always, I was not paid to do this post. I only use products I love!)

Simon Says Stamp Healing Hugs Stamp Set

Simon Says Stamp Healing Hugs Dies

Simon Says Stamp Handcrafted Love…

Simon Says Stamp All the Thanks Stamp…

Simon Says Stamp Floral Heart Stamp Set

Simon Says Stamp Fabulous Florals…

Simon Says Stamp School Days Grow…

Simon Says Stamp Sending Sympathy…

Simon Says Stamp 30 Days of Thankful…

Simon Says Stamp Birthday Word Mix 1…

Simon Says Stamp Word Mix 1 Die

Simon Says Stamp Critter Crowd Stamp Set

Simon Says Stamp Balloon Letters…

Simon Says Stamp Celebrate You Stamp Set

Simon Says Stamp My Zombie Boo Stamp Set

Simon Says Stamp Fall Frenchies Stamp…

Simon Says Stamp Meowy Catmas Stamp Set

Simon Says Stamp Ho Ho Postage Stamp Set

Simon Says Stamp Tabbed Sentiment…

Simon Says Stamp Inside Christmas…

Simon Says Stamp Happy Thoughts Stamp…

Simon Says Stamp Flora Stamp

Simon Says Stamp Poinsettia Stamp

Simon Says Stamp Radiating Alphas Stamp

Simon Says Stamp Handwriting Paper Stamp

Simon Says Stamp School Days Stamp Set

Simon Says Stamp Spooky Silhouette Stamp

Simon Says Stamp Winter Floral Mix Stamp

Simon Says Stamp Thank You Swirl Die

Simon Says Stamp Scripty Happy…

Simon Says Stamp Scripty Lets…

Simon Says Stamp Thinking of You…

Simon Says Stamp Welcome Die

Simon Says Stamp Happy Die

Simon Says Stamp Friend Die

Simon Says Stamp Joyful Die

Simon Says Stamp Ho Ho Ho Tag Die

Simon Says Stamp Trick or Treat Die

Simon Says Stamp Boo Word Die

Simon Says Stamp Boo! Die

Simon Says Stamp Fancy Missing You Die

Simon Says Stamp Eucalyptus Dies

Simon Says Stamp Floral Bundle Die

Simon Says Stamp New Blossom Die

Simon Says Stamp Sunflower Stem Die

Simon Says Stamp Leafy Square Die

Simon Says Stamp Fern Square Die

Simon Says Stamp Birch Tree Collage Die

Simon Says Stamp Elegant Fall Blooms Die

Simon Says Stamp Lighthouse Die

Simon Says Stamp Shimmer Rounded…

Couture Creations Diecut'N Bond

Simon Says Stamp Shimmer Flower Die

Simon Says Stamp Filigree Teacup Die

Simon Says Stamp Filigree Squirrel Die

Simon Says Stamp Ho Ho Deer Circle Die

Simon Says Stamp Holiday Foliage Stencil

Simon Says Stamp Flora Stencil

Simon Says Stamp Deco Weave Stencil

Simon Says Stamp Tumbling Leaves Stencil

Simon Says Stamp Jack O Lanterns Stencil

Simon Says Stamp Candy Corn Stencil

Simon Says Stamp Quilted Stencil

Simon Says Stamp Bestie Sentiment Strips

Simon Says Stamp Inside Out Thank You…

Simon Says Stamp Inside Out Sympathy…

Simon Says Stamp Inside Out Birthday…

Simon Says Stamp Chihuahua Pin

Simon Says Stamp Love Bear Pin

Simon Says Stamp Giraffe Pin

Simon Says Stamp Monkey Pin

Simon Says Stamp Filigree Heart Pin

Simon Says Stamp Stay Crafty Pin

Simon Says Stamp Dudes Craft Too Pin

Simon Says Stamp Long Live Snail Mail…

Simon Says Stamp Girl Gang Pin

Simon Says Stamp Mailbox Hello Pin