Crafty Hurricane Relief Efforts – PLEASE READ
Hello! Today I am joining many crafty companies in raising funds to help hurricane relief. Please join us!
First of all, it is of course best to donate directly to relief organizations. And we hope you do!!! I have listed several recommended organizations below. What these crafty companies are offering below is just another fun way to come together and give. And these offerings are BIG for these tiny businesses. They are hoping by doing this that they inspire others to give in any way they can.  Please be sure to read this whole post to best understand the efforts.
So… I have (like many of you) been deeply effected by the devastation in the Bahamas due to Hurricane Dorian. The first island that was hit directly is a tiny island called Elbow Cay. My family has been visiting this island for a few years now and it has become very special to us. The people there are the kindest we have encountered during our travels. When I heard the hurricane was heading their way, I immediately wanted to start helping. (If you remember, the other two islands that we love were hit by Hurricane Irma – St. John and Virgin Gorda – and I did a lot of fundraising for them, too, through a friend in the islands.)
I feel passionate about helping these folks on these small islands because they have no where to go and very have little resources. I think that some people hear the word "Bahamas" and think of the big fancy resorts and fancy homes. Those do exist… but mostly on the big island of Nassau. Nassau has lots of stores, large buildings, resources, etc. This large island was not hit badly by this hurricane. But Bahamas is made up of 700 (!) islands. Many of these are small. And those are the islands that got hit by the hurricane.
As I mentioned, Elbow Cay is where our family loves to go. This island is small and doesn't have hotels and fancy resorts… but rather small and simple inns and homes. You get around by small boat or old golf carts and the few grocery stores are smaller than most US gas stations. It is a very simple, beautiful life with beautiful people. Many of them didn't have the money to evacuate… and are now left with very little. There are areas even worse off, though. On another island, there is a community known as The Mudd, which was built over time by Haitian immigrants. It is completely gone and many are missing.
So… please know that these people need our help. They don't have the resources to rebuild on their own. And right now they simply need food, basic essentials… and to get somewhere safe. Many are starting to get sick.
That is my story. Why I feel so passionate to help these little islands. Like many, I feel so helpless. Well, I shared my feelings about these places, and a few crafters and crafting companies reached out to me with ideas to rally crafters to give. I volunteered to pull this post together and just posted on social media for any craft companies to let me know if they wanted to share anything in this post. I am thankful for all they are doing!
I also have several things in the works that I will share with you soon. These are all things that will raise more money in fun ways. I think you will like them! Stay tuned.
PLEASE NOTE:
I used several affiliate links in this post. These cost you nothing. I did this intentionally (after the suggestion of a few of the companies) as I will be donating 100% of my affiliate earnings for the weekend of 9/7/19 to YachtAid Global. This means more money is given! We are all in this together.
Not everyone is public with their giving – and that is totally good! Everyone is different – and that is ok. So just because you don't see company listed here doesn't mean they didn't give. These are just companies who wanted to get their customers involved in giving.
Also, keep in mind that several companies have things in the works! In fact, I have been involved in the planning of a few. They take time, so stay tuned!
Excuse errors in my writing. I am a terrible writer, and this is a lot of writing for me. lol
Please – no negative comments. Everyone's heart is in the right place.
I had a lot of info to pull together for this post. I am praying I didn't miss anything! PLEASE check back as I will update this list whenever needed.
WHERE TO DONATE:
I have spent a ton of time looking at the many places to donate. I have found many that are already on the islands doing AMAZING work. Here are a few I recommend:
This crafting community is amazing. I have said it before… but here is more proof. Thank you to each of you. Love to all! Now let's raise some money for these people in need…
---
HONEY BEE STAMPS — Honey Bee has created a stamp set to help with hurricane relief! "This is a very special stamp set, created with the Hurricane Dorian relief efforts in mind. 50% of all sales from this stamp set will go to these wonderful charities specifically for Hurricane Dorian relief efforts. Half of the donation will go to Nazarene Compassionate Ministries. The other half will go to the Global Empowerment Mission." Shop HERE.
---
Get 20% off your entire order through 9/12/19. Use code "dorianrelief".
Colorado Craft Company will donate 100% of their profit to hurricane relief!!! Shop HERE.
---
This is amazing! 100% of new profits made from sales this weekend (9/6/19 – 9/8/19) will go towards hurricane relief. WOW! Shop HERE.
Also, the members of the Pinkfresh Studio team are picking their favorite current Pinkfresh Studio products for Designer Picks for a Purpose. Love this! Go to Instagram and check out the hashtag #pinkfreshstudio to see what folks are sharing. I hope to share soon, too.
I recommend checking out the Kelly Alpha Dies. I will be using it in a video soon. So fresh and unique!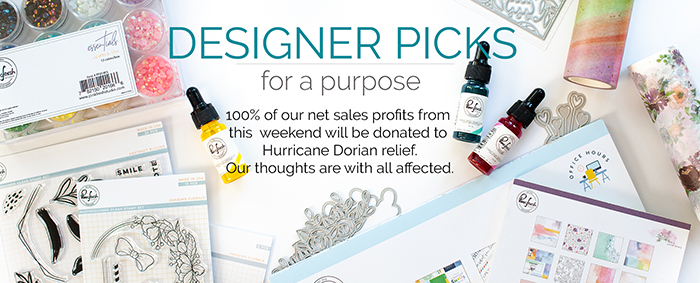 ---
The Rabbit Hole Designs is pledging 10% of all sales to hurricane relief from 9/5/19 to 9/12/19. Also, as an added incentive, if your order ends with the number 0 or 5, you will get one of their new enamel pins! Shop HERE.
Donations will go to to Matt Winslow's Hopetown Relief. This is a great group supporting the Hopetown Volunteer Fire and Rescue. Elbow Cay was the first island hit by the hurricane.
I am very impressed by this new-ish company. They were the first to reach out to me on how to help. I placed my order immediately and got it today! Please visit them.
---
Mama Elephant is giving 100% of net profits from 9/10/19 to 9/12/19 to hurricane relief! HOW INCREDIBLE! Shop HERE.
---
Save 20% off at Picket Fence Studios. AND, they will donate 25% off all orders to hurricane relief. Through 9/11/19. Use code "HELPNOW" and shop HERE.
---
Hero Arts also started their giving right away… donating $1 from every September Kit sold to hurricane relief. Shop HERE.
The cost of these kits is about half of the value. I love them!
---
Paper Smooches will donate 15% of sales between 9/14/19 to 9/21/19 (note these dates). If you include "SHOP TO GIVE" in the comments box, they will include a stamp set for FREE with your order. Shop HERE.
---
From Avery Elle: "In light of the recent hurricane in the Bahamas Avery Elle would like to do something to help.  Our Dorian Donation Surprise bag comes with an assortment of brand new ink pads, twine, patterned paper pads, 4 x 6″ stamp sets and dies (dies will match the enclosed stamp sets or will be stand alone dies) with an approximate retail value of $150.  No items in the same bag have been duplicated.  If you would like to purchase two different bags please note that in your order and you will be sent two different surprise bags.   We will donate all the proceeds for each bag sold to various charities for the benefit of victims of Hurricane Dorian in the Bahamas. We have a limited quantity of these donation bags so if you are interested be sure to get yours before they run out!" Shop HERE.

THESE ARE SELLING OUT QUICKLY. Jamie keeps adding more… so keep checking back. She is working as fast as she can this week – she is incredible!
While shopping, please check out their new release HERE. It is amazing!
---
Check out my post HERE – Reverse Confetti and I are donating a portion of profits!
Jen has more in the works. Stay tuned.
---
---
Use the code "DORIANRELIEF" at checkout and Ranger will donate 25% of your order value to Hurricane Dorian Relief! Amazing! 9/7/19 to 9/13/19. Shop HERE.
Now is a good time to get ink refills of your favorite Distress! Also, I love their acrylic pour products.
---
Stay tuned… Gina has a couple amazing projects in the works… all to help those in need in the islands. I have seen them… and you will want them! 🙂
In the meantime, check out her free gift with $75 purchase HERE.
---
INK ON 3 —
---
ALTENEW —
The wonderful folks of Altenew made a direct donation to hurricane relief. Please be sure to check out their weekend sales HERE.
---
---
---
Stay tuned… Concord & 9th has something in the works to support relief efforts. So excited!
In the meantime, check out their sales and deals HERE.
---
---
---
31 GIFTS —
My dear friend Tina Schrof is donating 20% from each her sales this weekend to hurricane relief.  Everyone who purchases will be entered for the hostess dollars!

Shop HERE.

The fall catalog just linked and they have awesome new items for crafters!

THIS is the bag

I use for crafting on the go. Perfect for coloring materials!
---
Details coming soon!!! Check back.
---
Marker Universe is donating 10% of sales from 9/6/19 to 9/8/19 to hurricane relief! Shop HERE.
Be sure to check out their amazing selection of markers. Their site is gorgeous!
---
$2 from every Scrapbook and Cards Today purchase from 9/6/19 to 9/13/19 will be donated to hurricane help. Yay! Head over HERE.
This is a great magazine and I am always impressed what their team does to make our crafting community better!
---
The Gray Muse have a 20% off sale through 9/11/19 with the code "VACATION20". Also, get a FREE pin with every order! I love her pins and stamps. Shop HERE.
They will also be donating 10% of net profits  for all of September to Hope 4 Hopetown – a great group already bringing relief. Shop HERE.
---
15% of sales on all orders placed from 9/5/19 to 9/15/19 will be donated to relief efforts. Shop HERE.
Jillian is donating to Global Empowerment Mission. This group is already on the islands and taking action!
---
Mint Owl is donating 20% of their sales to the hurricane relief until 9/13/19. Shop HERE.
Mint Owl will be back soon with a new release! They took some time off to have TWO babies. Can't wait!
---
Keller's Creations will be donating 10% of sales for one week to hurricane relief. Shop HERE.
There are many great scrapbooking products (and stamps!) on this site. Visit HERE.
---
www.thehedgehoghollow.com/shop–
A portion of all sales this month will be donated to the relief fund. Shop HERE.
---
JENNIFER MCGUIRE INK — I will be donating 100% of my affiliate earnings for the weekend of 9/7/19 to YachtAid Global. This means more money is given!
---
Thank you!