Glitter & Alcohol Ink Ornaments
Welcome! I gotta tell ya – I am so excited about today's projects and I hope you like them. I show how to take regular ornaments and change them into mini masterpieces with glitter and/or alcohol inks.  These are great options for inexpensive handmade gifts!
[All supplies are linked to multiple sources in the thumbnails at the end of this post. Multiple stores are also linked in the parentheses following the product name. Compensated affiliate links may be used at no cost to you.]
There are many ways to decorate simple ornaments to turn them into little masterpieces. Today I share my favorites. A few of the ornaments were made with glitter… and few with alcohol ink… and a few with both.
For all of these ornaments, I started with inexpensive, clear glass ornaments I had on hand. (HERE are a few options to check out
GLITTER ORNAMENTS
The first type of ornaments I show are glitter ornaments. I start with the clear glass ornament and cover the inside with a small amount of Minwax Polycrylic Clear Gloss. (You can also use floor polish for this.) After I drained out the excess, I added fine glitter… shaking like crazy to coat the inside before pouring the excess out. I let it dry overnight before moving on. The nice thing about these glitter ornaments is that all of the glitter is on the inside… protected for years to come. And you can decorate the outside however you want! (I know there are now environmental issues with glitter. I personally decided I won't buy more but will use up what I have.)
On my first ornament, I white heat embossed snowflakes from the Hero Arts Stacking Snowflakes Stamp Set (EH | HA) and added gemstones with strong liquid adhesive. I also added a small Hero Arts Infinity Tag Dies (EH | HA) tag stamped with a "be merry" sentiment from the Hero Arts Winter Holiday Messages Stamp Set (EH | HA). I plan to write the recipients name on the back and then tie this to their gift for a fun keepsake tag!
Here you can see it on a tree. I will be honest – this is the only photo I took on my real tree outside. It was SO cold that I set up a mini fake tree inside to photograph the rest! 🙂
My next ornament show a mix of fine and not-so-fine glitter on the inside. This adds to the sparkle! I white heat embossed the "Peace" and green heat embossed the pine images from the Hero Arts Peace Love Joy Stamp Set (EH | HA). I added red berries with Tonic Nuvo Drops.
I also added a tag using the Hero Arts Infinity Tag Dies (EH | HA) and Hero Arts Winter Holiday Messages Stamp Set (EH | HA).
I really like the look of white snow glitter inside of the ornaments. This one has pines from the Hero Arts Peace Love Joy Stamp Set (EH | HA), Nuvo Drop berries, silver gems, and a red ribbon. (All of these ribbons are old ones from my stash. Nothing fancy!)
Here you can see the white snow glitter inside.
You can also mix different colors of glitter inside of ornament. Here I used teal glitter, silver glitter, and star glitter! Swoon. I again added a white heat embossed "peace" and gems.
My last glitter ornament is super simple… and I think I like it that way! I again used silver and teal glitter inside… but this time white heat embossed "blessed" from the Hero Arts Winter Holiday Messages Stamp Set (EH | HA) on the outside.
ALCOHOL INK ORNAMENTS
Alcohol ink is a lot of fun to use on ornaments because you get different looks every time. For most of the ornaments, I applied the alcohol ink to the outside. Once dry, I sprayed it with a clear protective spray so it wouldn't be damaged over the years.
For my first few examples, I first coated the inside of the ornament with white acrylic paint and let it drain and dry. This gives me a white glass ornament that I can add color to. You could instead buy white glass ornaments and skip this step!
This ornament shows the wonderful colors you can get with alcohol inks. (Be sure to watch the video for more info on how to apply the inks.) And it only took a minute or two! Once it was dry, I sprayed on a protective coating and heat embossed "blessed" from the Hero Arts Winter Holiday Messages Stamp Set (EH | HA) .
This really will stand out on the tree!
On this one, I added metallic mixatives to the alcohol inks for a bit of silver.
Those colors make me so happy…
I think it would be fun to stamp a person's initials on one of these – what a great gift…
Here, I rolled my inked ornament onto an inked Hero Arts Figure Eight Stamp (EH | HA) and gold heat embossed it.
ALCOHOL INK + GLITTER ORNAMENTS
My last few ornaments combine alcohol ink and glitter together.
This green ornament actually has glitter on the inside. I filled it with white glitter as I mentioned doing above. And then I applies alcohol ink to the outside. This may be my favorite technique yet!
Look at all that shine…
My last ornament is another favorite. Here, I put a few drops of different colors of alcohol inks into the empty ornament and sprayed a bit of canned air inside to move it around. I then put it clear glitter while it was still wet. The glitter sticks and you end up with a lovely ornament. And everything is protected inside.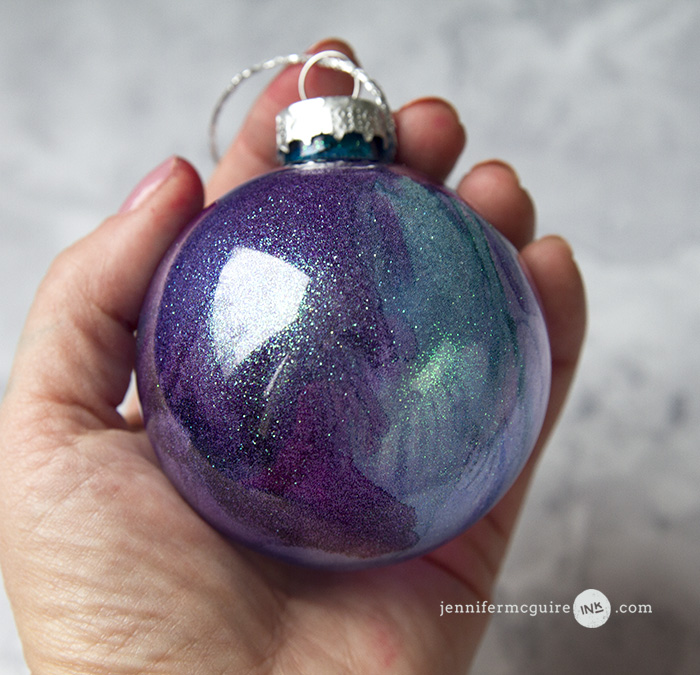 ADDITIONAL INSPIRATION
Looking for more ornament inspiration? Check these out:
12 TAGS
Today's project is part of the Ellen Hutson 12 Tags of Christmas With a Feminine Twist! This is an annual 12-day event with two crafters participating each day. Today is Day 1 and Carolyn Peeler and I are both using alcohol inks. (My projects are ornaments that I plan to use as tags on gifts.) You can see her project HERE.
SUPPLIES
Want to find the products I used? I have listed them below. (Compensated affiliate links used at no cost to you. Thank you for your support! Affiliate and product disclosure can be found here. All products were personally purchased except the products Hero Arts and some of the alcohol inks which were received from the company with no expectation. As always, this post was NOT paid for or sponsored.) Click on the icons below each product picture to go to a favorite store.

Hero Arts Peace Love Joy Stamp Set

Hero Arts Stacking Snowflakes Stamp Set

Hero Arts Winter Holiday Messages…

Hero Arts Figure Eight Stamp

Hero Arts Infinity Tag Dies

Clear Glass Ornaments

Tonic Nuvo Pure Sheen Glitter

Tonic Nuvo Glitter

Lawn Fawn Chunky Glitter

White Acrylic Paint

Clear Protective Spray

Minwax Polycrylic Clear Gloss

Canned Air

Tim Holtz Alcohol Ink

Tim Holtz Alcohol Ink Mixatives

Ranger Alcohol Blending Solution

Tim Holtz Alcohol Ink Applicator Tool

VersaMark Ink

Hero Arts White Embossing Powder

Ranger Fern Green Embossing Powder

Hero Arts Heat Gun

Tonic Nuvo Drops