Stitched Shaped Cards + SALE
Hi! I have been getting requests to do another video on stitched shaped pieces, so I thought I would show how to create stitched shaped cards. These little critter cards are fun to make!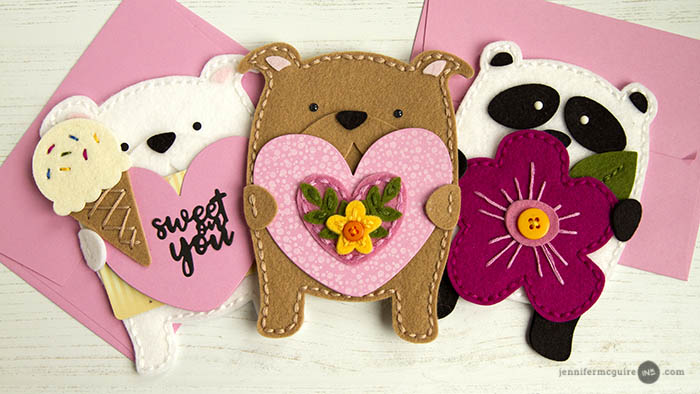 [All supplies are linked in the text below and in the thumbnails at the end of this post. Compensated affiliate links may be used at no cost to you.]
Today's cards feature several Stitched Detail Dies from WPlus9. (These dies are exclusive to their site.) You can use these dies to create plush characters from felt, stitching, and stuffing. They are such fun to make! However, I wanted to share how you can use dies like these to create cards, too.
My first examples shows a pup that opens like a traditional card. I used the WPlus9 Plush Friends Pup Die and added simple stitching with DMC Floss. I created two cardtock pup panels and stitched them together on the left so it could open like a card. I also added a sentiment and lollipop made with pieces cut from the WPlus9 Sucker For You Dies. I used felt for some of the pieces.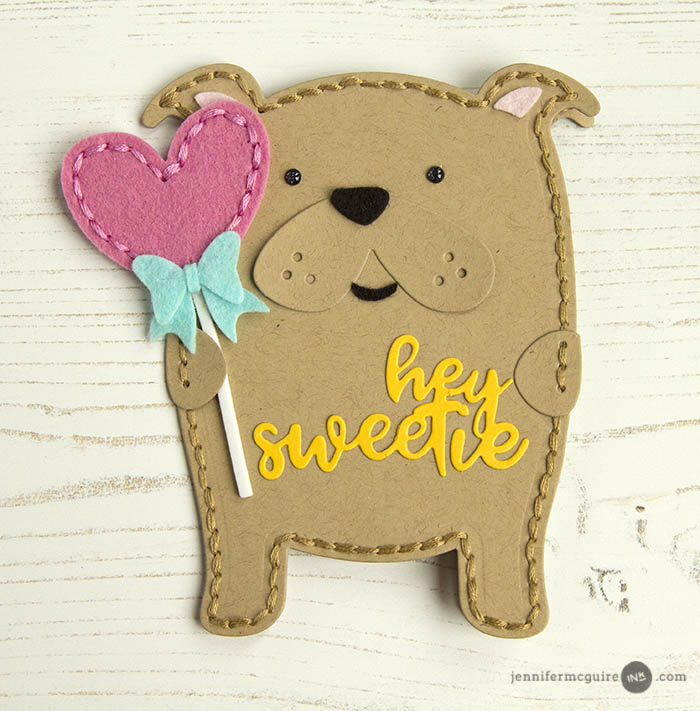 Here you can see how the card opens to reveal a message inside. It will even stand on it's own! Be sure to watch the video to see how this was done.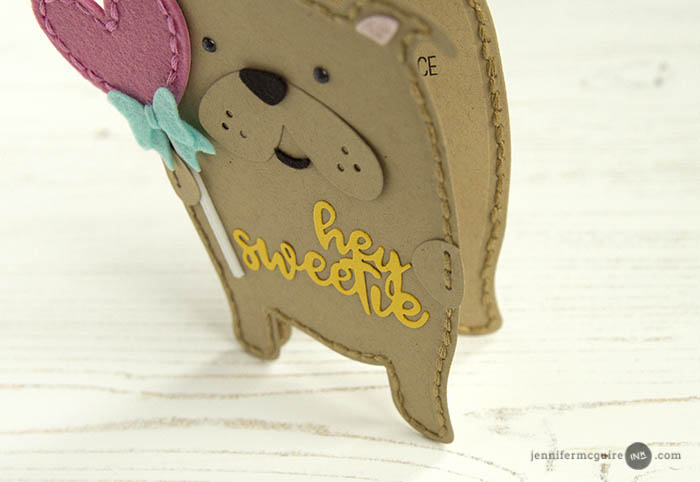 This next card also opens, but this time it is top-folding. I used the WPlus9 Plush Friends Panda Die to make a cutie panda that stands on his little feet! Although it is made of cardstock, I also added a layer of white felt on the front.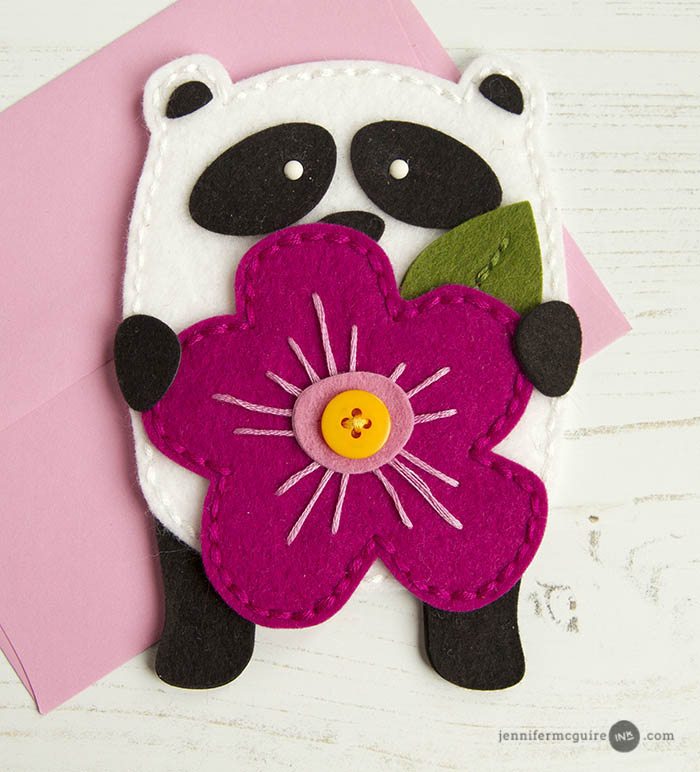 The flower elements are from the same WPlus9 Plush Friends Panda Die. To make it easier to stitch, I cut the shapes from cardstock and felt and stitched them together.
Here you can see the panda standing!
This next pup card is a bit different. The pup itself is felt with cardstock on the back. But the little heart he is holding opens up to reveal a message inside. I again used the WPlus9 Plush Friends Pup Die. It includes all the pieces I used on this card.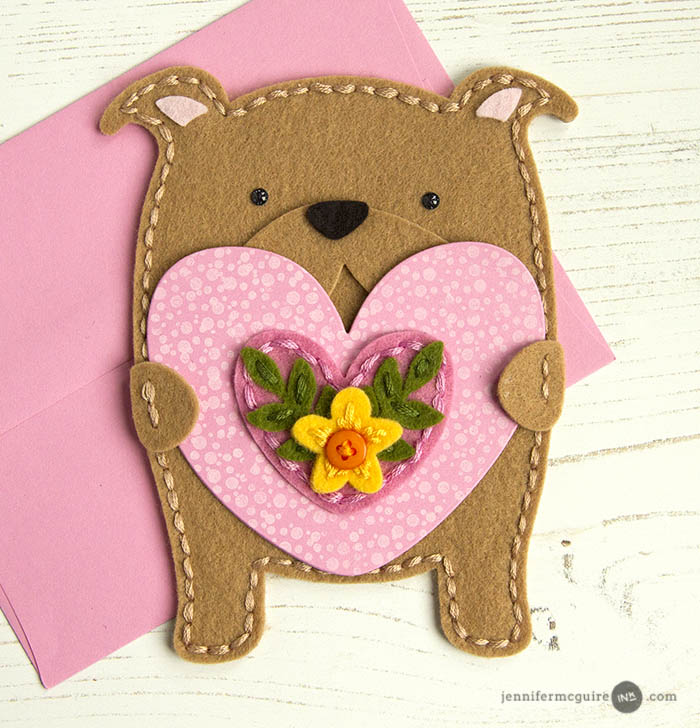 I added extra stitching details to the flower and leaves and I LOVED doing it!
Here you can see how the heart comes out of his paws and opens to show the greeting. This would make a cute keepsake! Oh – and he fits nicely in a regular card envelope.
This next cutie is similar, but also holds a gift card. I again used the WPlus9 Plush Friends Pup Die to create the pup and heart… but added an ice cream cone made with the WPlus9 Sweet On You Dies.
When you take out the heart, there is a gift card, also.
If you want to, you could skip the heart card and just have him hold the gift card alone! What a fun way to present a gift card to someone.
You can also use the WPlus9 Plush Friends Pup Die to create a pig! I added my felt/stitched pig to the front of a white notecard and added a "hey" WPlus9 Hey Hi Hello Die cut. The hearts are from the WPlus9 Plush Friends Pup Die. This option is fun if you want to create a traditional shaped card.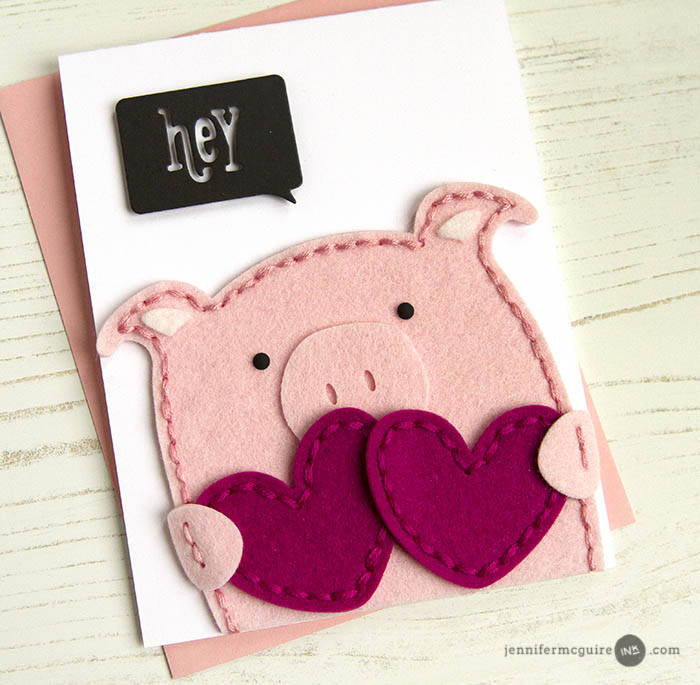 Finally, I have a fun bonus card using the new WPlus9 Stuck On You Dies. These are SO much fun to stitch with! Not much stitching is needed, so they are pretty quick to make. To help with the stitching, each of the felt pieces are backed with cardstock.
I added a few beads to the top with strong adhesive… and a WPlus9 Hand Lettered Hello Die sentiment.
MORE TO CHECK OUT
Here are a couple more things worth checking out…
Dawn over at WPlus9 is a genius! You can see lots of amazing examples she created with these same dies in a video HERE.
If you are interested in seeing more stitching projects and cards, you can find my video playlist HERE.
SALE
If you are headed to WPlus9 to check out the new dies, be sure to check out their stamps! They are having http://shrsl.com/s34d20% off stamps sale! The sale is good through 2/14/18 and the discount price is reflected in the cart. Shop HERE.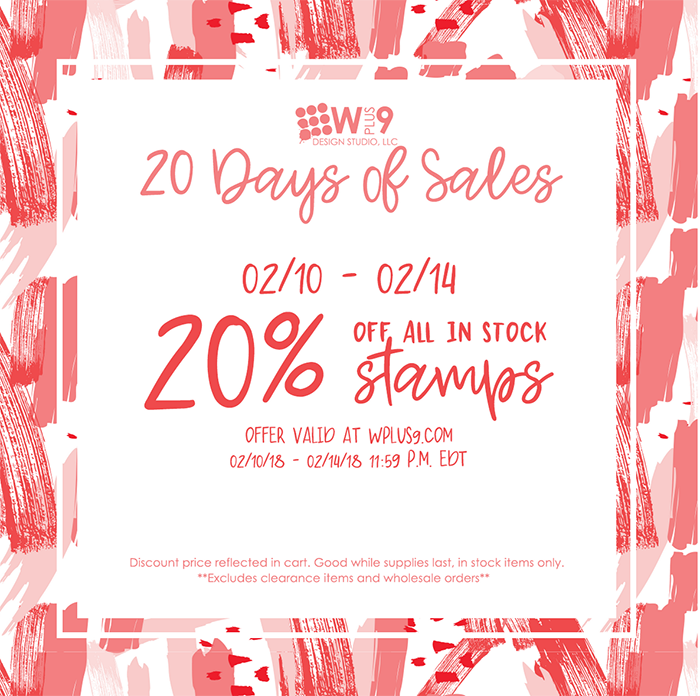 SUPPLIES
Want to find the products I used? I have listed them below. (Compensated affiliate links may be used at no cost to you. Thank you! Affiliate and product disclosure can be found here. All products were personally purchased except those with an asterisk and from WPlus9. As always, this post was NOT paid for or sponsored.) Click on the icons below each product picture to go to a favorite store.
WPlus9 Plush Friends Pup Die

WPlus9 Plush Friends Panda Die

WPlus9 Sucker For You Dies

WPlus9 Sweet On You Dies

WPlus9 Stuck On You Dies

WPlus9 Needle Point Hearts Dies

WPlus9 Hey Hi Hello Die

WPlus9 Hand Lettered Hello Die

WPlus9 Happy Birds Stamp Set

WPlus9 Forest Friends Stamp Set

WPlus9 Felt

DMC Floss

Needles

White Craft Foam

Gemini Junior Die Cut Machine

Fiskars Premium Cut Line Trimmer

Teflon Bone Folder

Be Creative Tape

Gina K Connect Glue

Fabric Fusion

EK Success Tweezers

Queen & Co Pops III Toppings

Hero Arts White Dye Ink

Catherine Pooler Acrylic Blocks

Bossy Joscie Personalized Stamps