Hello! I am back and ready to share lots of crafty things in this new year. Thank you for joining me! After lots of requests, I am sharing a few more ideas for stitching on cards.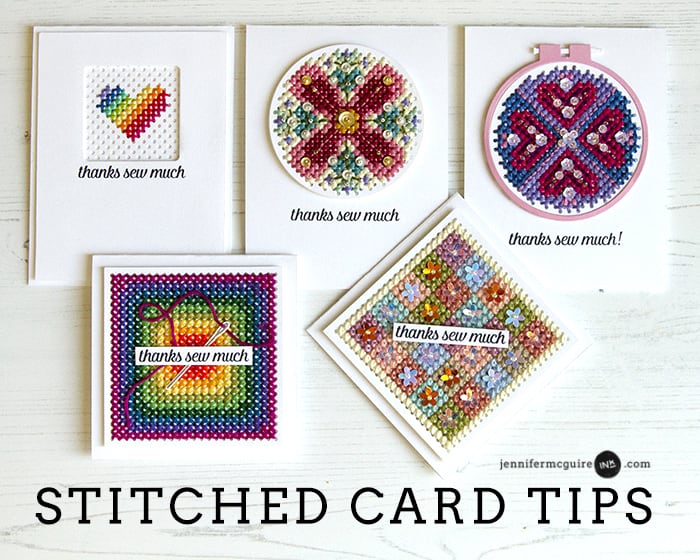 [All supplies are linked to multiple sources in the thumbnails at the end of this post. Links are also provided in the text below. Compensated affiliate links used at no cost to you. To watch the video in HD on YouTube, click HERE.]
This summer, I shared a video with information about stitching on cards… and it included lots of examples. (If you haven't watched that video yet, please do so first. It shares all the basics. Find it HERE.) I have received lots of requests for a follow-up video and I finally did one! Today I share new ideas… tips for saving time when stitching… and how to add beads and more.
This first example shows using the new Paper Smooches Stitched Square Die. (All of the card examples in my last video show the rectangle Paper Smooches Cross Stitch Die. This square is a fun new option!)
This square format makes it so easy to come up with fun patterns and designs for stitching. I used DMC Embroidery Floss for the stitching, but you could use any floss. (I link to a few options below in the product thumbnails, including an inexpensive option.) After cross stitching in many colors, I added a heat embossed needle and sentiment from the Paper Smooches In Stitched Stamp Set.
I plan to make more cards like this. I feel the sentiment, needle, and thread on the front are great for accents on that background!
My next examples also uses the Paper Smooches Stitched Square Die. Since the Paper Smooches Stitched Square Die has 22 rows and 22 columns of stitching, I decided to create a pattern of squares. I first created a stitching frame with a cream floss… and then filled in the center with 25 squares of color. Each square is 4 stitches by 4 stitches. This is a pattern that is easy to do and would work with lots of color combos. I then added a Honey Bee Flower Sequin and seed bead to the center of each square.
You can add any sequins to your cards. As for seed beads,I recommend Studio Katia Gold or Silver Seed Beads… or any color from Pretty Pink Posh. Just makes sure you have a thin needle that will go through them — I used a thin needle from a inexpensive variety pack. (Remember to get a Needle Threader to make threading tiny needles easier!)
For this card, I decided to do something different and have the sentiment diagonal and write my message inside at a diagonal. That way I have a fun diamond-shaped card. 🙂
I also really like the new Paper Smooches Stitched Circle Die. It is also fun to create patterns with! For this one, I did lots of cross stitches, back stitches… and added sequins and seed beads.
I feel I should warn you: this round format is addictive!
Here is another with the Paper Smooches Stitched Circle Die. This time I added a Paper Smooches Embroidery Hoop Die Cut.
If you don't like stitching with small beads, etc. you could could instead attach the sequins with french knots or strong adhesive.
Don't have the patience to do a lot of stitching? You can do small stitched pieces and leave the rest un-stitched! It is just as fun.
I created the window with the Echo Park Rounded Squares Dies. This heart makes me happy.
RELATED VIDEOS
Want to learn more about stitching on cards? Check out these videos:
SUPPLIES
Want to find the products I used? I have listed them below. (Compensated affiliate links used at no cost to you. Thank you! Affiliate and product disclosure can be found here. All products were personally purchased except those from Paper Smooches. As always, this post was NOT paid for or sponsored.) Click on the icons below each product picture to go to a favorite store.
| | | |
| --- | --- | --- |
| Paper Smooches Stitched Square Die | Paper Smooches Stitched Circle Die | Paper Smooches Embroidery Hoop Dies |
| Paper Smooches In Stitched Stamps | Paper Smooches Cross Stitch Die | Echo Park Rounded Squares Dies |
| Gemini Junior Die Cut Machine | T-Ruler | DMC Embroidery Floss |
| Alternative Floss | DMC Perle Cotton Size 5 Floss | Needles |
| Needle Threader | Studio Katia Gold Foil Seed Beads | Studio Katia Silver Foil Seed Beads |
| Seed Beads | Kat Scrappiness Flower Sequins | Kat Scrappiness Small Cup Sequins |
| Lucy's Cards Vintage Christmas Sequins | Honey Bee Winter Blooms Flower Sequins | Honey Bee Orange Gerber Flower Sequins |
| Honey Bee Frozen Petals Flower Sequins | Honey Bee Forget Me Not Flower Sequins | Darice Foam Adhesive Strips |
| 3M Foam Tape | Neenah Class Crest 110lb Cardstock | Reverse Confetti Midnight Ink |
| Catherine Pooler Acrylic Blocks | Tim Holtz Distress Collage Adhesive | Darice Ultrafine Tip Bottles |