Hello! Alcohol inks are making a huge comeback. It feels so good to use a product that many of us have had for years. Well today I share another unique way to use them… for marbling!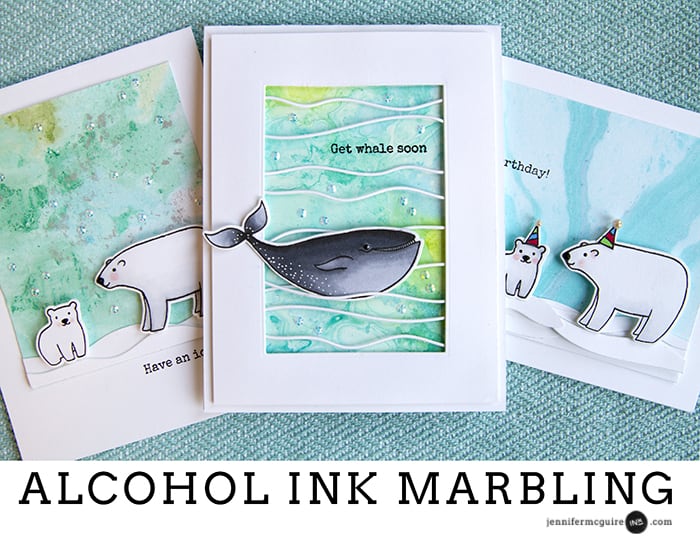 [All supplies are linked in the text below and in the thumbnails at the end of this post. Compensated affiliate links used at no cost to you. To watch the video in HD on YouTube, click HERE.]
This alcohol ink marbling technique is very simple to do and gives a different look each time. So much fun!
In the beginning of my video, I show many examples of alcohol ink marbling. The technique is quite easy! I filled a shallow bowl with water and dropped in 3-4 drops of 3-4 different colors of Ranger Alcohol Inks. (You could also use Copic Marker Refill.) I then dipped a piece of white cardstock into the inked water and then pulled it back out. The alcohol ink in the water "sticks" to the cardstock and gives a fun marble look! In the video, I show several variations of the technique.
After all my marbled pieces dried, I created a boatload of cards! I tried to keep them all simple so that the marble look would be noticeable.
My first card features the new Essentials by Ellen S'Whale Stamp Set and Strands Die. The Essentials by Ellen Strands Die is fun and can be used in many ways! It is perfect for subtle waves with the marble background. I colored the whale with Copic Markers and used the 0 Colorless Blender Pen to create the light dots. The bubbles? Those are HAI Elsa Blue Sequins.
This next background is what I call a "second generation dip." 🙂 After dipping one card into the fresh alcohol inks and water, I dipped a second piece… which results in a softer, marble look since it is just picking up leftover ink.
This next card has one of my favorite backgrounds. All of the backgrounds on these cards use white cardstock, except this one. For this, I used Ranger Yupo Paper. It just gives a bit of a different look and is fun to experiment with, too!
For a different look, I die cut the Essentials by Ellen Strands Die from a marbled piece and adhered the pieces into a square on a notecard. I think this use of the die is my favorite!
I also thought these alcohol ink marbled pieces worked well for unique skies, too. This next one is another favorite. I just love the coloring on the background!
The bears and the sentiment are from the Essentials by Ellen Artic Pals Stamp Set and I added snowbanks with pieces cut from the Essentials by Ellen Strands Die.
I thought these bears would be fun with party hats. I am not great at drawing, but I can create triangles. 🙂
Look at this background? Swoon! I used a cute penguin and sentiment from the Essentials by Ellen Artic Pals Stamp Set. The window and snowbanks were created Essentials by Ellen Strands Die.
Since I had lots of background pieces, I decided to pull out another stamp set to use. I have been wanting to use the G'Day Mate Stamp & Die Set for awhile! Look at that marble sky…
My last example also uses the G'Day Mate Stamp & Die Set. You can see a bit of the Ranger Perfect Pearls that I added to the marbling on the top right.
RELATED VIDEOS
Looking for more ideas on using alcohol inks? Try these videos:
SUPPLIES
Want to find the products I used? I have listed them below. (Compensated affiliate links used at no cost to you. Thank you! Affiliate and product disclosure can be found here. All products were personally purchased except Essential by Ellen and alcohol ink products. As always, this post was NOT paid for or sponsored.) Click on the icons below each product picture to go to a favorite store.

Essentials by Ellen Swhale Stamp Set

Essentials by Ellen Swhale Dies

Essentials by Ellen Artic Pals Stamp Set

Essentials by Ellen Artic Pals Dies

Essentials by Ellen Strands Die

G'Day Mate Stamp & Die Set

Ranger Alcohol Inks

Ranger Alcohol Blending Solution

Neenah Class Crest 110lb Cardstock

Ranger Yupo Paper

EK Craft Tweezers

Ranger Perfect Pearls, Perfect Pearl

Sketch Copic Markers

Hero Arts Tide Pool Ink

Be Creative Tape

Scotch Foam Mounting Tape

HAI Sequins Elsa Blue

Tim Holtz Distress Collage Adhesive

Darice Ultrafine Tip Applicator Bottles

Marvy Uchida Jewel Picker

Tonic Nuvo Crystal Drops Black Ebony

Tonic Nuvo Crystal Drops Gloss White

Tonic Aqua Shimmer Pens