Caring Hearts Card Drive 2017
Hello! I am excited to share the the Caring Heart Card Drive is underway!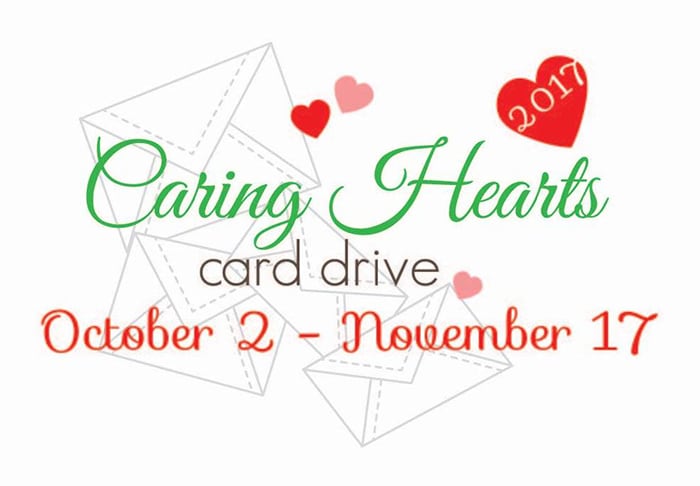 The purpose of our card drive is to collect holiday cards for the elderly that live in nursing homes. Vera Yates started this card drive 8 years ago, in honor of her mom's request. Last year we received over 66,000 cards and distribute the cards to various nursing homes throughout the US, Canada, Australia and United Kingdom.
Vera and I are excited to continue bringing holiday cheers to many nursing homes.
The holidays are about family, kindness, and joy. During this time, many of the elderly who live in nursing homes feel lonely. Wouldn't it be great if we brought a smile to their face & brightened their holiday season simply by sharing our love of card making? A simple gesture to let them know that they are not forgotten – that someone still thinking of them.
All you do is make cards. As many as you want and/or have time for. Anything helps! You mail them to us and we mail them out to volunteers who distribute them to nursing homes around the world.
IMPORTANT DETAILS:
This card drive will be going on from October 2 to November 17, 2017. We need to receive your card by November 17, 2017.
Please make the cards for Christmas or winter holiday wishes only.
In each package, PLEASE include THIS SUBMISSION FORM. (More on that below.)
All cards need to have a message inside (it can be stamped or hand written). Just saying something like, "Hope you have a wonderful holiday! Love, Jennifer in Ohio."
Sign your name and where you are from inside the card.
Please include an envelope for each card and please don't seal the envelope.
Please stick to standard size A2 or 4-1/4″ x 5-1/2″ card as this will help us in packing more efficiently
Please don't use any pins (safety reason).
This is totally optional: If you'd like to include $2 or $3 to help with shipping, it'll be much appreciated. We cover the shipping cost ourselves, so any donation toward shipping would help tremendously.
For US, you can mail the cards to:
Vera Yates, 1314 Roy St., Houston, TX 77007
Christy Wilkerson, 8057 Hunters Ridge Drive, West Chester, OH 45069
Jana Millen, 1047 Valley Wood Dr, Batavia, OH 45103
For Australia:
Deb McCleary, CHCDrive, PO Box 213, Heidelberg, VIC 3084, Australia
For Canada:
Caroline Bredeson, 7 Brown Street, Ottawa, ON K1S 1L9, Canada
Rita Andrews, 28 West Gissing Rd, Cochrane, Alberta T4C 1L6, Canada
In each package, PLEASE include THIS SUBMISSION FORM. This helps us in keeping track for prizes! For each card you send, you will get a chance to win a prize. So the more cards you send, the better your chances.
To thank you for your generosity in supporting this drive, we have several PRIZES ready for several winners. There will be many winners!
Also, if you'd like to help us promote the card drive, please use the hashtag #caringheartscarddrive.
The nursing homes that we supported are based on what people suggested to us. If you want your local nursing homes to receive cards from the card drive, please email Vera or Jennifer the name of the nursing homes and the number of residents, so we can make sure that we send enough cards. Each year, we never know how many nursing homes we can support as the number are totally based on how many cards we received. To keep things organized, we assigned the 6 collecting addresses above.
I'll update the prize list as more prizes coming in. And huge thank you to all the fabulous, generous companies who support this card drive by donating awesome prizes.
PLATINUM PRIZES (everyone sending 100+ cards will be entered for these prizes)
GOLD PRIZE (everyone who send cards will be entered for these prizes)
We will update the prize list as we get more. Please feel free to share about this card drive. We really appreciate your support & generosity. Let's rock this card drive and bring Christmas joy to as many nursing homes as we can!! Thank you.
PS: Thank you to Chaitali Narla for designing the badge. 🙂 And to Vera for all her hard work on this card drive!