OrganizeMore Sale + Pencil Storage + GIVEAWAY
Hello! I just wanted to pop in to let you know of a great organization sale… and a new product I use for storing my colored pencils.
I get most of my organization products from  OrganizeMore. I ordered my first ink storage unit from them a few years ago and was immediately impressed with the quality of their product. I started chatting with them and was happy to learn of their kind ways and high values. Such good people.
And today my friends at OrganizeMore are offering 15% off their new products! I have details of the sale below, but first I want to show you this beautiful sight…
Isn't that gorgeous? Can you hear the angels singing?? It's the new Pencil Caddy!
The new Pencil Caddy is 7.25″w x 3.75″h x 3.25″d, made from solid pine, non-toxic-painted white, has felt feet, and tilts forward slightly. Each piece holds 48 pencils. I now can easily see the color of my pencils and they will be less likely to break in a drawer, etc. I keep them on a shelf (since they look so pretty in rainbow order!) and easily bring them to my work surface when it is time to color.
I have the 150 Prismacolor Colored Pencil Set and have used it happily for years. (By the way – THIS is a *really* good price for the complete set!) I have 3 Pencil Caddies. I have been using the caddies for a few months and am a very happy camper.
I mean – come on – isn't it gorgeous?…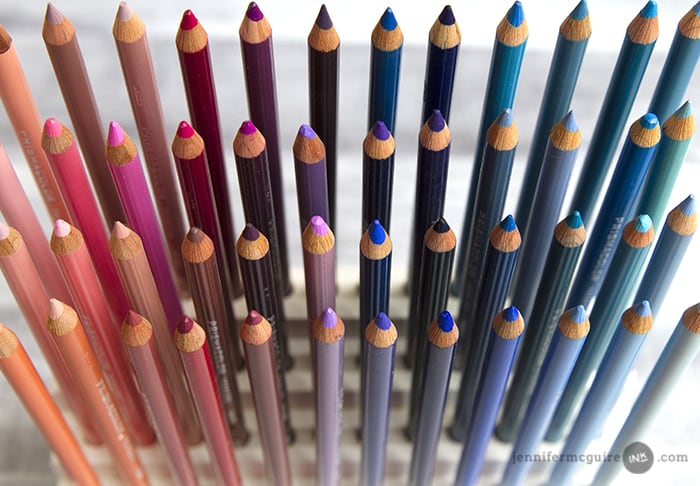 OrganizeMore also has new organizers (find them HERE) including various pieces for Ikea shelves and a fabulous new card stand. Check it out…
SALE
OrganizeMore is offering 15% off the Pencil Caddy and their other new products now through 6/23/17. Use the code "NEW617" when shopping HERE.
Please know that OrganizeMore did NOT ask me to promote this product. In fact the opposite is true – I approached them asking for help in coming up with a pencil storage solution. And I am thrilled!
GIVEAWAY
Interested in winning a Pencil Caddy? For your chance, leave a comment below by 11:59pmEST on 6.28.17 telling me if you use colored pencils. (To leave a comment, scroll down to the bottom of this post and click the green "leave a comment" button. The winner's name will be randomly selected, emailed and posted on my "Winners page" after the giveaway closes. International folks are eligible, too! Prize personally donated.)
Happy organizing!
(Affiliate link used at no cost to you. Thanks!)