7 Ways of Using Coordinating Dies + Blog Hop + Giveaway
Hello! I am here to share a video showing 7 creative ways to use coordinating dies. Coordinating dies can be an investment, so it is best to find new ways to use them. I am also participating in a blog hop with giveaways.
[All supplies are linked to multiple sources in the thumbnails at the end of this post. Compensated affiliate links used at no cost to you. To watch the video in HD on YouTube, click HERE.]
There are many creative ways to use stamps and their coordinating dies together. And all are simple!
Here are seven ideas…
#1: IMPRESS
A simple way to use a stamp's matching die is to use it to make a fine impression. All you need is a Spellbinders Tan Embossing Mat. (If you don't have one, you can try using a piece of craft foam.)
After stamping the Mama Elephant Little Girl Agenda Stamps, I placed the coordinating die around the image and ran it through my die cut machine with a Spellbinders Tan Embossing Mat. (Use your machine as you would with an embossing folder.) The die makes an impression outline instead of cutting.  Subtle and fun.
These fun sentiments are from the Mama Elephant I Like You Stamps. And all the scallop frames were cut with a die from the Mama Elephant Favor Bag Die Set. The final cards are approximately 3.25″x4.25″. Small and cute!
And by the way – I colored all of my images with Copic Markers and added Clear Spectrum Noir Sparkle Pen.
#2: EMBOSS
You can also use coordinating die cuts to dry emboss. This raises the image and makes it look like a puffy sticker!
To do this, I glued together 4 cardstock die cuts. I placed it behind my stamped image (watch the video for an easy trick) and ran it thought my die cut machine with a Spellbinders Tan Embossing Mat.
This sweet sentiment is from the Mama Elephant Happy Mail Stamp Set and the kids are from the Mama Elephant Little Boy Agenda and Little Girl Agenda Stamp Sets.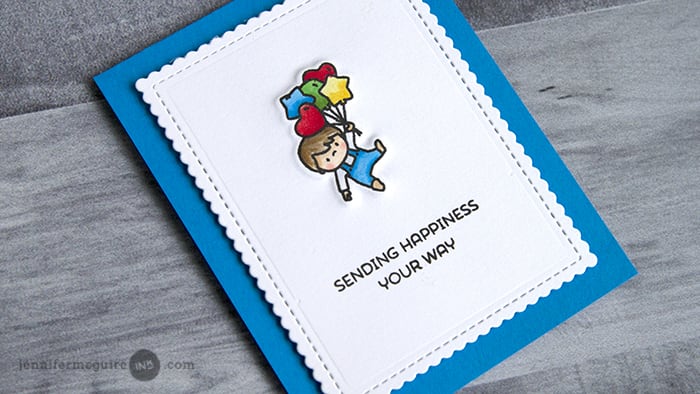 #3: INSET
Instead of popping-up a die cut for dimension, try setting it back into the die cut window. The dimension is fun!
Here I die cut the little girl window and placed the colored image behind it with foam tape. The sentiments are also from the Mama Elephant Happy Mail Stamp Set.
#4: SOLID DIMENSION
It is very quick to adhere a die cut with foam tape or dots for dimension. However, you can get a much better look by layering several die cuts together. This gives a solid look – like an embellishment.
These images are too cute! Especially the pup from the Mama Elephant Little Dog Agenda Stamp Set. The sentiment is from the Mama Elephant Sunny Skies Stamp Set.
#5: ACTION WOBBLER
Action wobblers are great for making a simple die cut extra special. It flattens nicely in the mail and then pops up and shakes when you take it out of the envelope.
If your image is small like this Mama Elephant Little Dog Agenda pup, you can trim the wobbler down a bit. The dimension is amazing.
#6: COMBINE DIE CUTS
Using coordinating dies saves a lot of time – no more cutting! So why not combine stamped die cuts to create new looks? Here I put a Mama Elephant Little Girl Agenda image inside a computer screen from the Mama Elephant Blogging Buddies Stamp Set. That sentiment (from the same stamp set) it awesome!
#7: MASKING
Masking is great for creating one-layer cards. To save time, you can create a mask using your coordinating dies. Be sure to watch the video to see some tips for masking this way. I really like using 3M Scotch Super Sticky Full Adhesive Post It Notes for my masks.
For this first card, I masked the girl and stamped the Mama Elephant Hello Friend sentiment repeatedly over it. This is a great way to make spice up that simple and small image.
You can also just apply a bit of ink around an image with an Ink Blending Tool using the mask. I like the small white halo that results.
BONUS CARD
And just for fun… another card! For this I used lots of the Mama Elephant Little Girl Agenda images and popped them into a Mama Elephant Grid Window Die background. Isn't that fun? A great way to use small images. The sentiment is from the Mama Elephant Mini Messages Stamp Set.
Today's post is part of the Mama Elephant Summer Release Stampede. Mama Elephant has lots of new stamp and die sets. You can find them HERE at Mama Elephant and HERE at Simon Says Stamp.
Also, for two days only over at Mama Elephant, you can get a brand new straight slider set with any purchase over $60!
The next stop on the hop is the blog of Vera Rhuhay. (You can also start at the beginning of the hop at Anna Kossakovskaya's blog.)
GIVEAWAY
To celebrate the new release, Mama Elephant is picking 3 winners to win their choice of stamp set! Winners will be chosen at random from the collective blogs in the Stampede. You have up to 4 chances to qualify to win!
Leave a comment on this blog post.
Like/share Mama Elephant on Facebook: facebook.com/mamaelephant
Follow/tweet Mama Elephant on Twitter: twitter.com/heymamaelephant
Follow/tweet Mama Elephant on Instagram: instagram.com/mamaelephant
Each action qualifies for one entry, max 4 entries per stampeder please! Giveaway ends at 11:59pmEST on 6/16/17. For more details, visit the Mama Elephant Blog.
Want to find the products I used? To make them easy for you to find, I have listed them below. (Compensated affiliate links used at no cost to you. Thank you! Affiliate and product disclosure can be found here. All products were personally purchased except those from Mama Elephant. As always, this post was NOT paid or sponsored.) Click on the letters below each picture to go to a favorite store: Simon Says Stamp (SSS), Mama Elephant (ME), etc.