Craft Room Tour! + Discount Code + GIVEAWAY
Hello! I am *finally* ready to share my craft room tour!
Well, actually, it isn't MY craft room anymore! This is the craft room I had at my old house – we have since moved. But my new room will be very similar.
Before I start I want to mention that everyone's craft space is different. Their needs are different. And that is ok! Do what works for YOU and don't get hung up on what works for others. This is supposed to be YOUR happy space. Also please remember that this is what I do for a living, so it has to be uber-organized and well-stocked – because that is what works best for ME and my work. Back when this was my hobby, I worked on a folding table in the basement without many supplies. And I *loved* it. But hopefully bits and pieces of my organization will inspire you in some way or another. HAVE FUN!
I have *A LOT* to share, so let's get started!
[Compensated affiliate links may be used at no cost to you. Thank you to ipsoKinetic for creating this video! To watch the video in HD on YouTube, click HERE.]
Here is a breakdown of the video, with lots of info. (Note that a lot of the text contains links so you can easily find things.)
OVERALL ROOM DETAILS
Let's talk about the room itself. (How is that for a great screen shot? LOL)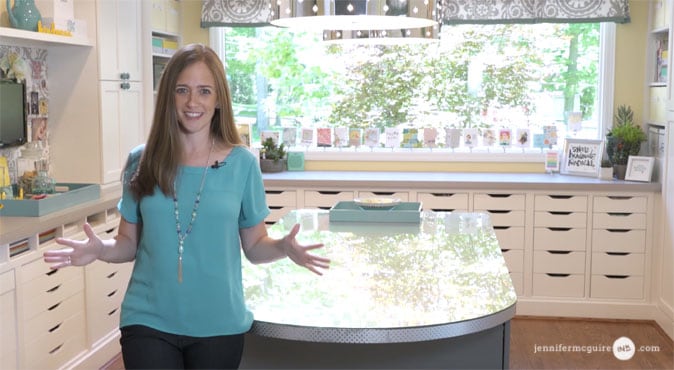 Since I have moved out of this house, I am not sure of the exact room size. My guess is 14'x20′. It was part of an addition we had done onto the back of the house.
I worked with Michele Nieter (decorator/designer) and Neal's Design & Remodel. Michele picked out lights, counters, etc. and helped with the overall design. I couldn't have done this without her! Neal's did the final design drawings and all of the construction. They have an amazing team and I enjoy working with them. I am using the same folks for the creation of my new craft room. (Michele lives near me, but was able to help Kristina Werner design hers from long-distance.)
I work best if everything is behind closed doors. Therefore, I have a lot of cabinets and drawers. (I know most people work better if they can see everything, but I get overwhelmed if I do!)
The yellow baskets are from the Container Store but are no longer available. I also use metal Pantone Boxes.
DECORATION
Fill your room with whatever makes YOU happy! Most of my decorations were gifts from loved ones.
I have cards on display using card stands. Love these.
Behind my TV, I have a built-in bulletin board covered with fabric. This is a great place to add things from loved ones and inspiration.
I like using colored trays from West Elm. They are classy and handy to have.
Stamps make great decoration! I have many custom stamps from Bossy Joscie on display.
ISLAND, WORK SURFACE & FILMING

I work sitting at an island in the middle of the room. I do so much better when I am not facing a wall!
The cabinets of this island are Brookhaven custom cabinets.
The countertop is a dot embossed faux stainless steel laminate (discontinued).
I had a tempered 3/5" glass piece cut to cover the whole island top. I highly recommend working on glass as it is super easy to clean and perfectly smooth.
I have my video camera mounted to the ceiling with a long ceiling camera mount. I like that it is simple, small, subtle… and can be taken down easily at the ceiling or camera.
My lights are my favorite! I have two fun bling pendants. (I also have a bunch of recessed lighting.)
My chairs are very simple since I move a ton when I craft. I found the spinning stools from Crate and Barrel to be great.
CABINETS CLOSEST TO MY WORK SPOT
I spent a lot of time thinking about what I wanted within reach when I craft.
CABINETS BEHIND MY WORK SPOT
I move around a lot when I create! In these cabinets I have most of my stamps and dies.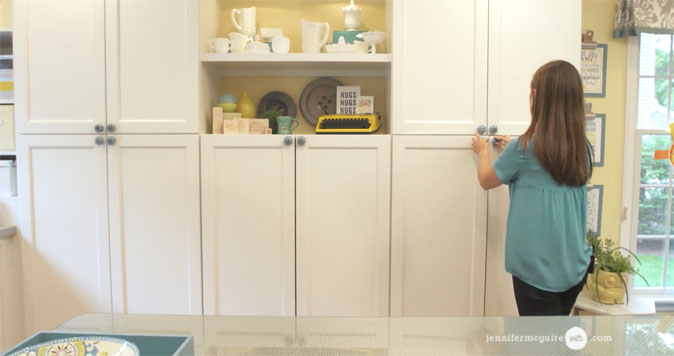 DIE STORAGE
I use dies as much as I use stamps, so I need to keep them well organized.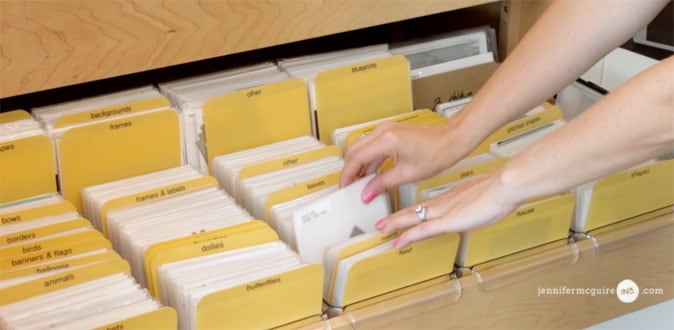 For a video with more details on how I store my wafer thin dies, head HERE. (Another helpful video HERE.)
Most of my dies are in die pockets and Interdesign containers.
Dies are sorted by theme. My dividers are made from cut-up plastic folders, but you could laminate cardstock instead.
Large dies are stored in stamp pockets in the back of my drawers.
Most-used dies are stuck to magnetic sheets on the inside of my cabinet doors.
I label all my dies with my label maker.
I store my embossing folders in a similar way.
For my stencil storage video, head HERE.
MARKER STORAGE
To me, there is nothing better than markers arranged in rainbow order…
CLEAR STAMP STORAGE

Ahhhh… I adore stamps that are organized and easy to find!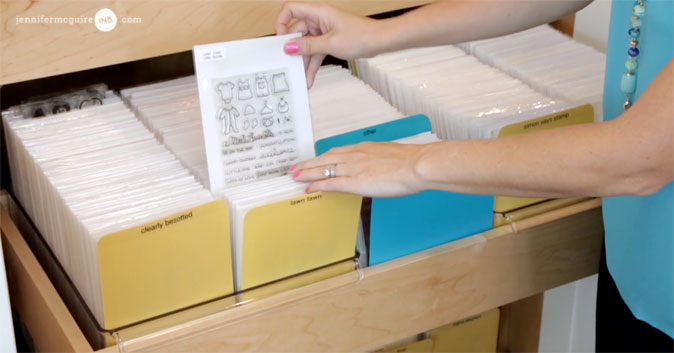 For a video with more details on how I store my clear & cling stamps, head HERE. (More updated info can be found HERE, HERE and HERE, too.)
Most of my stamps are stored in regular stamp pockets. Bigger stamps are in the tall pockets and large pockets.
I put the pockets in split Interdesign containers. These containers are great and hold 150 clear stamp sets!
My stamps are sorted by manufacturer and the dividers are made from cut-up plastic folders, but you could laminate cardstock instead.
I label all my stamps with my label maker.
WOOD-MOUNTED STAMP STORAGE
My first love will always be wood-mounted stamps!
My most-used wood-mounted stamps are stored on expandable spice shelves so I can see each and every one. This works SO well. I have two shelves with these.
My less-used wood-mounted stamps are stored in baskets.
DYE INK STORAGE

I have my dye inks stored close by. I have quite a few inks due to the projects I do for work – you don't need this many colors! Just get your favorites.
UNDER THE WINDOW

I used to work in the basement with no windows. Having light has lifted my spirits!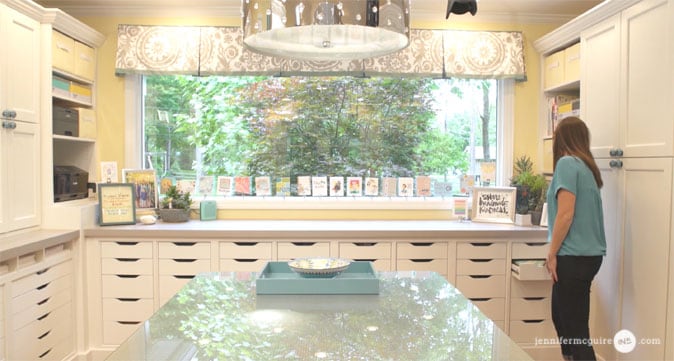 Under my large window, I have a counter where I can spread out projects I am working on. (Or collect piles – lol.)  The counter is an inexpensive grey laminate… and Kristina ended up using the same, too!
I also have cards from friends on display in card stands.
DRAWERS UNDER WINDOW

Small drawer units are great for crafters!
Ikea Alex drawer units are wonderful for crafters! I had may builders "build them in" with trim, etc. to give it a finished look.
I don't label my drawers because I am weird and can remember where everything is. 🙂
These drawers hold various tools and embellishments. I have a variety of small dividers and containers in each.
I ordered my personalized stamp that is in my MISTI from Bossy Joscie.
For info on getting cardstocks pre-cut, check out THIS video.
For organizing enamel dots and gems, any small drawer organizers work.
I highly recommend having Swiffer Dusting Cloths and coffee filters on hand for staying tidy while using glitters, etc.
For a video on my favorite adhesives, head HERE.
For info on embossing powder storage, check out THIS video.
The rest of the drawers hold various embellishments and office supplies.
DRAWERS UNDER BULLETIN BOARD

I really don't use that TV much – just to watch baseball games. But this side of the room is packed with more storage.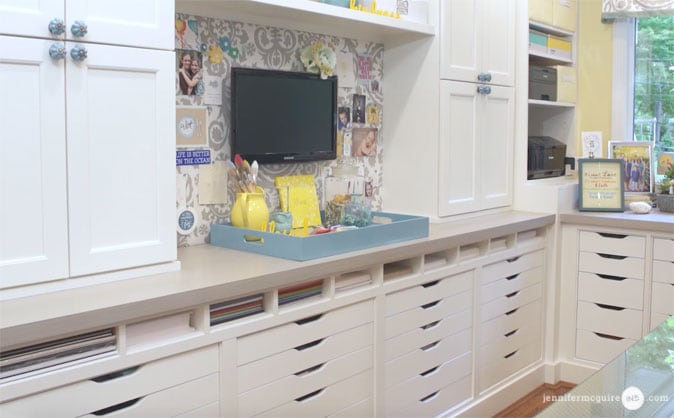 I also like the wider Ikea Alex drawer units. They are especially great for storing ink.
Above the drawers, I had paper slots built in for my bulk cardstock and paper storage.
My sequins are stored in bead organizers. You can see a closer look in THIS video.
For my mini ink cubes, I use the Tim Holtz Distress Ink Tins with the top removed.
For taking projects on the go, I like to use mesh bags.
Behind and around my TV, I have a bulletin board covered with fabric. I can add bits of inspiration here and can see them from where I work. This is an inexpensive thing to do, and I recommend it!
CARDSTOCK STORAGE

I struggled with cardstock storage for years, and am finally happy with my system!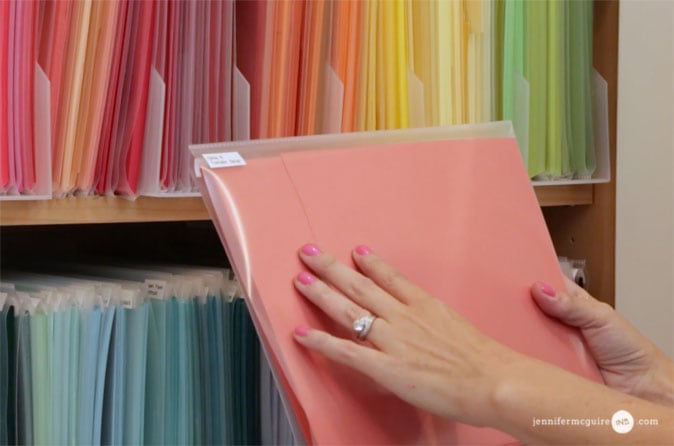 For a video better explaining my cardstock storage, head HERE.
My cardstock is stored in job ticket holders. These are SO handy in the craft room! And very sturdy. They are kept standing with simple magazine holders.
I also store my masking paper, double sided adhesive sheets, and specialty papers this way.
ISLAND OPPOSITE OF WHERE I WORK
On the opposite side of my island, I have a spot for my kids or friends to craft. I also have a few cabinets and drawers that hold important stuff!
The tool I use in my craft room the most is my cordless hand vac! (THIS is a newer model that I have since switched to.) I can't recommend this enough!
For a video showing more on my "stay organized" bin (that holds my empty storage pockets, etc.), head HERE.
To learn how I store my handmade cards and envelopes, watch THIS video. Storing cards with their matching envelopes in clear sleeves is helpful!
LARGE SHELVES

I have two sets of large built-in shelves around the glass doors leading to another room.
These large shelves were created by my builders. The bottom shelf is fixed with added supports so it can hold a lot of weight. The others are adjustable.
I had a piece of white laminate added to the top of the shelves so they would hold up over time.
I store my 12×12 cardstocks in containers similar to THIS.
My felt is stored just like I store my 8.5 x 11 cardstock. (See above.)
The chair? It was a great steal at Home Goods years ago.
Again, the yellow baskets were from the Container Store, the white boxes were from Ikea, and the Pantone Boxes are hard to find.
The prints hanging on the wall were purchased from Etsy years ago.
LEARN MORE
For more organization videos, check out THIS playlist. I have shared a lot over the years! If you are interested in learning more about my favorite products, check out My Favorite Crafty Things Series that I recently completed.
Thank you to ipsoKinetic for creating this video! I knew I couldn't do it on my own, and I adore you guys! Thank you!

SEE MORE CRAFT ROOMS!
My dear friends Kristina Werner and Kathy Racoosin also put up their craft room tours today! We thought it would be fun to share at the same time since our rooms are different in many ways. It is such fun to see all of the ideas. We know that everyone's needs and interests are different. And no one room is better than another. We help each other with organization ideas and admire each others styles. I love these women, their talents, and their rooms. Be sure to visit Kristina HERE and Kathy HERE.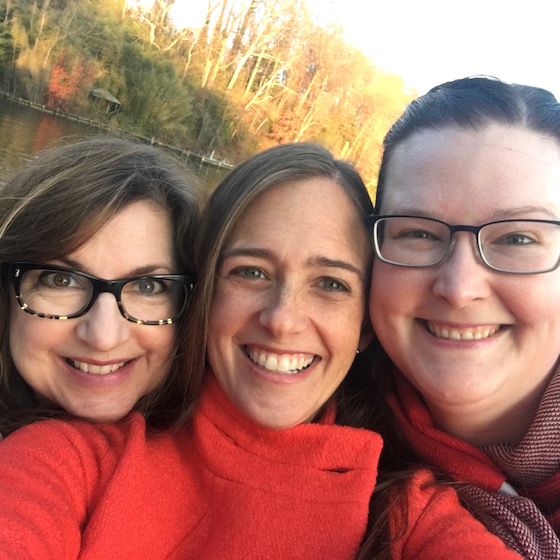 GIVEAWAY
The fine folks at Organize More are offering a $100 gift certificate to one lucky winner! For your chance, leave a comment below by 11:59pmEST on 12/29/16 telling me a bit about your craft room. (The winner's name will be randomly selected, emailed and posted on my "Winners page" after the giveaway closes. International folks are eligible, too!)
DISCOUNT CODE
I have become friends with the kind folks at Organize More. They are offering 10% off through 12/31/16 with the code "JMCRAFTROOM16". Yay!
Thank you for visiting! See you soon.