Stitching Felt Die Cut Tips + GIVEAWAY
Hello there! I have been sharing on Instagram a few peeks of some felt die cutting and stitching projects I have been working on. And – boy – have I received a lot of questions! Therefore I thought it would be helpful to do a video packed full of tips to get you started. Oh – and remember that you can do these techniques with cardstock instead of felt, too.
[All supplies are linked to multiple sources in the thumbnails at the end of this post. Affiliate links used. To watch the video in HD on YouTube, click HERE.]
I am quite in love with using felt, dies and stitching to create handmade gifts for loved ones. This is something I can easily take on the go… and a great way to get more use out my paper crafting supplies.
In the video, I show a look at a lot of different projects and products and share many tips.
One of my favorite things to do is to create pockets on my felt creations. This is a great way to include a little gift or note. For these eggs, I use the new Simon Says Stamp Plush Easter Egg Die and Memory Box Plush Easter Egg Pocket Die. For the pink egg, I added Memory Box Plush Little Heart Die hearts and I used the smaller Simon Says Stamp Plush Button Egg die to create a sun on the blue egg. I added batting into the white egg for dimension.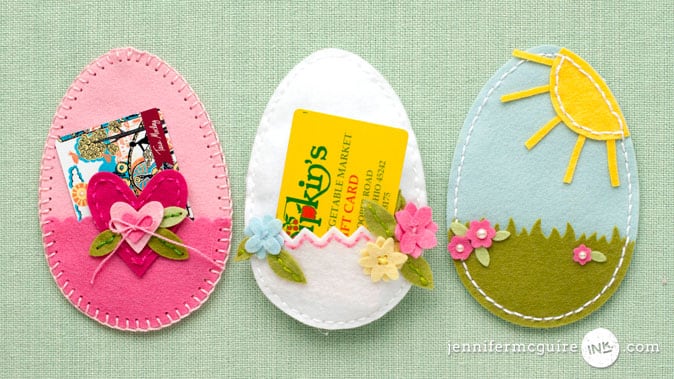 Here is another pocket piece. This uses the Memory Box Heart Pocket die and various die cut flowers and leaves. I find it fastest to glue the flowers on instead of stitching. You can use hot glue (my favorite since it is fast and strong), felt glue, or Ranger Multi Medium.
The new Simon Says Stamp Plush Springtime Basket Die is a favorite of mine. It is perfect for holding all kinds of goodies and fun to decorate. The middle one uses the Simon Says Stamp Plush Party Bunny Die and a bow created with the Simon Says Stamp Perfect Bow Die.
The Taylored Expressions felts are gorgeous. Check out these colors! Oh – and I love giving Hero Arts wood stamps as gifts.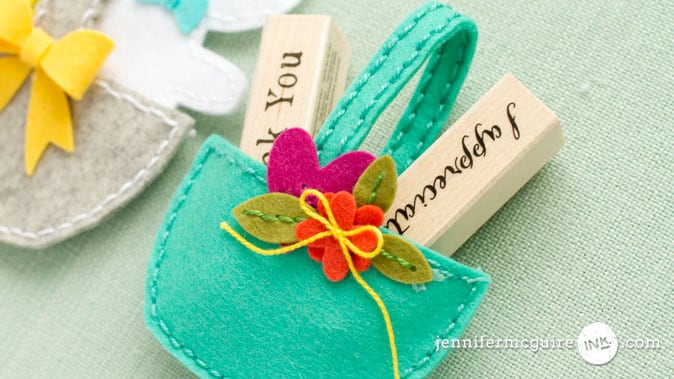 The Simon Says Stamp Plush Party Bunny Die bunny is too cute! I added color to his cheeks with a Copic Marker and stitched his paws together (sorry – sounds painful!) so he could hold a little cash gift for my oldest daughter.
The Memory Box Plush Liam Bunny die is also fun for creating an even larger bunny. I added a big pompom for his tail so he even stands up. He will also hold a small gift. Oh my cuteness!
And remember – you can use any of these dies with cardstock, too! Here I used the Simon Says Stamp Plush Button Egg Dies and Simon Says Stamp Plush Easter Egg Dies to create a simple cardstock card. I added a sentiment from the new Melodys Easter Stamp Set.
I have received lots of questions about the felt I use. Although I started by using inexpensive felts that I could find online and at craft stores, I realized the colors were very limited. So I was THRILLED when Taylored Expressions started selling felts that you can find at your favorite local craft stores or online shops. There are lots of colors available on their site… and many are at Simon Says Stamp. (I also really like the Papertrey Ink felts, but I don't have all of the colors yet. I find them very similar. Also, Simon Says Stamp is releasing their own felt. I don't have it yet but I hear it is delicious and I will be buying it. You can see those HERE.)
I store my felt in a Interdesign Fridge Binz Container They fit perfectly laying down but I prefer them to stand up so I can see them all. I wrap paper around the rolled felt and use Micropore Tape to keep them closed. (My Interdesign Fridge Binz Container is in a yellow basket since it matches my craft room.)
Here is a look at the Taylored Expressions felt colors. They are yummy! I used a Lawn Fawn heart die to cut samples to add to my swatch book. (More on the swatch book downloads below. Click to images to see them bigger.)
There are two types of string/floss that I like to use for stitching. The Iris floss is very inexpensive, easy to thread, and comes in great variety pack options. There is also DMC floss that has a higher price point but it comes in A LOT more colors. DMC floss also have 6 threads together, so you can split them up if you want… but this can be a pain to thread into the needle. The DMC floss is also available at large craft stores or sewing shops in individual colors. For a cheaper version of DMC floss, you can try Janlynn variety packs. I find this works just as well.
I like both of these floss options and use them both. I store my floss in inexpensive floss containers. These containers come with the little white cards to wind the floss on. Love the organization!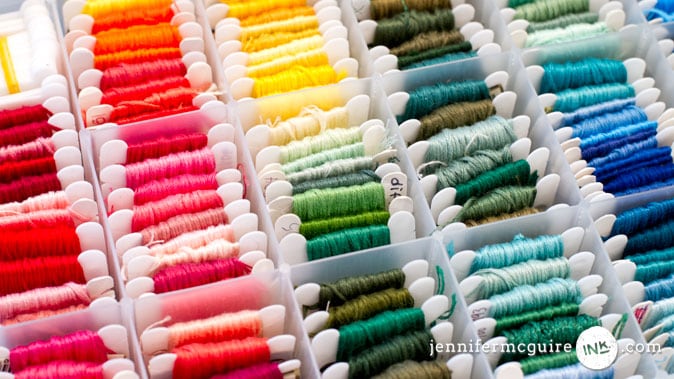 Whew! That was a lot to share. 🙂 I hope you will give this stitching a try. And remember – you can stitch any dies you have even if you the dies don't punch the holes.

RELATED LINKS
Here is some info that may be helpful:
To see all stitching dies at Simon Says Stamp, head HERE. There are several great ones from SSS and Memory Box!
Be sure to watch THIS video that I did in December on creating felt ornaments. I show a lot more tips, including adding foil to your felt.
In addition to many of the dies I used here, Simon Says Stamp has released many new products today. Be sure to check them out HERE.
FREE DOWNLOAD
I created a Felt Swatch Download for the Taylored Expression felts and thought I would share it here. This download is just like my Ink Swatch Downloads – – watch THIS video to see how to use them. All you have to do is download the file BY CLICKING HERE and print on cardstock. Next, cut up the swatches,die cut a sample of the felt, and glue it on the swatch. I use coin pages to hold my 2" x 2" swatches and keep the pages together with ring clips.
Again, you can download the swatches HERE.
(By the way, I am working on updating my Ink Swatch Downloads. Stay tuned.)
GIVEAWAY
How would you like a three rolls of felt, a floss variety pack, and some needles to get you started stitching? For your chance, leave a comment below by 11:59pmEST on 2/24/16 telling me if you have ever tried stitching on your cards. (The winner's name will be randomly selected, emailed and posted on my "Winners page" after the giveaway closes. International folks are eligible, too! Prize personally donated.)
SUPPLIES
Interested in the products I used? To make them easy for you to find, I have listed them below. (Affiliate and product disclosure can be found here. All products were personally purchased except those with an asterisk.)