Share Handmade Kindness Challenge Week 1: Friends & Family
Hello! Yesterday I announced my month-long Share Handmade Kindness Challenge. Today I am back to start Week 1 of the challenge and I hope you can play along!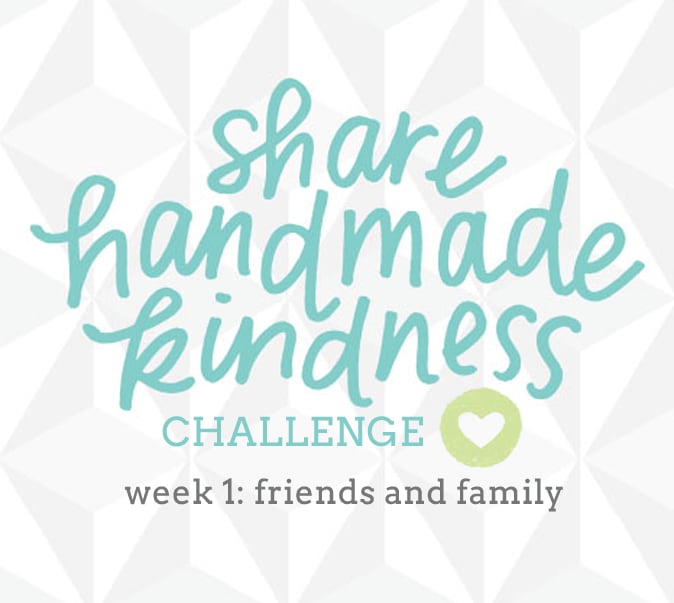 Week 1 (November 2 – 8) will focus on sharing any kind of handmade kindness with friends and family. This is often the easiest kindness to share, so it is a good place to start.
HOW TO PARTICIPATE
Participating is easy. Simply make and GIVE something to a friend or family member. It can be a card, sweet treat, handwritten note – anything made by the hand, from the heart counts. It is that simple! The more you give, the better. This is all about spreading kindness… especially when it is least expected. That's it.
And since kindness is contagious, I also encourage you to share whatever you create on your blogs, social media, etc… and even here on my blog. Let's inspire each other! Here are three options:
 Post a photo of whatever you create on social media with the hashtag #sharehandmadekindness.
 Link a project you created to this post using the link-up tool below. (At the end of the post – click "Add a Link.")

 Leave a comment on this post telling what you created. (This is great if you don't do social media or have a blog. Easy peasy!)
You are welcome to do none of these, one of these, two of these, or all three! But for each you do, you will be eligible for a prize…
PRIZES
To celebrate this week's challenge, I have THREE great prizes to give away. (And don't be surprised if I end up with more!)
This week's prizes include:
These three companies were very generous to offer these prizes. Please consider checking out their products – such good people!
I will give one prize to someone who I see participating on social media with the hashtag #sharehandmadekindness. I will give another prize to someone who links their project below. And a third prize will be to someone who leaves a comment on this post letting us know of their participation. All will be randomly picked on 11/9/15. (International folks are eligible, too!)
If for some reason you can't participate, no worries. I will have other random giveaways throughout the week! Stay tuned.
KIND CAMPAIGN
I'd love if you also check out the Kind Campaign. This is a group of awesome people working to end bullying. Their work is amazing. I will be donating to them throughout the month and hope that you will consider doing the same. (Yesterday I shared about Hero Arts donating a percentage of their profits of some kindness stamps – be sure to check it out!)
BADGE
A few people asked if there was a badge or image they could share on their blog. You can download this one HERE.
LINK UP YOUR PROJECT
As I mentioned, you are welcome to link here to share your project to inspire others. This is optional! It is easy – you can watch THIS video if you need some help.

Thank you so much for joining me in this challenge! After years of making and sending cards, I felt a calling to do more. This should be fun! Hugs all around.