VIDEO: Introduction to Minc Machine + GIVEAWAY
Hi! I am *finally* here with an introduction to the Heidi Swapp Minc Machine. I am glad I waited because some newer products are available that I would recommend. This is such a fun way to add foil to your craft projects.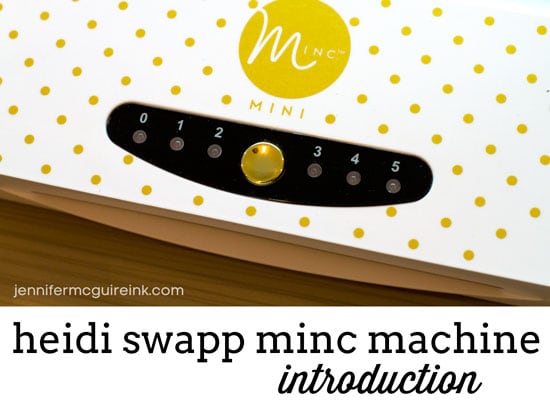 [All supplies are linked to multiple sources in the thumbnails at the end of this post. Affiliate links used. To watch the video in HD on YouTube, click HERE.]
The above video shares a lot of info – I recommend watching it for all the details. However, here are some things I wanted to point out:
Both the large and mini Minc Machines are great. For cardmakers, I recommend the mini since it costs less. However, I use the large machine a lot for 8×10 prints for my craft room and gifts.
There are many foils out there. I like the Thermoweb's Deco Foil (thick and easy to use) and Heidi Swapp's Minc foils (pretty colors). You can also use the newer foils from WOW. (They have a few unique colors and even white foil – so cool.)
In the video, I show how to foil a stamped image. You may need to play around with the Minc setting and cardstock shims (as I showed) depending on the powder, cardstock weight and image you use. But it is worth the experimenting! I have found the inexpensive WOW Bonding Powder works great, but you can try any "sticky" powder or clear embossing powder.
Try a setting of 3 or 4 when applying foil to cardstock. Some cardstocks are thicker and need the higher 4 setting.
You can see all the cool and inexpensive papers, products and accessories that the Minc Machine has HERE.
Don't have the money for a machine? You can use foils with double sided tape – as I show in a video HERE.
If you want to print your own toner paper on a laser printer, click HERE. Just download and print.
Next, be sure to go over to Kristina Werner's blog. She has a follow-up to my video… showing how to create awesome projects with foil along with some great downloads.
GIVEAWAY
Giveaway time! I have 3 rolls of foil to get your started in a foiling addiction. (You can use them without a machine – as I show in the video HERE.) For your chance, leave a comment below by 11:59pmEST on 8/11/15 telling me if you have tried foiling yet. (The winner's name will be randomly selected and posted on my "Winners page" after the giveaway closes. International folks are eligible, too!)
Also, be sure to watch my Instagram and Facebook pages – I will be giving away some foil prints that I have made.
HEIDI SWAPP
The Minc Machine is a product created by Heidi Swapp. Although I don't know her well, I have known her for years. (I started out in scrapbooking 15 years ago.) Recently, Heidi lost her son to suicide. I highly recommend reading her brave post HERE. Depression is so very real, unfair, and terrifying. My prayers are with their family. If you would like to send a card to them, please check the info HERE. ##
SUPPLIES
Interested in the products I used? To make them easy for you to find, I have listed them below. (Affiliate and product disclosure can be found here. This is NOT a sponsored post – I purchased the products myself.) Click on the letters below each picture to go to a favorite store: Simon Says Stamp (SSS),  Amazon (AZ), etc.