Video: Brusho Color + Waffle Flower Blog Hop + GIVEAWAY
Today's video gives a look at a few of the fun techniques you can do with watercolor powders. This post is also part of a fun blog hop. (More on that below!)
[All supplies are linked to multiple sources in the thumbnails at the end of this post. Affiliate links used. To watch the video in HD on YouTube, click HERE.]

"Watercolor powders" have started popping up in the cardmaking world recently. I have wanted to try them for a few months now and I finally did… and boy are they fun! The Brusho Crystal Colors are "unique, transparent, highly pigmented watercolor ink powders giving wonderful bursts of color when used." There are MANY techniques you can use the powders for and my video only shows a few. In some ways, the powder form allows you more control. (Mixing of colors, using to color pastes, etc.) In other ways, the powder offers unpredictable fun, which you see in the video.
I first showed how you can color in images by filling them with water and then shaking on the Brusho powders. The powders blend together and give unique results. (My favorite is that blue/purple flower!) I also did this technique for the leaves. (By the way, this gorgeous flower is from the new Waffle Flower Lotus set, and the leaves are from the new Leafy set.)
It is fun to see all the colors that result from mixing the powders. I have the set of 12 and am very happy with it (and feel no need for the bigger set). Mixing is easy to do, so no need for lots of colors! (Save those extra dollars for more stamp sets! 😉 )
Next, I shared a few different ways to create fun backgrounds. First, I applied a few light sprays of water and added a tiny bit of Brusho for a splatter look. Another variation is to shake on a tiny bit of Brusho on dry watercolor paper and spray on top of it. (I am telling ya – there are a million ways to play with these!) I struggle with messy backgrounds, but did like these…
Next I shared how you can achieve a soft watercolor background with the Brusho by using them with a more tradition watercolor method…
And finally… color craziness! I sprayed the paper with water… added several Brusho colors… sprayed it a bit more… wanted to throw the hot-mess away… set it aside to dry instead… and ended up loving it! These wild backgrounds can be a lot of fun. Can't wait to play with them more.
WAFFLE FLOWER BLOG HOP
This post is part of the Waffle Flower Coloring Fun Blog Hop. All of the designers on the hop will be using the newest Waffle Flower products along with some favorite coloring techniques. Waffle Flower is a great company so I am honored to be part of this!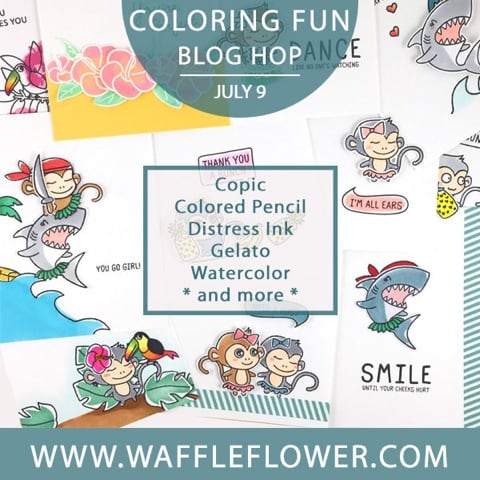 I am the last stop on the hop today, so you can start at the beginning by going to the Waffle Flower blog HERE.
GIVEAWAY
Today I actually have TWO ways to win a giveaway.
1. Waffle Flower is giving away a $50 gift certificate! A random winner will be drawn from comments left on all of the blogs in the hop. (Winner will be posted on the WF blog on 7/13/15.)
2. I will be giving TWO Waffle Flower stamp sets to a lucky winner who leaves a comment here.
For your chance for either prize, leave a comment below by 11:59pmEST on 7/12/15 telling me if you are enjoying the watercolor trend. (The winner's name for the second prize will be randomly selected and posted on my "Winners page" after the giveaway closes. International folks are eligible, too!)
SUPPLIES
Interested in the products I used? To make them easy for you to find, I have listed them below. (Affiliate and product disclosure can be found here. Thanks for the products, Waffle Flower.) Click on the letters below each picture to go to a favorite store: Simon Says Stamp (SSS), Ellen Hutson (EH), Amazon (AZ), Dick Blick (DB), Waffle Flower (WF), etc.