Video: More On the Clean Color Real Brush Pens + GIVEAWAY
Hi! After sharing my Zig Clean Color Real Brush Pen videos the other day, I received a lot of questions… so I decided to create another. I hope it is helpful!
[All supplies are linked to multiple sources in the thumbnails at the end of this post. Affiliate links used. To watch the video in HD on YouTube, click HERE.]

As I mentioned, this is my third info video on the Zig Clean Color Real Brush Pens… intended to answer many questions I have received. The first gives a basic intro to the pens (HERE) and the second shows 6 ways to use them (HERE). Be sure to check those out if you have not already. (And by the way – as always – I was not paid or asked to do these videos. I just truly like the product.)

In the video, I also mentioned that I store my pens in a handy, inexpensive container that is 6″x6″x6″ and can stored vertically or horizontally. I am so glad to be able to grab them and go!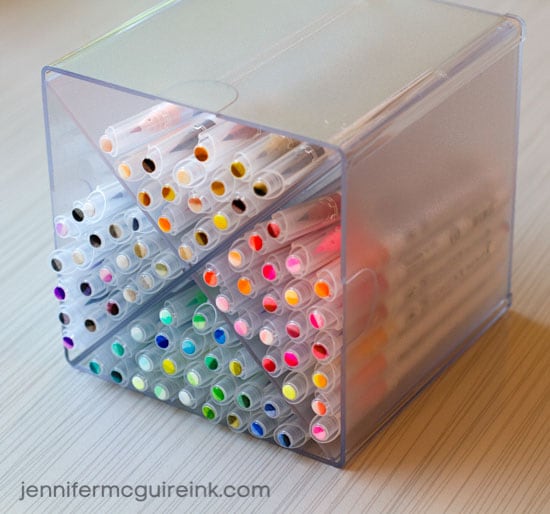 Using a small hole punch, I created a dot of the color to adhere to the pen's cap. I finished it off with a coat of Glossy Accents. This color coding makes it SO much easier for me to find the color I want. (WARNING: I heard someone mentioned that adding the Glossy Accents on top of the color dots actually changed the color of the dot. You may want to test first!)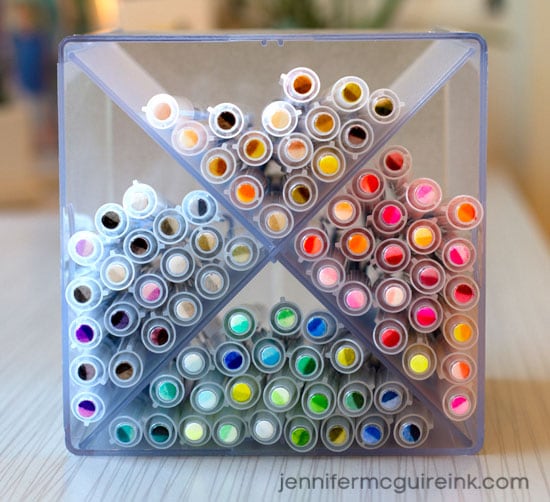 COLORS
I purchased all 80 of the colors available so that you can get a closer look at the colors. (Scroll down for the free ink swatch download.) Please know that you don't need all 80. (Unless, of course, you think you will use them a lot, lol. I have definitely gotten my money's worth. These bad boys are even going on vacation with me in a few weeks!) You can get a handful of colors and mix and blend to form new colors. (Click to make bigger.)
The colors I reach for most often are: 200, 021, 025, 020, 052, 050, 041, 045, 302, 036, 031, 042, 030, 080, 082, 090, 091, 071, 064, 062.
INK SWATCH DOWNLOAD
If you would like to create ink swatches like I share here, you can download THIS file. Just print it on watercolor paper (or whatever paper you prefer), add the color and trim them down.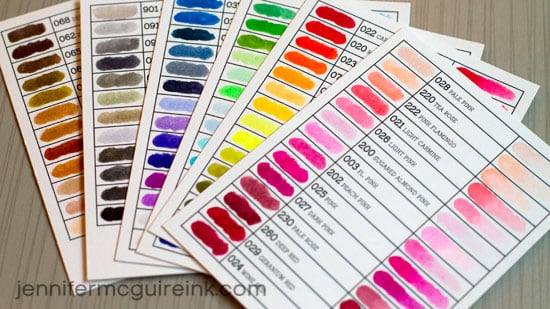 SOURCES + COST

There are a few places you can get the Zig Clean Color Real Brush Pens. Keep in mind – there is a high demand for them right now, so they are out of stock at many stores. Stores are waiting on the manufacturers to get them more.
Simon Says Stamp has packs and individual markers coming soon – very soon!
Ellen Hutson has packs and all individual markers.
Amazon has several packs. The pricing on their packs is lower than other stores because I believe they are coming direct from the manufacturer… from Japan. Shipping will take some time and the prices will flux based on demand.
Dick Blick (a wonderful online art store) has some packs and some of the individual markers.
Hallmark Scrapbook and Crafts also has a few of the packs. I have not personally ordered from them but have talked a lot with the owner and they seem wonderful and supportive of the industry. I have also spoke with many of my readers who have had great experiences with them.
There are a few other online art and marker stores that sell them individually. Be careful – I just had a bad experience with one. I recommend the ones I mentioned here. 🙂
These markers are a little more than $3 a piece. This is much less than a Copic Marker, but more than many watercolor markers. Keep in mind that these markers can be used in mutiple ways to get multiple looks. Therefore, I feel the price is good. Purchasing the pens in packs helps keep the cost down a bit.
PACKS
Many people have asked which colors are included in each pack. Here is a list. Keep in mind that there are 80 colors available, but the biggest pack is 60. The remaining 20 need to be purchased individually if you want them all. (Click store abbreviations next to the product name for links to products – Simon Says Stamp (SSS), Ellen Hutson (EH), Amazon (AZ), Dick Blick (DB).)
GIVEAWAY
I bought an extra 12 pack of Zig Clean Color Real Brush Pens to give to a lucky winner! For your chance, leave a comment below by 11:59pmEST on 5/31/15 telling me if you prefer watercolor or other forms of coloring. (The winner's name will be randomly selected and posted on my "Winners page" after the giveaway closes. International folks are eligible, too!)
SUPPLIES
Interested in the products I used? To make them easy for you to find, I have listed them below. (Affiliate and product disclosure can be found here.) Click on the letters below each picture to go to a favorite store: Simon Says Stamp (SSS), Ellen Hutson (EH), Amazon (AZ), Dick Blick (DB), etc.