Hello. In a recent video, I shared five ways to add gold foil to your projects. (You can find the post HERE.) Today's video shares more of my favorite (and the easiest!) method in more detail.
[All supplies are linked to multiple sources in the thumbnails at the end of this post. Affiliate links used. To watch the video in HD on YouTube, click HERE.]
Warning: Today's technique is addictive.
You will need two things to do this technique. First – a laser printer. I have an inexpensive laser printer that I use for my everyday printing. (It needs to be a laser printer because it uses toner. An ink jet printer will not work for this technique. If you don't have a laser printer, you can take your images to a place like Kinkos and have them print them with toner. Just be sure to print in solid black with no greyscale.) Second – you need is a laminator. I use an inexpensive one that works great and works for many other things, too.
To get started, you need to find something to print out. There are many awesome sites out there where you can find free or inexpensive downloads (see below)… or you can create your own. All of today's printables are from Studio Calico.
There are also many ways to manipulate the images or text in order to print – Photoshop, etc. (I usually use Photoshop.) However, in this video I wanted to show a way to do this with Word since many of us have it. Please keep in mind that this is not the ideal way to do it, but it works!
Once I printed the images on my laser printer, I cut a piece of Deco Foil and placed it over my image. I folded a piece of copy paper and placed my pieces inside to go through the laminator. The laminator applies pressure and heat on the image to create the gold transfer.
The foil comes in many beautiful colors and you could do multiple colors on one piece. The results are gorgeous and it's so easy to do!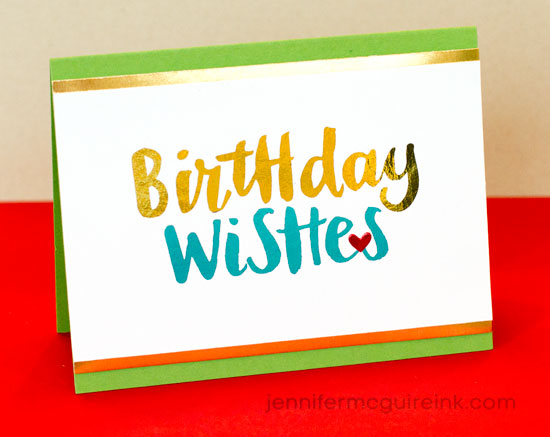 I turned these pieces into cards and added simple embellishments cut from DCWV foil cardstock.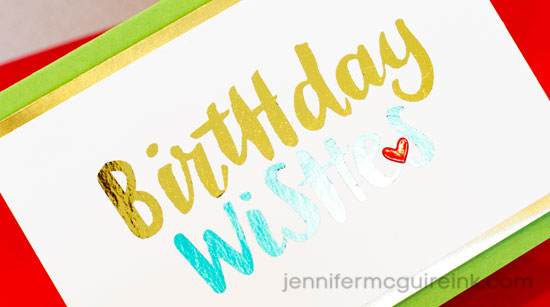 I hope you give this a try…. but I must warn you again… this technique is extremely addicting. Once you start, it's hard to stop foiling everything in sight!
DOWNLOADS
There are a TON of places you can download images to print for this technique. Heck – in the video I showed Hello Kitty valentines… which I found on the internet while searching "hello kitty valentine coloring page." However, here are some specific places to look – some are free and some have a small charge:
OTHER FOIL INFO

Remember – there are many great ways to get gold foil on your cards… 5 of which I shared in THIS post. I am also getting a lot of questions about the Heidi Swapp Minc machine and accessories. I have heard it is awesome so I can't wait to try it. (I am getting mine soon – it shipped!)
Also, many people mentioned that they have seen the Deco Foil on clearance at Michaels. My Michaels didn't have any, but apparently it is the same product. However, there is one big difference! The packs on clearance at Michaels only have one sheet of foil in it. The ones I link to below have 5 sheets per pack.
If you are having trouble getting this technique to work, here are some things to look for:
Make sure you aren't low on toner.
Make sure you are printing in FULL black – not grey scale.
Try printing at high quality.
Make sure your laminator is hot. I sometimes wait 15 minutes to be sure.
SUPPLIES
Below are the products featured above. Affiliate and product disclosure can be found here. Click on the letters below each picture to go to a favorite store: Simon Says Stamp (SSS), Ellen Hutson (EH), Thermoweb (TW), Amazon (AZ), Studio Calico (SC), etc.