Video + Guest Artist Dawn Woleslagle: Copic Markers + Stamping
Hello! Today I have a very special guest – Dawn Woleslagle. Dawn actually created this video for me back in the summer but I am just now getting my act together to post it! I think you will agree it was worth the wait. Dawn shows an amazing way to use Copics together with stamping. And I will be back in a few days with my spin on this technique!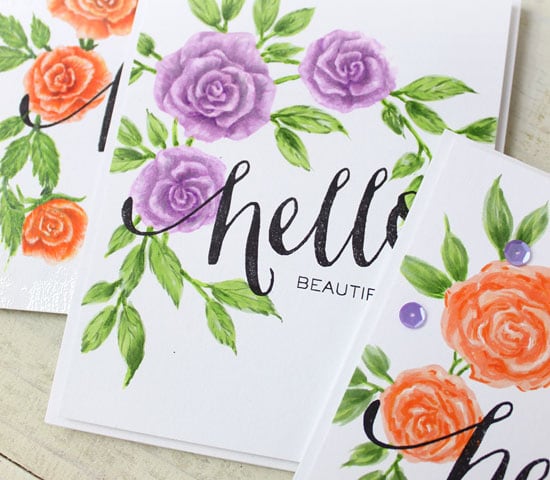 [All supplies are linked to multiple sources in the thumbnails at the end of this post. Affiliate links used. To watch the video in HD on YouTube, click HERE.]
Dawn is a true artist in every sense of the word and she also owns one of my favorite stamp companies – WPlus9. Because she is also a fab card maker, her stamps are perfectly designed for stampers. In this video she uses her Coming Up Rose stamp set to create three masterpieces.
After stamping her flowers with WPlus9 ink, she added highlighting with a Copic Colorless Blender pen. The blender reacts with the ink and gives a soft "bleaching effect" that is awesome. (This works with WPlus9, Hero Arts Shadow and Simon Says Stamp inks. Be sure to check out WPlus9's colors. They are delicious. If you have Distress Inks, you can get a similiar reaction with water, but this is more controlled.) So incredible!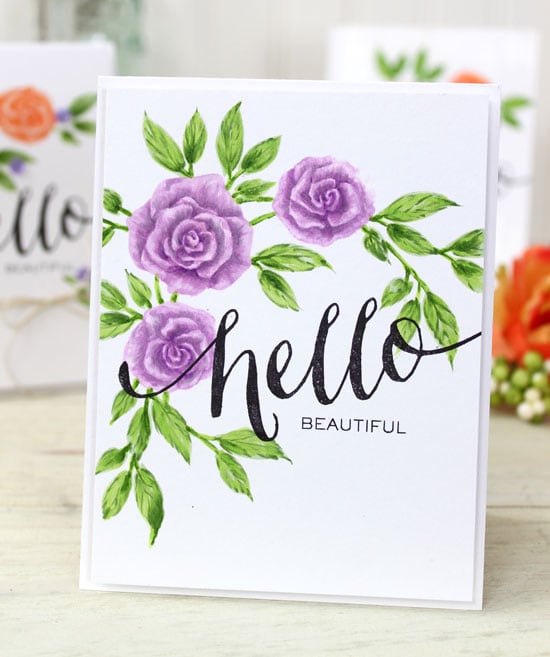 In the video, Dawn also shows how to additional shading with colored Copic Markers. The results are so realistic.
Aren't those sentiments great? That is the WPlus9 Hand Lettered Hello stamp set.
If you don't feel you can tackle the technique Dawn did today, no worries! You can just stamp the layered roses and leave it at that. The results are gorgeous. Or, just add a touch of colorless blender for a bit of highlighting. It really is easy to do. Oh – and I keep a colorless blender pen just for this technique. (I haven't found that it damages my marker, but just in case I have a separate one.)
I hope you found Dawn's technique as amazing as I did. I will be back in a few days with a video I created using a similar technique. I encourage you to check out Dawn's blog, WPlus9 products and YouTube channel and give her a little love.
And a big thank you to Dawn. I am your biggest fan and honored to call you a friend. I look forward to some fun shenanigans in March. You are stuck sitting next to me again. 😉 xo
See you soon!
SUPPLIES
Below are the products featured above. Affiliate and product disclosure can be found here. Click on the letters below each picture to go to a favorite store: Simon Says Stamp (SSS), Ellen Hutson (EH), Amazon (AZ), etc.