Video: Embossing Powder Organization
Hi! Today's video shows my three methods of embossing powder storage. You may have noticed these in my past videos, but I get a lot of questions so I decided to do a video giving a good look at each system…
[All supplies are linked to multiple sources in the thumbnails at the end of this post. To watch the video in HD on YouTube, click HERE.]

In this video, I show three ways to store embossing powders.
1. Storage of My Favorite Embossing Powders
For the powders I like most and seem to reach for often, I like to use small containers with mini spoons clipped onto the lid. Although you would use any small container, I really like the size, quality and easy-of-opening of the Sistema containers. I get mine HERE on Amazon (they are sold with three in a pack), but I know you can sometimes catch a random deal on them at Home Goods or TJ Maxx. (I actually use these same containers for my kid's lunches. I LOVE them.)
I use mini spoons (from HERE or HERE) for most of my embossing powders. To clip them onto the lid, I have found three different cord clips that work:
You can see the three options here. Any of them will work…
2. Storage of Clear & White Embossing Powders
I use clear and white embossing powder more than any other. Therefore, I have them stored in larger containers… each containing several jars. The containers are the same Sistema brand as I show above, but a much larger size. I use a regular cable clip to hold a regular size plastic spoon on the lid. (However, I may switch to a mini spoon.) This large container makes is easy to pour powders over a large card background, as I often do with clear and white powders. (This container is quite large. Another option that is smaller than this but bigger than the one above is the Sistema sandwich container. It would work great.)
3. Organization of "Random" Embossing Powders
I have found a few helpful tips for storing and using powders I don't use as often. I keep these jars upside down (so I can see the powder) in my Ikea Alex drawers. With a mini glue dot, I stick on each jar a 3/4″ punched circle covered with the heated powder. This allows me to find the color I am looking for in one quick glance. This works very well for me!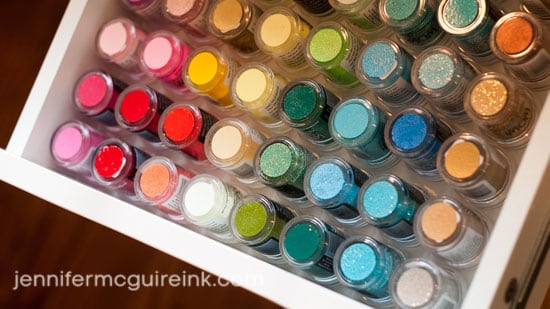 When working with the powders that are not in containers, I like to use coffee filters. The coffee filters act as a "bowl" that helps to contain the powder as I am working. This is soooo much more effective than a piece of flat scrap paper. Also, static isn't an issue.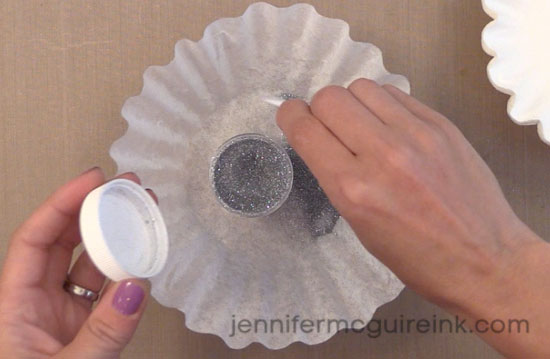 I hope one of these systems works for you, too!
Also…
People also ask what my favorite embossing powder brands are. Here is what I like:
A few other things:
I label my embossing containers with the Brother Label Maker. This label maker never leaves my side in my house. In THIS video, I show how to change the setting so you do not waste label tape. I also recommend getting the optional power cord for it so you don't fly through batteries. Both of these tips will save you a lot of money.
If you like my first storage option but want something slightly bigger (but not as big as my second option), I would try the sandwich size Sistema containers. These would be perfect! Kinda wishing I started with those first – lol.
SUPPLIES
Below are the products featured above. Click on the letters below the picture to go to a favorite store: Simon Says Stamp (SSS), Ellen Hutson (EH), and Amazon (AZ).