Video: Watercolor and Stamping… + Blog Hop + GIVEAWAYS
Hi there! I have lots to share with you today. My video – which shares tips for watercolor and stamping – is part of the CASE Study 4th Anniversary blog hop. (More on that below.) Also, I have several ways you can win some fun giveaways.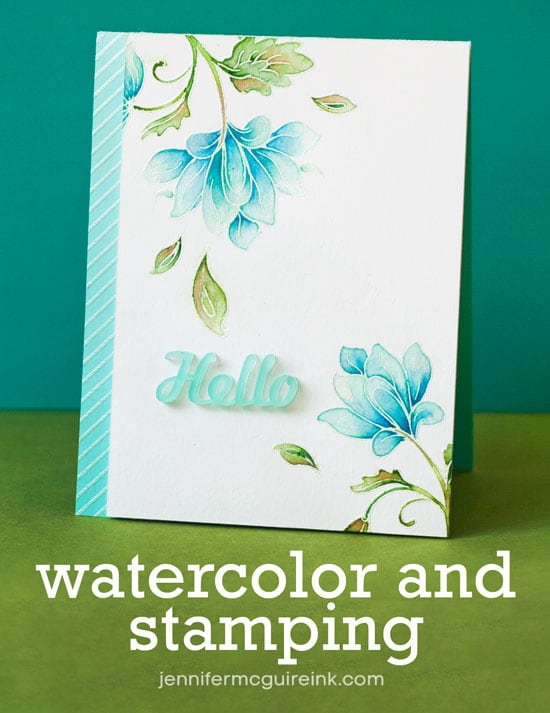 [All supplies are linked below to multiple sources. Click HERE to watch the video in HD on YouTube.]
Yep… I still am on my watercolor kick! However, it just doesn't come natural to me. Today's video shares tips that I have found are key for me achieving a watercolor look I am happy with. The biggest tip? Let the water do the work for you. Another big tip? Get some good watercolor. Today's video shows the Gansai Tambi watercolor set. Yes, the colors are creamy and gorgeous, but the price tag is a bit high. But it really is worth it to me because I get better results and it includes a pearly white and shiny gold. (My other favorite form of watercolor is still the Peerless. Both are amazing and both act the same *in my eyes* when painting. I am not an expert! But I have tried *a lot* and found that these two are the easiest for a non-expert to work with.)
The lovely images I used on this card are from the Altenew Persian Motifs stamp set. I heat embossed them on watercolor paper with WOW Silver Pearl embossing powder. (This stuff is GORGEOUS.) I then painted with the Gansai Tambi watercolor, my new favorite brush and water. If you look closely you will see some pearly shine and some gold shine. Yep – those were done with the metallic watercolor included in this set. (However, if you don't have these watercolors, you can make your own pearlized water with Perfect Pearls.)
I also heat embossed the My Favorite Things Diagonal background stamp with the WOW Silver Pearl embossing powder on the notecard. It is stunning how it picks up the pool color of the cardstock. I added a "Hello" embellishment that matches the softness of the card. I got this from Color Cast Designs – I love their pieces! This one was perfect for this card.
OTHER LINKS
Here are some other helpful watercolor links:
BLOG HOP
I'm excited to be joining CASE Study as they celebrate their 4th Anniversary. (CASE Study is a wonderful challenge blog, and I was honored to be their "Muse" last year HERE.) They are celebrating with a month of inspirational blog hops.
The theme of this hop is "inspiration." The card I created was inspired by THIS card by Tasnim Ahmed:
I love her card and am so thankful she agreed for me to "lift" it! CASE Study is inviting everyone to join an accompanying challenge and share creations inspired by any project from the Blog Hop.
—> The next stop on the blog hop is Heather Pulvirenti. (Head to the CASE Study blog for more information.)
DISCOUNT CODE
Like the fun "hello" embellishment I used above? I have a discount code for you! Use the code JENNIFER10 to get 10% off any order over at Color Cast Designs.
GIVEAWAY
I have giveaways and there are two ways to win:
For your chance to win the Altenew Persian Motifs stamp set I used above along with several fun pieces of Color Cast Designs, leave a comment here by 11:59pmEST on 8/19/14.
CASE Study is also giving away some awesome prizes for their anniversary. For your chance, leave me a comment here and on every stop on the hop by 11:59pmEST on 8/19/14. (Check out the CASE Study blog for more information.)
I have winners from past giveaways: Tim Holtz Stamps (Laura BookWorm) and Sweet Stamp Shop Stamps (Niki G).
SUPPLIES
Below are the products featured above. Click on the letters below the picture to go to a favorite store: Simon Says Stamp (SSS), Ellen Hutson (EH), Dick Blick (DB), Mama Elephant (ME), Color Cast Designs (CCD), and Amazon (AZ).