Video: Watercolor & Stamping… + Shop For a Good Cause
Hi! Today's video shares some tips and tricks for using watercolor with stamping and die cutting. The project uses some great products from Mama Elephant… and below I have some information on how you can shop for these goodies while earning money for a good cause. Yay!
[All supplies are linked in the thumbnails below. To watch the video in HD, click HERE.]
Ahhh… my love for watercolor with stamping is still going strong! It is such fun. Because of this love, I have bought and tried pretty much all of the watercolor mediums out there. My favorite has been the Peerless Watercolor, which you can see in my video HERE. (And I have several more videos coming up.) I love how creamy and vibrant the colors are… and they seem to do the blending for you. Well, a few weeks ago I got an email from my friend Kryssi who is one of the owners of Mama Elephant. She told me about another watercolor and insisted I try it. Boy am I glad I did. I now am donating all of my watercolor mediums except two – the Peerless Watercolor and the Gansai Tambi that I am demonstrating today.
Gansai Tambi is a high-quality Japanese watercolor that goes on very creamy and vibrant… much like the Peerless. I like that the big set has a gold, bronze, white and pearly white, and that the light colors even show up on dark cardstock! Swoon. I will be using these (and the Peerless) from here on out. Love. I just wish I would have found these in the beginning! (Oh, and for pencil form, I still love the Inktense.)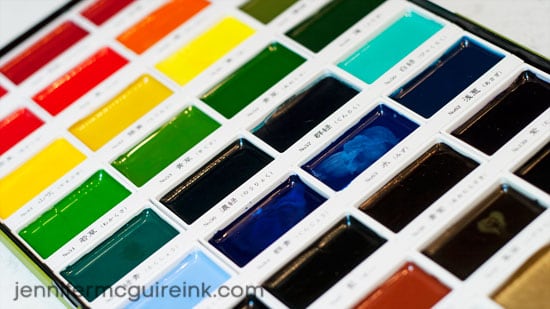 So! Back to this card and video. For the heat embossing of the images, I used one of my favorite tricks. I first stamped the Mama Elephant In My Heart little girl and sentiment (what a GREAT set!) with Hero Arts Black Dye Ink. I then stamped right on top of it with Versmark Ink and added clear embossing powder. I find that I get the best "black heat embossing" results this way since black powders can be messy and black pigment ink is often not crisp. (And one less product to buy!) The Gansai Tambi watercolors were perfect to add the coloring, and also for the sky-wash background. I also used the Mama Elephant Landscape Trio cloud die to create a background with dimension.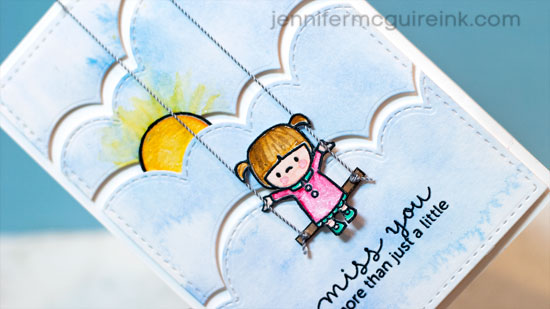 RELATED PROJECTS
Here are some other videos you might find helpful with watercolor:
Online Card Classes Watercolor for Card Makers Class – This was one of our most popular classes. It has techniques from beginners to advanced and will transform how you watercolor. LOTS of videos and examples. You can take the class anytime and will have lifetime access.
SHOP FOR A GOOD CAUSE
I am a huge fan of Operation Write Home, who collects and distributes loads of handmade cards for soldiers overseas to send home to family members. Well, from now until 7/31/14, 20% of the profits of the In My Heart stamp set purchased through the Mama Elephant site goes to Operation Write Home. So, please support this wonderful cause! Also, this stamp set was designed specifically with the efforts of Operation Write Home in mind. Love!
Thanks for your time. Have a great day!
SUPPLIES
Below are the products featured above. Click on the letters below the picture to go to a favorite store: Mama Elephant (ME), Simon Says Stamp (SSS), Ellen Hutson (EH), and Amazon (AZ)…