Video: Die Cut Window Cards
Hello! Today's video shares how to create die cut windows with a word suspended across. This technique is fun! So fun that I actually created four cards. I did these cards as part of the Virginia's View Challenge where I am a guest. (More on that below.)
[All supplies are linked to multiple sources in the thumbnails at the end of this post. Click HERE to watch the video in HD on YouTube.]
If you have stopped by my blog before, you know these cards have three things I am adore. First, they include word dies cuts. Second, they have a window. Third, the technique results in two cards at once. Bam!
For the first set of cards I show in the video, I started by inking white cardstock with Distress Ink and a fabulous Memory Box stencil for a tone-on-tone look. I then used some partial die cutting tricks to die cut a circle window with the Mama Elephant "hello" greeting suspended across it. The technique results in one continuous piece – with the word connected to the panel. I love this look!
After creating the die cut panel, I used the same stencil to apply embossing paste to the front of a white notecard. I then added the panel on top… lining up the stencil pattern in the paste with the stencil pattern in the inked die cut panel. I finished it off with my favorite sequins and silver dots using a Silver Paper Pen. Man oh man… I love the look of that "hello" suspended across that window!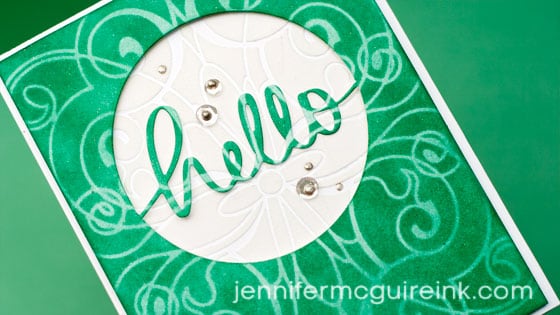 I used the leftover die cut pieces from the first card to create this second. I started by masking around the edges of a white notecard with painters tape and applied embossing paste over the Memory Box Stencil. I then adhered the die cut pieces – lining up the pattern – and finished it with a small glitter die cut heart. Easy. And fast!
So those first two cards, I used partial die cutting tricks to create one continuous piece. For the next two cards, I cheated and did a much faster version of the technique. Any although the word isn't really connected to the panel around the window, it is hard to tell! You can pick whichever technique you prefer.
I once again started with white cardstock and inked it lightly with Distress Ink. I then inked more over a dot stencil for a tone-on-tone look. After die cutting the word thanks from the inked piece, I die cut a heart around it. I taped the word into the heart in the panel (with the tape on the back) so it looks like the word is suspended across and is one with the panel. (A little cheating is welcome in crafting!) I kept this simple by just adding Wink of Stella to the dots and a bit of sequin and silver dot bling.
I adhered the leftover pieces on a mini card… and added Glossy Accents to the dots for some dimension and shine. I think this is my favorite of the four. So clean and simple.
VIRGINIA'S VIEW CHALLENGE
As I mentioned, these cards are for my guest spot over at the Virginia's View Challenge Blog. I have shared in the past a few challenge blogs that I like… and this new one is one of the best out there. The sweet Virginia Lu leads it and there are some amazing ideas and submissions. You can draw inspiration from the challenge photo (below) and link over on the blog. I believe they have prizes, too! (Congrats, Virginia, on your awesome blog. I adore you and all that you are adding to this great hobby.)
SHOPPING NOTE
I have received many emails about me using products that are out of stock in stores. I just wanted to mention a few things about this:
I take a lot of time to link to multiple sources/stores in the thumbnails at the end of each post. You can find these sources in the abbreviations under the product thumbnail. (Example: Click "EH" to see the product at Ellen Hutson.) Sometimes one store may be out of stock but another isn't.
I do not work for these stores so I have no real way of knowing how many are in stock before I use them.
I do know that the stores I link to (except Amazon – not sure about them) are very good about placing reorders very quickly. However, sometimes manufacturers are very slow to fill those big orders. So just because you see something is "out of stock" in a store doesn't mean that it isn't on order.
Please know that if something is out of stock, it is because many people also loved the product you want! 🙂 Heck – I bought the product and used it because I love it, too. It happens. But thankfully there are lots of great products out there. (And I try to mention alternative products in my video.)
I really try my bestestestest to use a variety of products and share with you fun ways to use these products. I use what I love… and sometimes those things go out of stock. 🙂
Thanks for stopping by. Oh – and I will be back soon with winners from past giveaways. Thanks!
SUPPLIES
Below are the products featured above. Click on the letters below the picture to go to a favorite store: Simon Says Stamp (SSS), Ellen Hutson (EH), My Favorite Things (MFT) and Amazon (AZ)…