Video: Paper Storage + Creative Spaces Vol. 3 Blog Hop + GIVEAWAY
Hello! Today I am part of a unique blog hop – the Creative Spaces Vol. 3 Blog Hop. Along the hop you will see peeks into the craft rooms of some amazing women! (And apologies in advance for a very long blog post. But as a "thank you" for reading, I have a big giveaway below!)
I know many of you have been asking for a closer look at my studio. Now is your chance… by checking out the new Creative Spaces Vol. 3 issue for some incredible photos. (The photographer they used is so talented! More on that below.) Today also kicks off the first of many videos I will be doing over the next few months sharing parts of my room… starting with a video on how I store my paper. This includes 8.5″x11″, 12″x12″, 6″x6″ paper pads, notecards… and my secret weapon… pre-cut cardstock.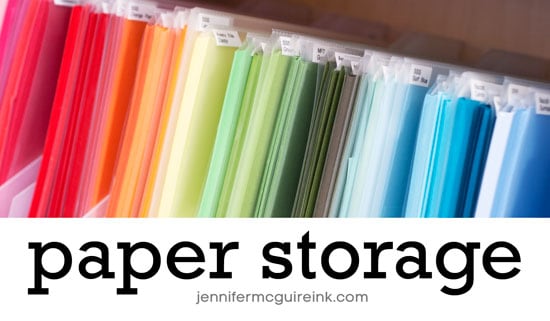 [All supplies are linked in the thumbnails at the end of this post. Click HERE to watch the video on YouTube.]
I will be honest – organization of paper has always been tricky for me. Stamps? No problem. Inks? I've got that. But paper? Always a struggle. After lots of trail and error and loads of time, I finally figured out paper systems that work for me. And I am hoping one of them will work for you, too!
Instead of showing a bunch of pictures here, I decided to do the video above. That will explain it much better than I ever could here! However, here are links to the products I use (and many more links are in the thumbnails at the end of this post):
I hope this video is helpful to those of you also trying to tackle a paper mess! I find I am SO MUCH faster and creative with crafting when I am organized. What a difference it makes.
MY OTHER CRAFT ORGANIZATION VIDEOS
Interested in more craft organization videos? You can click HERE to see my YouTube playlist featuring my craft organization videos. Or you can check out these posts: My Favorite Crafty Organization, Stamp Storage 1, Stamp Storage 2, Ink Storage 1, Ink Storage 2, Die Storage, Stencil Storage and Project Life Organization.
MORE ON MY ROOM
So while the kind folks from Paper Crafts & Scrapbooking were at my house taking photos for the Creative Spaces Vol. 3, I took a few myself! I was amazed at the photographer's talent. Wow. Here are a few behind the scenes shots, taken with my iPhone…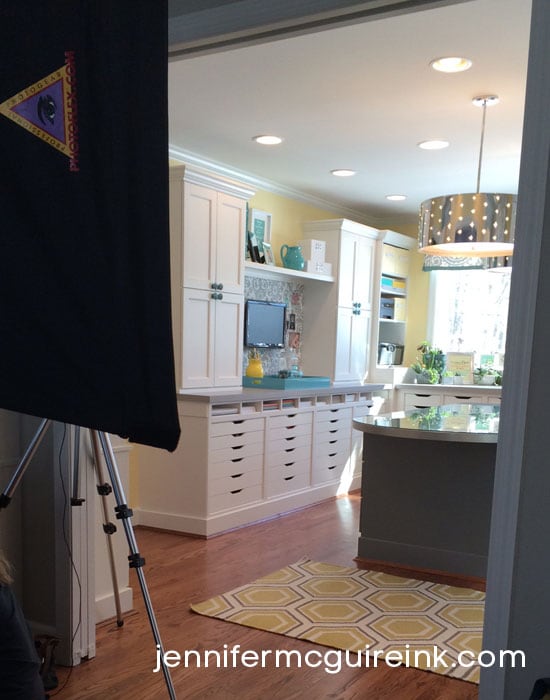 And finally, when the day was over, I took this one. Wish the sun would have been shining through that window…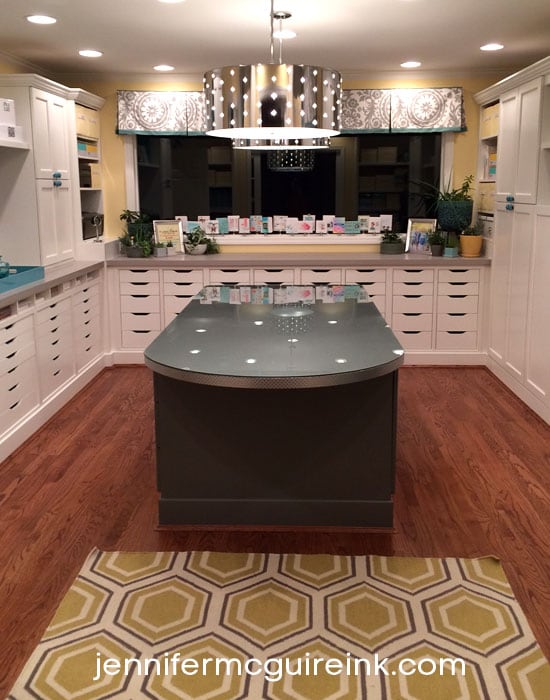 I also have a few more random bits of information for you:
The Creative Spaces Vol. 3 issue has many great photos of my craft room along with peeks at favorite storage points. I will never be able to capture photos as incredible as what is in there! And the other rooms they feature? Amazing. I would highly recommend checking it out.
Many people asked who built my craft room. I designed it with help from Michele Neiter and Neals Redesign… and Neals Redesign did the building. They were amazing. But keep in mind – this is my job and office. Just like a mechanic would have a shop full of big tools, I have a craft room full of crafting tools. When this was my hobby, I was on a simple folding table in the corner of my basement. 🙂
Over the next few months, I will share more videos of my craft room… focusing on different parts with each video. I hope to eventually do an overall video with more photos.
BLOG HOP
As I mentioned, this post is part of the Creative Spaces Vol. 3 Blog Hop…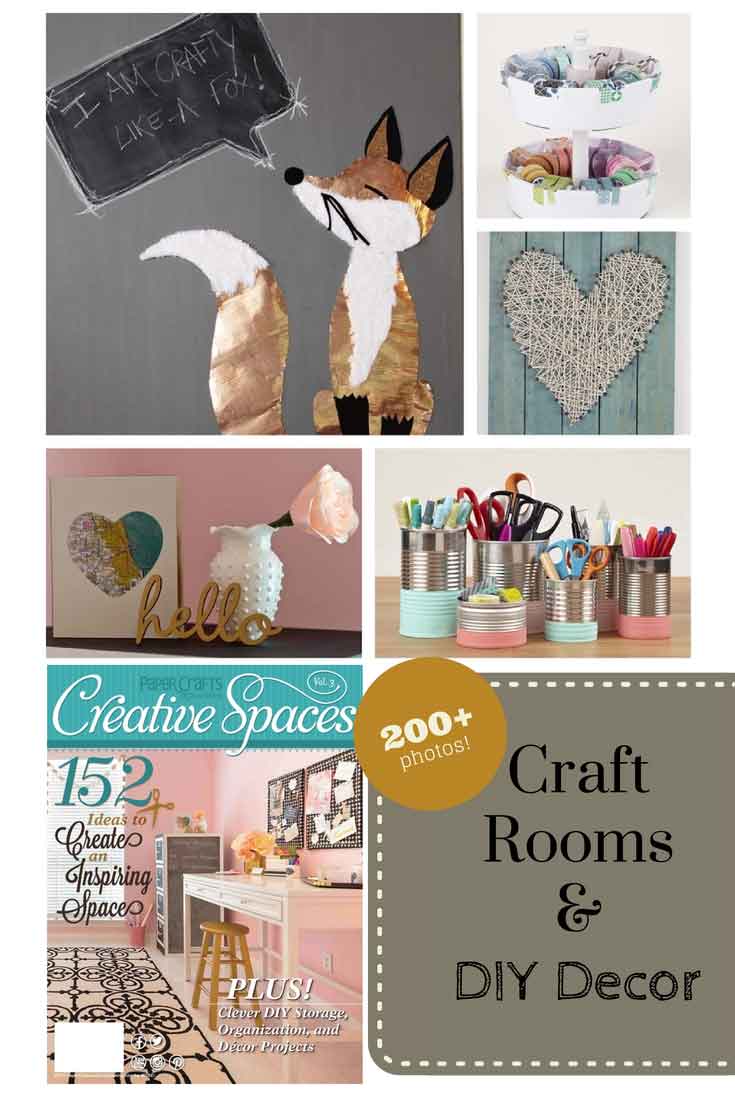 The next stop on the hop is the blog of sweet Jill Yegerlehner of Jillibean Soup. (If you want to start at the beginning of the hop, you can head HERE. You should have arrived here from the Tatertots & Jello blog.)
To see more of the Creative Spaces Vol. 3 issue, head HERE.
GIVEAWAY
How about a giveaway? One lucky winner will receive a $50 gift certificate to Amazon to get some paper storage units… and a multi-color cardstock pack from Simon Says Stamp! For your chance to win,  please fill out the Rafflecopter area below. (This is new for me but makes it so much easier to do giveaways often. There are many ways to win and you don't have to do them all. Thanks for trying it!)
SUPPLIES
Below are the products featured above. Click on the letters below the picture to go to a favorite store: Simon Says Stamp (SSS), Ellen Hutson (EH), My Favorite Things (MFT), The Container Store (CS), Office Depot (OD), Avery Elle (AE), and Amazon (AZ)…