Guest Post & Video: Layered White + Colored Ink on Kraft Revisited with Kristina
It's Jennifer here. I am on a long vacation with family on an island in the middle of nowhere. When I told Kristina this, she offered to do a guest blog post for me. I cannot say enough about how wonderful Kristina is and I am honored to call her my friend and colleague.
Oh for those of you wondering about Roxie – my parents are staying at my house with her. She is being loved.
————
Hello everyone! Kristina here! Since Jennifer is prancing on the beach with her kiddos, I'm taking over! Mwa ha ha!! 🙂
For real, though. I'm happy I get to share a card with you guys today. Especially because if anyone deserves a vacation, it's Jennifer.
Jennifer's a hard-workin' momma who needs a bit of sun and relaxation. And not only that, she's an amazing friend. So thoughtful, caring, and most of all, she's the best cheerleader ever. With all of life's ups and downs, I'm lucky to know she's in my corner. I've never met someone who lives her convictions and beliefs so fully, to the depths of her heart and the tips of her fingers. She's eager to help, lend a hand, offer support, and does it all even when it's not the most convenient for her.
And the best indication of her character is her children, because they've inherited the best qualities from their mom. I've met all but one (I'll meet you someday, Kay!), and they're simply the best! 🙂
Anyhow, back to the card… 🙂
I took Jennifer's card from last July and used it as inspiration. She calls the technique "Layered White + Colored Ink on Kraft". For my card, I used a stenciling instead of stamping…
Jennifer's Original Card (using stamps)
Kristina's New Card (using a stencil)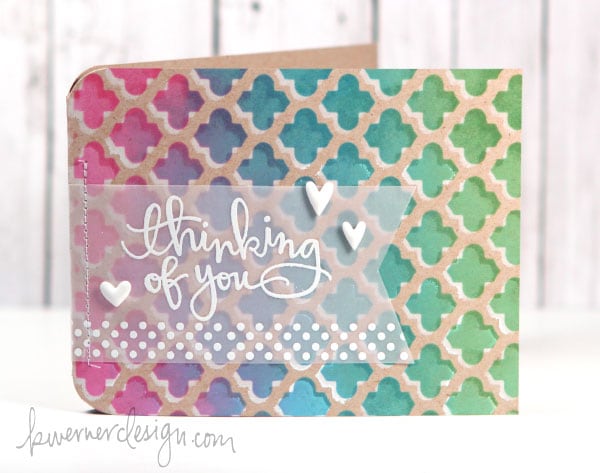 I also have a video of the card for you guys. Yay! I used the Large Moroccan stencil from Simon Says Stamp for the technique, and finished it off with a greeting from Simon's Sending Happy Thoughts stamps set embossed on vellum. Hope you enjoy!
Thanks, Kristina. I adore your card! And you.
I will be back soon with an organizational video soon. XO!
SUPPLIES