Video: Quick Balloon Cards + Cool New Product + BIG Giveaway!
Hello! Today's video shows how to make quick balloon cards (only 25 minutes for 5!) showcasing a few tips and tricks. I also show a bonus card and a close look at a new product that has knocked my socks off – the Avery Elle Custom Panels Die Set. Oh! And I am giving away a whole collection of inks and die set! Let's get started – lots to share today.
[All products are linked in the thumbnails below.]
I adore products that help me save time. Adore them. Therefore I am very excited about the Avery Elle Custom Panels Die Set since it has so much to offer and many short cut options. I also really like the Avery Elle Pigment Inks since they go on like butter and match their cardstocks so nicely. I used both of these products today… and am giving them away, too! (See below. No, I don't work for them. I just like this product. 🙂 )
I used the arch in the die set to create the bottom of a balloon for a set of five birthday cards. (If you don't have this die set, you can trace any large circle and hand-cut.) This was so quick and easy!
I then sprayed the balloons with Glitter Dust. This puts down a subtle-but-fun shimmer. I like this for covering an entire card or a large piece of paper, embellishment, etc. (I use the Wink of Stella shimmer pen for small areas.) This really adds a lot to these simple cards.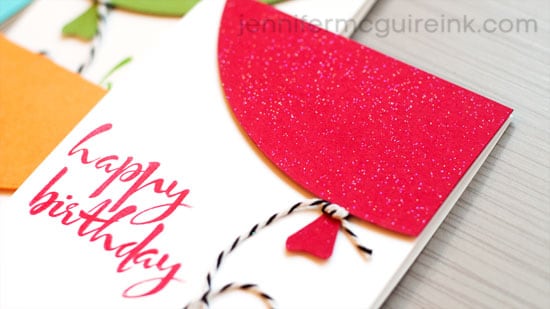 It is easy to add simple loopy strings to cards by using touches of Matte Multi Medium.
I stamped the "happy birthday" message (which is from the same set where the "hello" greeting came from on THIS card) with matching shades of Avery Elle Pigment Ink. This is a great line of ink and the colors match the cardstock pretty closely. (For some reason, many inks don't match their coordinately cardstocks well.) Fast and easy!
In the video, I also showed this "hugs" card that I created using the Avery Elle Custom Panels Die Set. Aren't those windows fun?
I stamped the Avery Elle Rounded Diamonds stamp set with AE Aquamarine and Celery Inks on white cardstock pieces. The pieces are behind each window with foam tape and added it to a card. I covered the SSS Hugs die cut with my new Black Wink of Luna Metallic pen (see this pen in action HERE) and popped it in the middle.
Want to see some more inspiration? Here are a variety of things that relate to this post:
More Die Ideas – Here are some more ideas from JJ Bolton on how to use this die set. Amazing cards and a video, too.
More Ink Ideas – This video shows a closer look at this great ink line.
GIVEAWAY
In this video, I used the Avery Elle Pigment Inks. I really love this ink line – it is a great pigment ink. So… I am giving a set away! But since I also loved on the Custom Panels Die Set today, too, I think I should also give that away. Sound good? Leave a comment here by 11:59pmEST on 4/26/14 for your chance. Good luck! (Thanks to Jamie and Avery Elle for donating this great prize.)

SUPPLIES
Below are the products featured above. To find them at Simon Says Stamp, click on the SSS below the thumbnails. For Ellen Hutson click on EH, for Amazon click on AMZ, and for Avery Elle click on AE…