Video: Ink Layering + WPlus9 Ink Collection GIVEAWAY
Hello! Today I have a video that shows using layered stamping to achieve new ink colors. I also share a peek at the new WPlus9 Pure Color Inks… and a giveaway of a whole set!
[Supplies are linked in the thumbnails at the end of this post.]
One of the best ways to get more out of your ink is to layer two colors on top of each other. By doing this, you can get three colors instead of just two. For this card, I layered several new WPlus9 Inks (more on those in a second)… using only five inks even though it looks like nine! The WPlus9 Triangles stamp set was perfect for this technique.
I finished the card off with a fun "xoxo" Amy Tangerine die cut covered with Ranger Black Sparkle embossing powder. (Love that stuff!)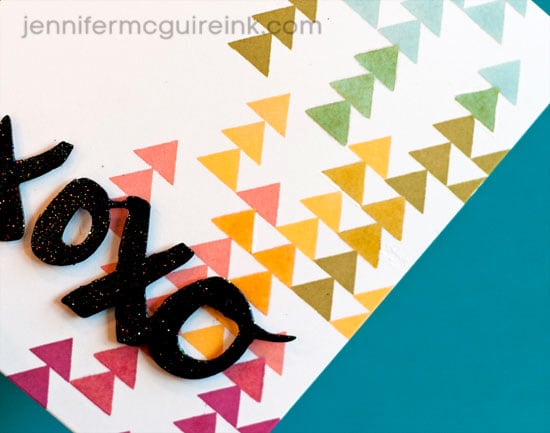 OK… about those inks! If you have been to my blog before, you likely know that my favorite ink is the Hero Arts Shadow Ink because they smooth out to give very solid results. Recently WPlus9 (one of my favorite stamp companies) came out with their own ink – Pure Color – using the same formulation/supplier. I was thrilled to hear more colors would be available in this great ink type! (Simon Says Stamp inks also have this formulation.)
WPlus9 has 10 inks in the Pure Color ink collection. What I really like about these inks is that they didn't just come out with basic colors, but rather a unique collection of colors that work REALLY well together. You can easily team them up with each other to get unique and fabulous color combos. They have a lovely sherbet-like tone to them that makes me oh-so-happy. (By the way, if you would like a Ink Swatch Book download for these inks, click HERE.)
By the way, I wanted to mention something about inks. I do a lot of ink reviews on my blog and share the ones I like best. However, everyone is different! You don't need them ALL… just the ones that you feel would best work for you and what you like to create. For me? I most like inks that even out and smooth (such as Hero Arts Shadow, WPlus9 Pure Color and SSS Inks). I also like a good pigment ink. But pick what is best for YOU. (And keep in mind that there are many inks I don't use often because I find they don't work great for me.) If you want to see my ink comparison video, check HERE.
Hope you liked this way to get more from your inks!
GIVEAWAY
Today's giveaway is a big one. One lucky winner will get ALL ten WPlus9 Pure Color Inks! For your chance, leave a comment here by 11:59pmEST on 4/16/14.
SUPPLIES
Below are the products featured above. To find them at Simon Says Stamp, click on the SSS below the thumbnails. For Ellen Hutson click on EH and for WPlus9 click WP9…