Complete Ink Swatch Book Downloads
UPDATE: I have a new downloads page that includes all the updated Ink Swatch downloads for 2021!  Check it out HERE.
A few weeks ago I shared a video showing my Ink Swatch Book, along with many free ink swatch downloads. Today I am sharing my final batch of downloads, along with an editable file if you want to create your own.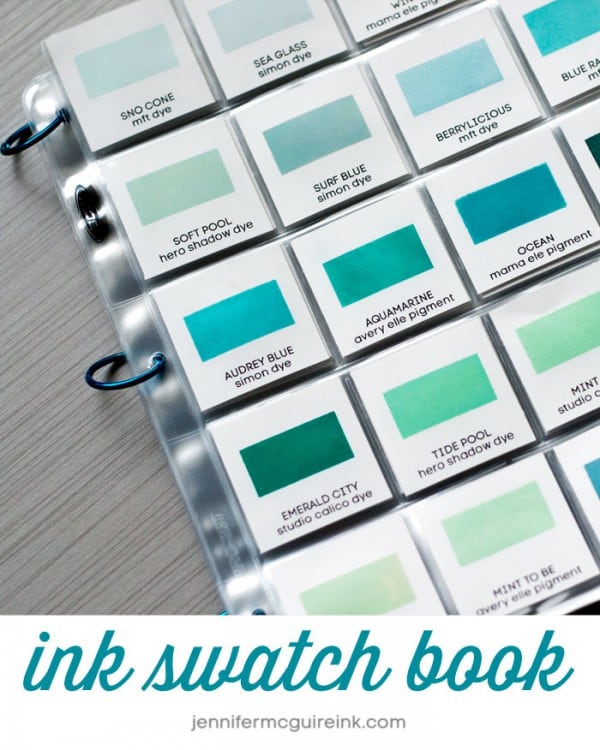 In case you missed it – here the video I shared a few weeks ago that explains how I organize my ink swatches. I am still very much loving and very much USING this book.


I use coin pages to hold my 2" x 2" ink swatches and hold the pages together with ring clips. The Simon Says Stamp Swatch Stamp works perfectly for getting a nice ink sample on each square. (However, you can use any stamp you may have.) This makes for a very convenient ink organization system. I love it! I plan to also add my cardstock swatches to the book.

We have created many free downloadable ink swatch pages for many popular ink lines. At the end of the list are two editable files – one for Photoshop and one for Microsoft Word. Between these files, you should have everything you need to get organized. All you have to do is download the files (click DOWNLOAD for each) and print on your favorite white cardstock. (I printed mine on Neenah since that is what I use most.) Some inks have more than one page since there are so many colors.

UPDATED ON 4/24/17. MORE UPDATES COMING

EDITABLE VERSIONS:
Photoshop Editable Ink DOWNLOAD – For those with Photoshop or Photoshop Elements, you should be able to create your own swatches with this file.
WORD Editable Ink DOWNLOAD – For those with Microsoft Word, you should be able to create your own swatches with this document. It may not keep the margins correct for everyone, but should for most! We do have a few tips for you: If you accidentally move a text box, immediately hit ctrl + z to undo. If you choose to use a different font or size, you might need to move the text boxes to align them properly by selecting them and then using the arrow keys to move the boxes. The text should fit in the boxes and it is best not to resize the boxes to be any wider otherwise the document will not print properly.
I feel so relieved to have a system that works for me. I hope it works for you, too! Many people have been sharing their swatch books using my downloads. If you have, please share your pictures below.
I must give out a big shout to Karen Kelly who developed many of the additional ink company swatches shared here. She is so very awesome for doing this. And don't worry… I am spoiling her with many stamping treats in return. 🙂 If you see any boo-boos, please leave them in the comments below. I will get them fixed and update this page afterwards.
Enjoy!
WINNERS
Some winners: Beatrice Lawson gets the Altenew stamp… Jennifer Harrison won the Hero Arts stamps… and Barbara Lassiter will soon get the Mini Ink Blending Tools!
SUPPLIES