Hello! Today I have some organizational fun for you. I have *finally* found an ink swatch system that works for me and I am excited to share it in case it works for you, too! I also have several free downloads for you… ink swatches for my favorite inks.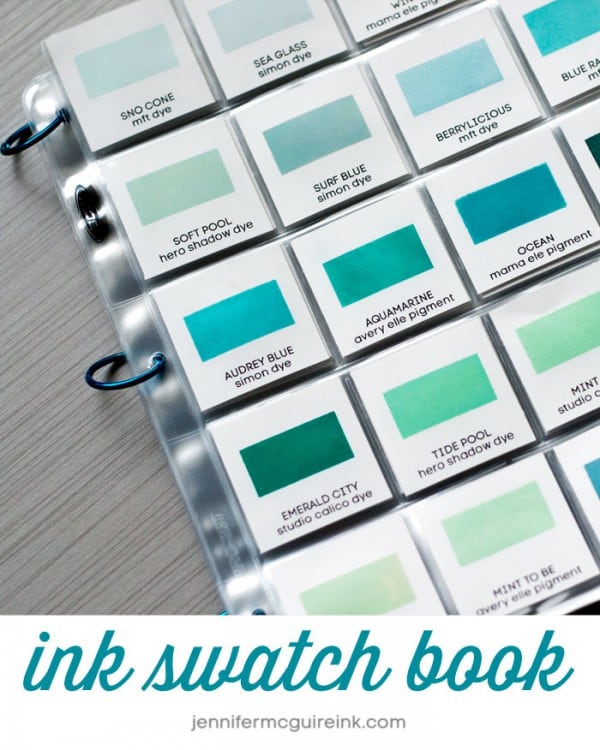 I have tried 3 different systems and show them all in the video. The system I focused on today is the one I found works best for me – the ink swatch book. However, we are all different! One of the others may be better for you. But in case you like the one I like, I have several free downloads for you below.
I use coin pages to hold my 2" x 2" ink swatches and hold the pages together with ring clips. The Simon Says Stamp Swatch Stamp works perfectly for getting a nice ink sample on each square. (However, you can use any stamp you may have.) This makes for a very convenient ink organization system. I love it! I plan to also add my cardstock swatches to the book.
FREE DOWNLOADS
Since I was already creating the swatch files for my favorite inks, I thought I would share them here. All you have to do it download the files (click DOWNLOAD for each) and print on your favorite white cardstock. (I printed mine on Neenah since that is what I use most.) Some inks have more than one page since there are so many colors. The last link is an editable file so you can do other inks. You will need PS or PS Elements to edit it.
[ETA… click HERE for an updated list of downloads. I have many more!]

If you like different inks than me, you can easily create your own swatches by cutting 2″ x 2″ squares and writing the name on the bottom or using a label maker.
I feel so relieved to have a system that works for me. I hope it works for you, too! I would love to hear how you currently keep track of your ink colors – please share below. See you soon.
SUPPLIES