Video: Distress Ink Bleed and Insides of Cards
Hello! Today I am guest over on the Neat & Tangled challenge blog. (The owner, Danielle, I another of the industry's greatest gems.) They have a great challenge focusing on the insides of cards. My video shows this and a fun Distress Ink bleed technique…
(Supplies are linked in the thumbnails at the end of this post.)
I love techniques. Love them. It is 90% of the fun of cardmaking for me. And I really think this one is a favorite… although I haven't done it in years. I just need a better name than "Distress Ink bleed". LOL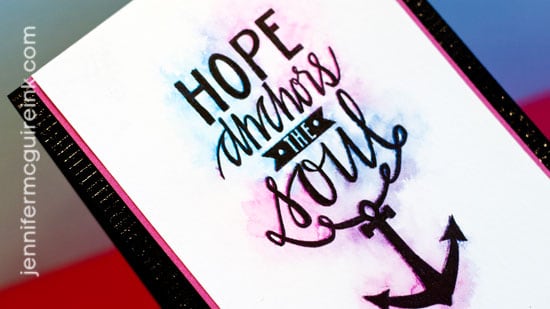 The new Neat and Tangled Hope Anchors stamp is perfect for the Distress Ink bleed technique. I first stamped the image with various colors of Distress Ink on my new favorite watercolor paper. To create the bleed, I misted each area of the stamped image once from about 4″ away. The water will react with the Distress Ink (a unique property of these awesome inks) and cause veins of color to shoot out from the image. SO VERY COOL. You can add more water if you want a softer result. But I love the little bit of bleed.
Once dry, I stamped over it with black ink. I love the bold black against the fun watercolor results.
And on the inside? I cut and matted a piece exactly like I did on the front and created a heart with the same technique.
Looking for more ideas like this one? Try these:
By the way, I love tying the inside of cards to the outside of cards. Be sure to check out the Neat and Tangled challenge blog for more ideas for this challenge. If you play along, you could win a prize…
I will be there today and again in a few weeks. They have one of the best design teams. Lots of great clean and simple designs!
See you soon.
SUPPLIES
Below are the products featured above. To find them at Simon Says Stamp, click on the SSS below the thumbnails. For Ellen Hutson, click on EH…